Andrew Collinge, a true hairdressing legend who together with his wonderful wife Liz, has helped change the way hairdressing is viewed by the public. With a career spanning many decades and showing no signs of stopping we jumped at the chance to sit down for a bit of lunch with the very lovely Andrew & Liz Collinge.
Michael: So, tell us a bit about where it all began for you – you're from a long line of hairdressers, I know.
Andrew: My father was Peter Collinge; a successful competition hairdresser and a very big part of the industry at the time – he was one of the founder members of the Fellowship for British Hairdressing. Before that, there was my grandfather Wilfred who started hairdressing in 1910.
He worked on boats servicing what was then called the Gold Coast of Africa, looking after the plantation workers. Boats took out mail and workers every six weeks and when they dropped anchor, people would come to the salon on board and see him for a haircut.
When the war came, he lost his job as the ship was seconded by the Royal Navy. He still had a young family to support and the only thing he knew how to do was barbering, so he opened a shop in Liverpool – Collinge's. It was quite remarkable because the war was starting and obviously as a city with dockyards, Liverpool was very badly hit, but they opened on the outskirts and have remained open ever since.
My grandmother wasn't a hairdresser but my dad, who was about 14 at the time, got a job as an apprentice at Frank Simmons salon in Liverpool through my grandfather's contacts. In those days you had to pay to be an apprentice, and he trained in ladies hairdressing.
When the war was coming to an end, he was about 17 and joined a ship himself. It was a Cunard flagship transatlantic liner that was initially used to take the troops home to Australia and Canada, and he looked after all the nurses with countless shampoos and sets.
After the war, the boat was returned to its former glory and sailed between Liverpool and New York. He spent three years going back and forth doing hair – Liz Taylor was even a client when she was on her honeymoon!
After that, my dad started doing competition hair and doing demonstration work for Wella, showcasing perms. He got so much publicity that he decided to open his own salon separate from the established Collinge's barber business.
He opened Peter Collinge in the mid 1950s and that's when the business started.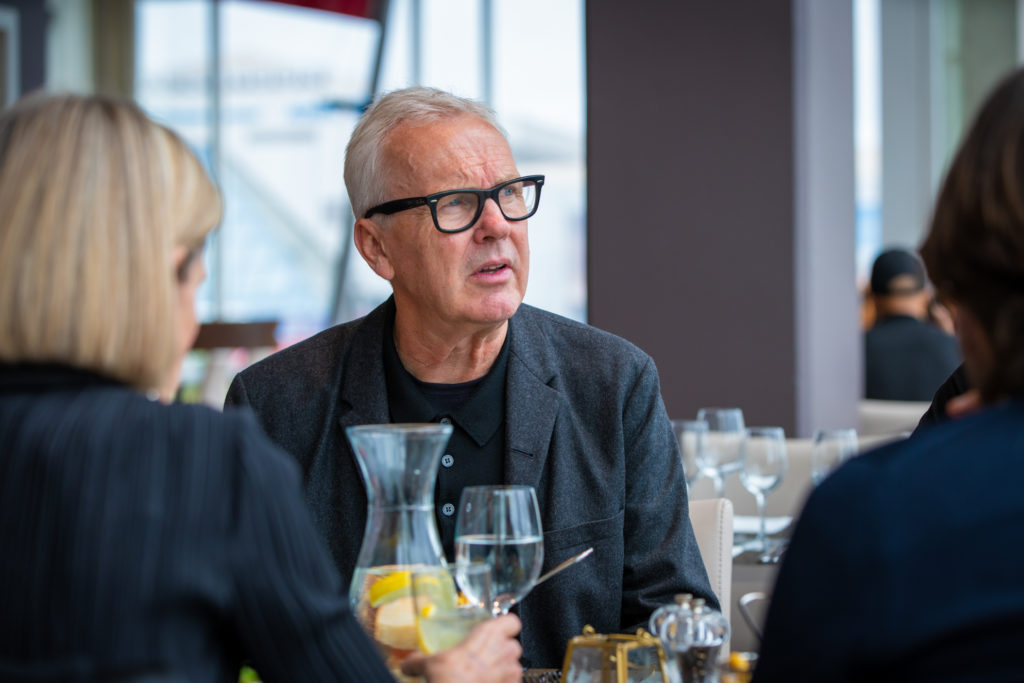 Michael: Did your father want you go into hairdressing?
Andrew: I don't think so. Hairdressing was always being discussed around the kitchen table and I used to shampoo hair in the holidays and help out a bit, which I quite liked – but I wasn't particularly interested. To be honest, I didn't do very well at school – had I done well, I might have taken a completely different path.
Liz: They sent you away to school, so I don't think they particularly encouraged you into the business!
Andrew: I left school in 1976 without great results and went to college to do a business course, which I didn't really enjoy. At the time, dad was President of the Fellowship for British Hairdressing and judged all of the big hairdressing competitions.
The World Championships were taking place in New York and in his absence, he put me to work in the Wirral salon. I just loved the creativity and by the time dad had come back from his travels, I decided it was what I wanted to do and signed up for an apprenticeship – and that was that! I've always said it's in the blood, but it definitely wasn't forced on me.
Gary: How did your apprenticeship go?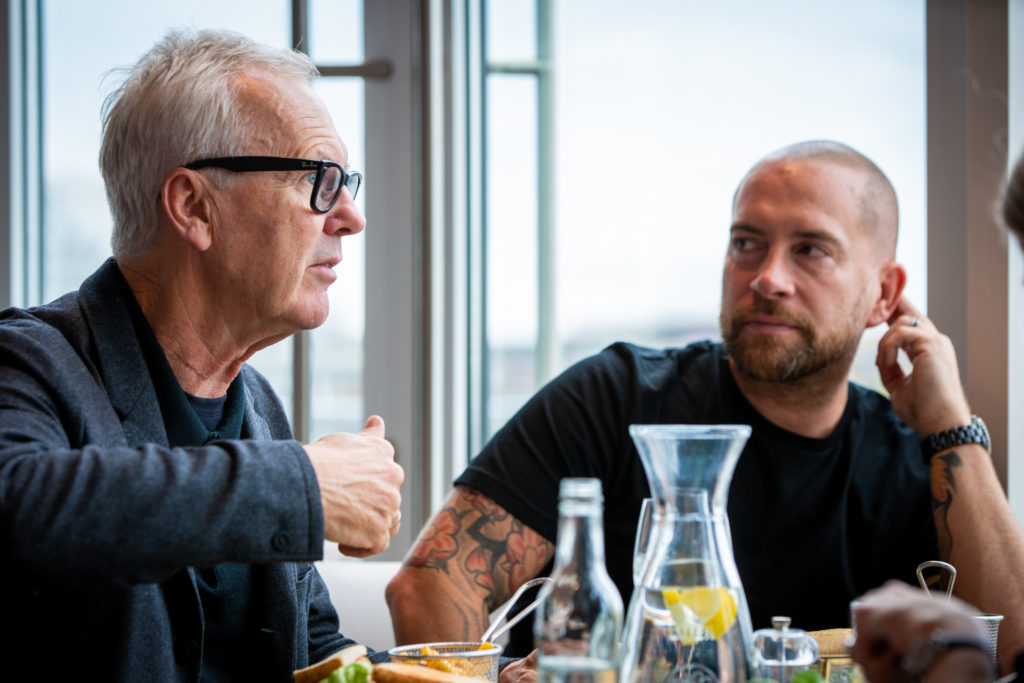 Andrew: I spent about two years at the salon, and it was buzzing. My dad had started the Peter Collinge Training School and there were lots of courses and things going on – we went to the first Salon International and did demonstrations and sold courses.
So that's how I grew up, but I realised after a while that it's quite difficult to join a business that's established already. There were managers and directors already and they didn't take too kindly to me…
Gary: Did you find they were hostile because you were one of the family?
Andrew: Perhaps a little bit. But those connections do help, because around that time my parents were at the finals of the Wella Vogue competition where Michael Rasser and John Isaacs were judging. My mum told Michael that I was keen to move in another direction and he invited me to go along to the salon and finish my apprenticeship at MichaelJohn.
Liz: They sent you away to school, they sent you away to London… they just wanted to get rid of you!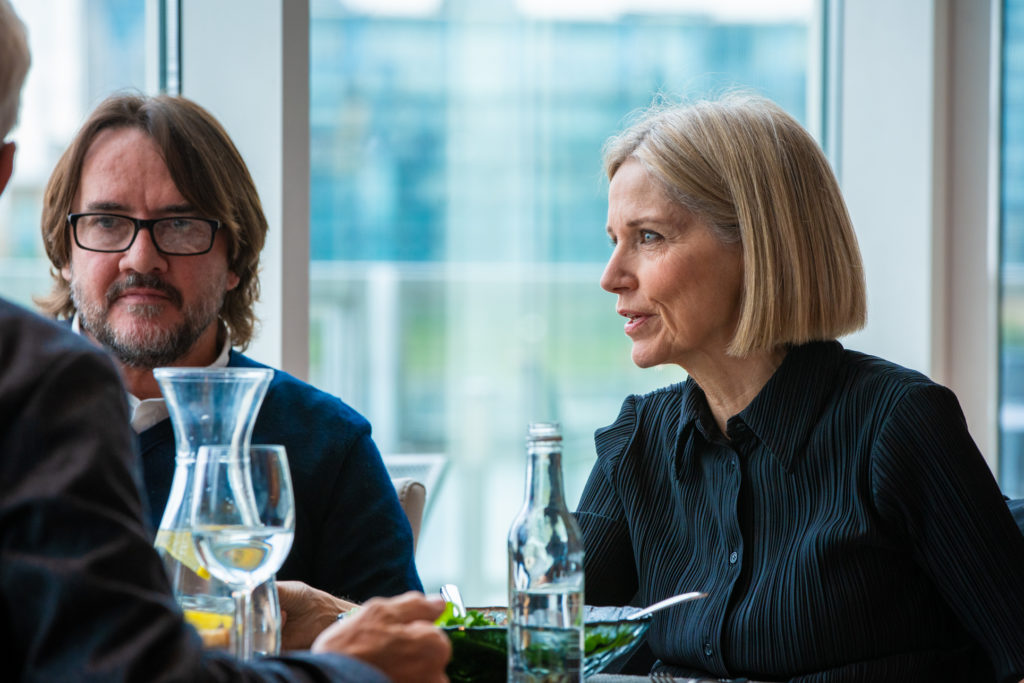 Andrew: I assisted Michael a lot at the time. He was the master of dressing long hair, which helped me to really fall in love with it too.
Robert Lobetta was there at the time and was doing all of his woven hairstyles, so working with him was great too. It took about four years until I made it to the salon floor, but I'd been assisting Robert and learned so much in that time. In 1980 he left the salon, but the Michaeljohn team had been booked to do a show in Dusseldorf for Wella.
Myself and a couple of other guys knew his techniques from working so closely with him, so were quite quickly promoted to do the show and it drew huge crowds – all of this basketweave hair. Off the back of that, I got booked to do a lot of Wella shows myself, which continued for about a decade.
Gary: So that was a bit of a lucky break then?
Andrew: It really was.
Gary: At what point did you get involved, Liz?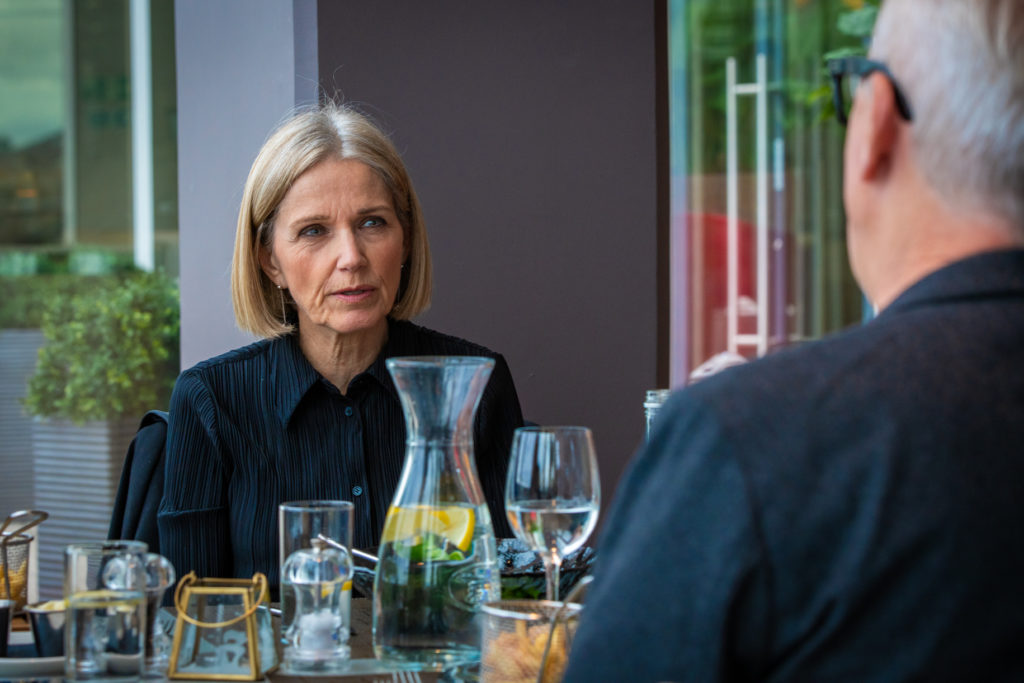 Liz: We both moved to London in 1976 – Andrew to Michaeljohn and me to become a dispensing optician. Quite by chance, we were both staying in a civil servant's hostel – the odds of us both being there, when neither of us were civil servants!
Michael: And how long have you been together now?
Liz: Next year will be our 40th wedding anniversary, so about 44 years! Anyway, we got chatting – I remember our first conversation was in the laundry room, showing him how to use the washing machine, but he denies all knowledge of that!
Michael: So, your eyes met over the washing machine?!
Liz: He needed someone's hair to style for a show I think and probably said how nice my hair was – but he wasn't prepared for how thick it was! Three hours later… he'd cut the perfect pageboy and we'd got to know each other quite well during that time!
Michael: At what point did you open the first Andrew Collinge salon?
Liz: In 1985. By that point, Andrew had come back – with me – to join the family business in Liverpool. He'd brought lots of ideas back from London, things he wanted to put into practice.
His dad could see they were good ideas but being a very wise man, he recognised that if the younger son just came in and changed everything, it wasn't going to go down very well. He suggested Andrew opened his own salon – not completely separate from the group, but with his name over the door.
Andrew: It was a bit different too – we were doing things like foil highlights and longer appointments, not just the shampoos and sets that were still happening at dad's salon. Although in fairness, he has always been very ahead of his time.
He opened a salon called Thatcher's – not the best name for a salon in Liverpool, although it was long before Margaret Thatcher! – in 1972.
He realised early on that cuts and blow-dries were big business and opened Thatcher's for the younger staff to work in. It was an overnight success and people queued in the street; lots of loud music and jeans, everything we weren't at the original Peter Collinge. He also opened the training centre, and we were pioneers for YTS.
My mother started it and my sister Sarah took over as director. My dad realised there was a moment after you'd qualified where one minute, you're in the salon as an assistant and then you've got to be a junior stylist. Someone he knew from the competition circuit was retiring and said look, I've got this little salon and I want you to have it.
We had six or seven salons at that point, so he decided to use it for the graduates. It's almost a holding salon where they work under supervision, then when an opportunity arises to go to into the salon, they move on with more confidence and experience.
The graduate salon is still really the backbone of our education and careers.
Liz: They can stay there longer if they want to. It helps them build confidence.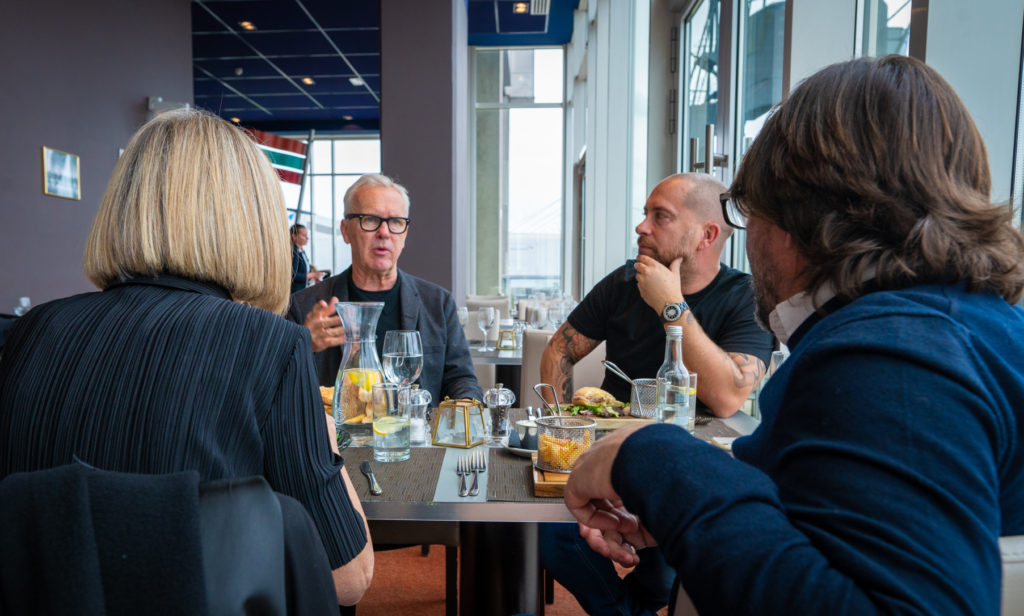 Andrew: It's been going since the 80s – we've actually got two graduate salons now – and we're a training provider for other salons in the area too. So, you've got a mix of our graduates, those from other businesses… it's got a younger vibe, lots of students go there.
We find clients come to a Collinge salon for generations. They might have been dad's clients back in the 60s, and now they're in our training school getting their perm done. And they come to me and say Andrew, that one's going to be good! I know it's coming back to dad again, but it was a great concept and continues to be.
Liz: Peter has always been very wise. He knew that to implement new ideas, you have to start again with new names and new branding. He really helped us a lot with the new salon, but he let us do it our way too.
Andrew: Liverpool in the mid 80s was pretty desperate. The city was in deep recession, the ports had closed down – and then out of the blue, This Morning TV appeared in the Albert Dock area, which was being regenerated.
We were chosen by the researchers to do the makeover sections on the show, thanks in part to winning the regional category at the British Hairdressing Awards for three years in a row – '84, '85 and '86.
The researchers asked if I could recommend a makeup artist and I said it's funny you should ask… because Liz had trained as a makeup artist by that point, so it was perfect. After the first show, they had 5,000 letters requesting makeovers – and we ended up doing it for ten years.
Michael: That's incredible. Ten years!
Andrew: Liz ended up doing makeup one day, I did hair another, then on Friday we came together and did the makeover.
Gary: It must have been a total game changer – what did it do for the business?
Liz: It must have helped!
Andew: It gave us more high-profile salons I'd say. It gave us more prime locations – and we're finding that's a key thing at the moment actually, because we're restructuring at the moment and have closed a salon recently that's at the end of its lease. Business is all about having a strategy in place for the next 10-20 years.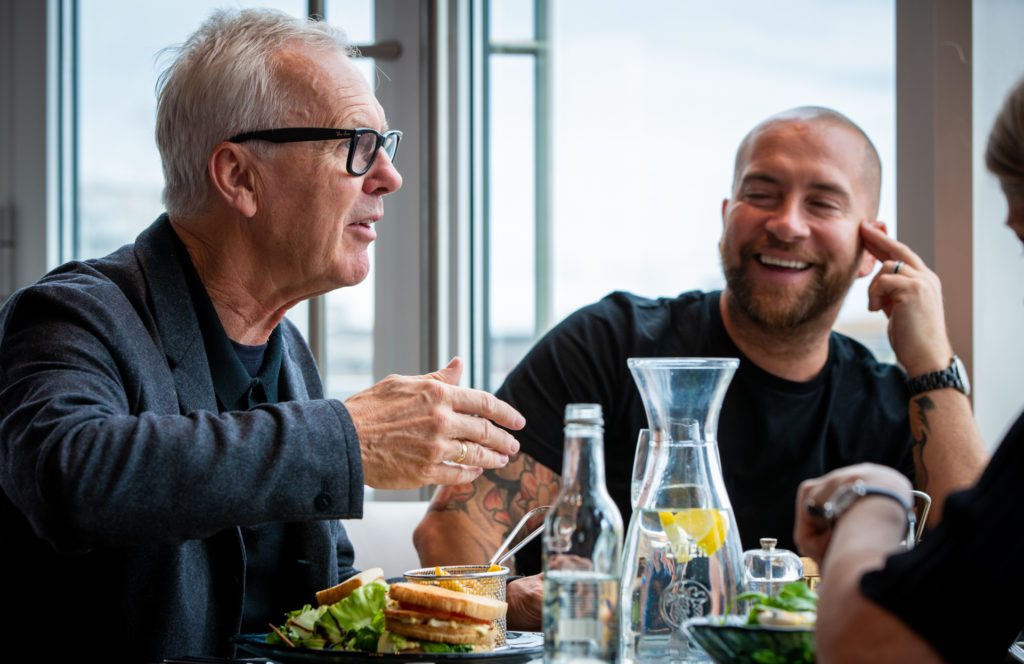 Read the FULL INTERVIEW in our October issue here…