Grow your colour services and ensure your clients fall in love with their colour this autumn with the new Colour Me Happy services from Matrix offering gorgeous, wearable looks for every client possibility, using the SoColor range to achieve the colour.
The quick and easy colour applications use everyday techniques to enhance natural tones, add dimension and depth to all hair types. From short to long, curly to coily, these quick and easy techniques will boost your confidence as well as your colour business. 
The three colour services are:
Chocolate 3D Balayage –

using three complementary colours, achieve a beautiful multi-dimensional shine and condition using the

SoColor Blended Collection.

Bronde Ring Lights & Ribbons –

take your blonde service to another level with our ring light technique, offering an instant pop of colour and brightness using the

SoColor Blonde Collection

.

 

Glossy Autumn Crescent –

this warm and vibrant colour palette can be tailored to every client and the crescent sectioning is a quick and effective way to upgrade your redheads using the

SoColor Reflect Collection

.
Let's look at Service 2:
Matrix Hair Artist: Niall McNulty
Hair Pattern: straight (2A)
Base level: 4
Niall wanted to give his client Hevillin's hair a soft, blonde glow and this extended money piece ring light was the perfect service, reducing shadows and illuminating the eyes. 
Formulas:
Formula A 10 parts ULAA and 10 parts ULA+ with 40 parts 40 Vol Matrix Developer
Formula B Light Master 8 with Bonder with 20 Vol Matrix Developer 1:1
Formula C 20 parts 10M SoColor Sync with 20 parts 10 Vol Matrix Developer
Top Tip The UL+ shades are perfect for lift and the UL shades offer most neutralization. Mix equal parts of both for dual benefits. 
Steps to get the look
1 Beginning at the front hairline take a halo section around 2" deep.
2 Follow the section around the head until it joins at the nape.  
3 Using a mixture of slices and waves, alternately apply Formula A and B to the halo section.
4 Make sure to pivot the slices and weaves to get a soft transition with no hard lines. 
5 Styling: Niall finished Hevillin's hair by wrapping sections around a large barrel tong to create soft waves, then applied High Amplify Hair Spray for a flexible, long-lasting hold.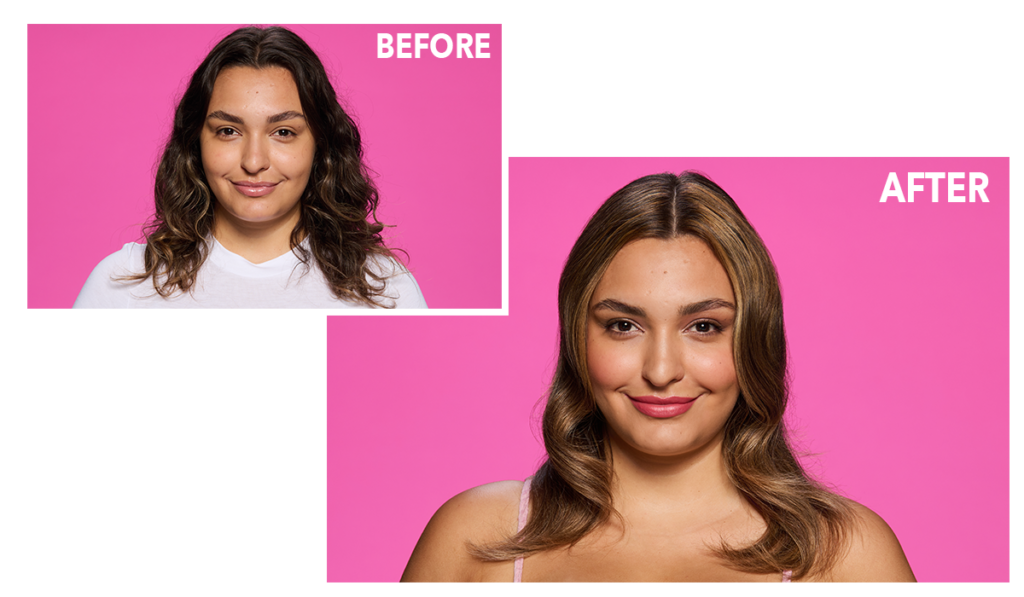 Free Education
Throughout September, hairdressers can learn how to recreate the three techniques on three different types of hair for FREE. Simply head over to L'Oreal Access and use the relevant code
Chocolate 3D Balayage
21UK-COLOUR-ME-MOCHA – Click here
Bronde Ring lights & Ribbons
21UK-COLOUR-ME-FRAMING –  Click here
Glossy Autumn crescent
21UK-COLOUR-ME-COPPER – Click here
To learn more, follow @Matrix on Instagram and visit www.matrixhaircare.co.uk