Lighter, faster and stronger, the new ghd helios professional hairdryer raises the bar in powerful styling.
Fresh from ghd's state-of-the-art Research and Development lab in Cambridge is the brand new ghd helios professional hairdryer. The brand's lightest and fastest dryer yet claims to be the ultimate in styling control. The lightweight, longer-life brushless motor is designed for speed, creating powerful yet highly concentrated airflow travelling at 120km/h to drastically speed up styling in the salon. Aeroprecis™ technology combines internal aerodynamic design with a bespoke contoured nozzle. This delivers a concentrated temperature and even airflow distribution, giving you more precise control for amazing styling results. Whether your clients want sleek and smooth results or show-stopping volume, ghd helios puts the power in your hands.
AT A GLANCE
Unique Aeroprecis™ technology enables intuitive styling with more precise control for smooth, shiny salon results.

Lightweight 2200 Watt brushless motor for ultra fast drying.

Bespoke contoured nozzle for a highly concentrated, controlled airflow.

Available in four stunning colourways; black, white, plum and ink blue.

Advanced ionic technology reduces frizz and fly-aways for a smooth and shiny finish.

Cool shot button to fix looks into place.

Ergonomic weight distribution and balance for easy handling.

Low sound levels for a more refined salon experience.
 "The ghd helios hairdryer gives you the perfect flow of air when drying to create a natural fullness, stunning shine and smoothness like no other. It's my new kit bag essential as it's so fast and really minimises drying time, therefore limiting damage to your hair. Remember to use the cold shot button when drying; this blast of cold air helps to lock your finished style in place." – Zoë Irwin, ghd UK ambassador
For more information please contact your ghd account manager or call 01924 423400.
Get the look with Zoë Irwin...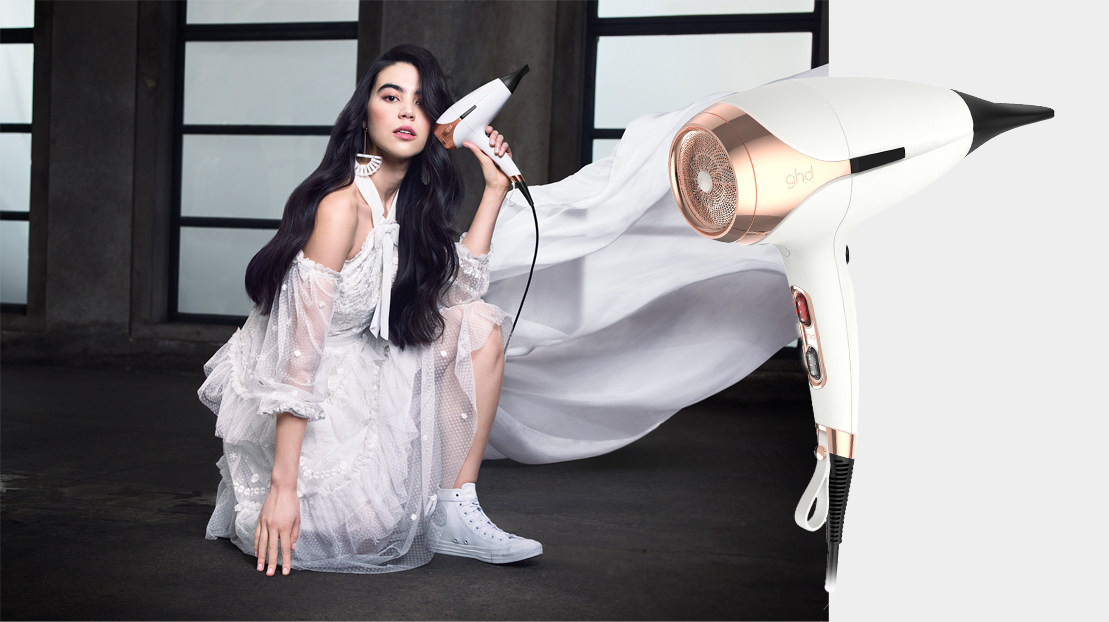 Luxury Wave
"This look was influenced from a laid back, luxury wave. I was thinking about how we move with a dryer, twisting the brush as I work to create a leaner shape. It has a very LA influence; it's the blow-dry version of an undone tonged look. To create this look, I used a bristle brush, wrapping the hair and then working the nozzle all the way around, with the nozzle facing down the cuticle – as you twist the brush, you follow around; it's a twist blow-dry. Then, you take the brush out and put it back in, unravelling as you blow. That creates this lean, soft,natural wave. The great thing about the Helios is that it has incredible setting power which enables you to do flash cooling; once you've heated hair, the faster you take it to cold, the better it sets. That's the method I used for this look, and the Helios cold shot button is fantastic for this."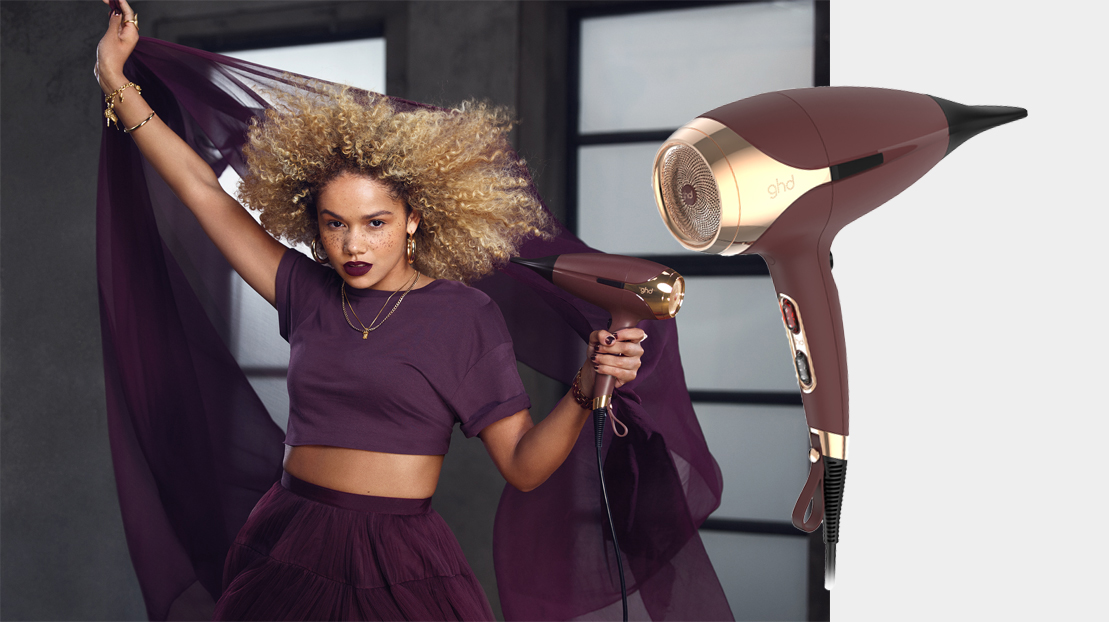 Tight Curl
"Embracing natural textures is such a huge story now; making your natural texture look the very best it can. This model has a tight curl in her hair and to create this look, I used the Helios at the roots to pull it out. With natural textures, you sometimes want to create more of a shape, which is what I did here. Keeping my hands at the root, I worked the dryer in to soften it and create this great shape with all the curl on the ends – that width is very of the moment. You can really see the shine, which is the big difference with the Helios – the curls have a real luminosity, as well as definition and texture. The key thing with this look is expanding the roots, which helps you create that incredible shape in the hair."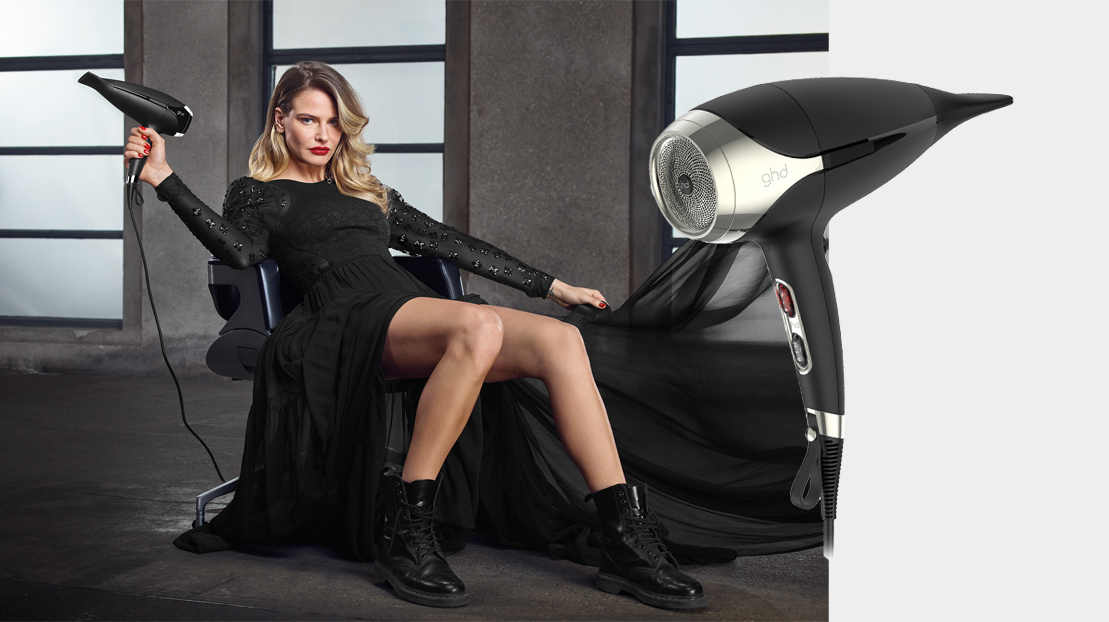 Cool Glamour
"For this look, I wanted to look at volume within a blow-dry, but make it feel modern – it's my take on what cool glamour looks like now. By flipping it to the side, it retains that super volume but with a bit of an edge. Volume is a continuous trend, so it was amazing to do a blow-dry which takes the trend but develops it, using the incredible technology within the Helios. When it comes to volume, the amazing thing about the Helios is the precision – when I focus on one section, the others aren't moving. It's precision blow-drying, from the hairline to each individual section. To create the look, I aimed the nozzle at the root, then came up and around the brush to increase shine – then used the incredible setting power of the cool shot at the root to create volume. It's inspired by classic 90s supermodel swooshed hair, but it still feels modern."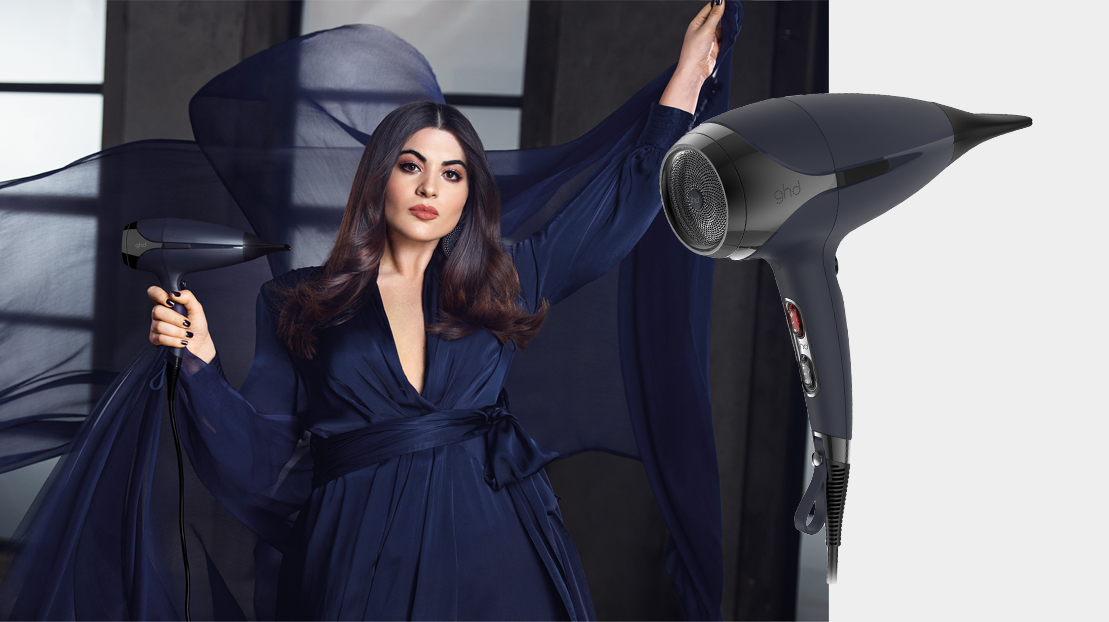 Modern Chic
"This is a super-modern blow out; I'm calling it the 2020 blow-dry. For me, modern chicness is all about a natural gloss – a luxe, luminous, healthy shine. I find that my clients are obsessed with shine at the moment, because it's youthful; but it has to be natural, and not over-amped. Movement is also key for making this look feel fresh and luxurious. The new ghd helios gives 30% more shine, which is a real difference and adds the wow factor. That's what I wanted to show off in this look. What is luxury in 2020? This; it's chic, and it's modern."