In the first of a new series, Teresa Weller, Director, Teresa Weller Hair Art, and thebridalhairartists.com, looks at why adding bridal services to your salon business will keep your team excited, delighted, and driven.
Dreamwork makes your Team Work
Running a salon business takes dedication and discipline, not just in terms of keeping your vision on track, but ensuring your team stays motivated and driven too. Driving a team relies on offering the right opportunities to ensure a happy, strong team and revenue stream. Here's how to make it happen:
THE BACKGROUND: I opened my salon, Teresa Weller Hair Art, in 2015. Located in Dorking, Surrey, we quickly became recognised for offering luxury services to clients in the local area and beyond. Bridal has always been my passion, so it was integral to the business from day one. It allows my team the opportunity to work in the salon running a busy column, while simultaneously understanding the disciplines inherent in working in a hugely pressurised, fast-paced environment, where, crucially, there's no room for error. When skillsets rapidly expanded, opportunities did too, allowing me to launch thebridalhairartists.com in 2018 to further allow my team to flourish and grow, while cementing us as experts in our field.
SKIP TO THE BEST BIT: Since then, we've become a multi-award-winning cohesive bridal hair team, catering to brides of all ages and genders, with a jam-packed annual bridal roster that's not for the faint-hearted. We travel extensively within the UK and overseas: last year, we were thrilled to head up the Catwalk shows at the National Wedding Show in Olympia, London, where more than 60,000 visitors watched the live runway shows. This was a key milestone. It proved that continually taking my salon team outside of their comfort zone allowed my business to develop (and pivot), while ensuring their continual dedication and motivation.
THE ACTION PLAN: Many salons underestimate the potential of bridal, both in terms of increased revenue and team motivation. If done right, you can reap the rewards. Here's what I call my 'great eight': top tips to saying 'I Do' to both your business development and the needs of your team…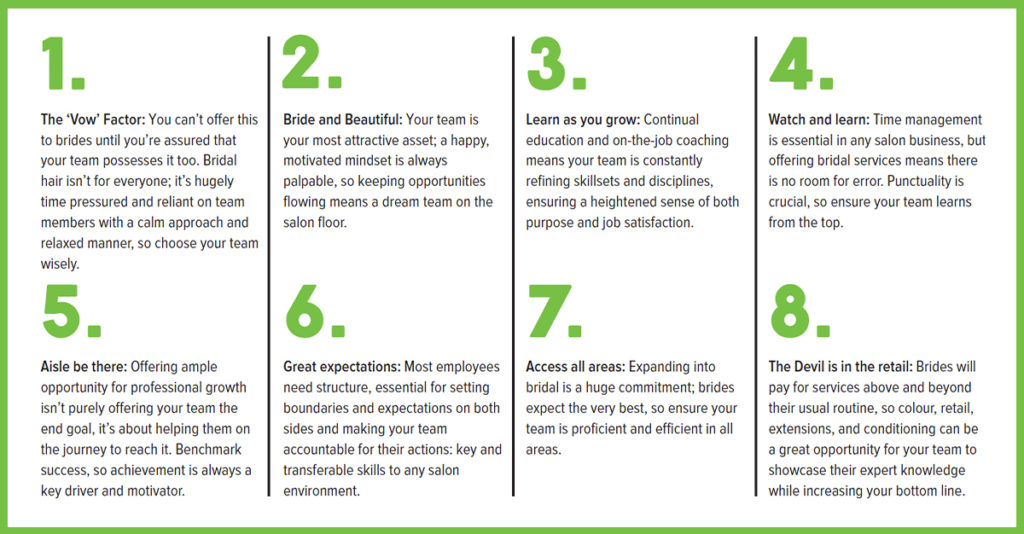 See more about bridal here…