'The Mindful Hairdresser' by Jordanna Cobella has been born from an education course that Jordanna compiled of the same name that
empowers hairdressers, stylists, and salon owners to optimise the synergy between human connection and technical ability.
The examples and proven methods of communication and cues she teaches allow the day-to-day lives of a hairdresser to run more smoothly, prevent burnout and drastically improve the service for clients.  "After writing the course, it occurred to me that a takeaway document was necessary for the course attendees to have at the end and to refer back to. While I was writing this, it became clear to me there was so much to cover on this topic, so the take home document grew into a book project," explains Jordanna.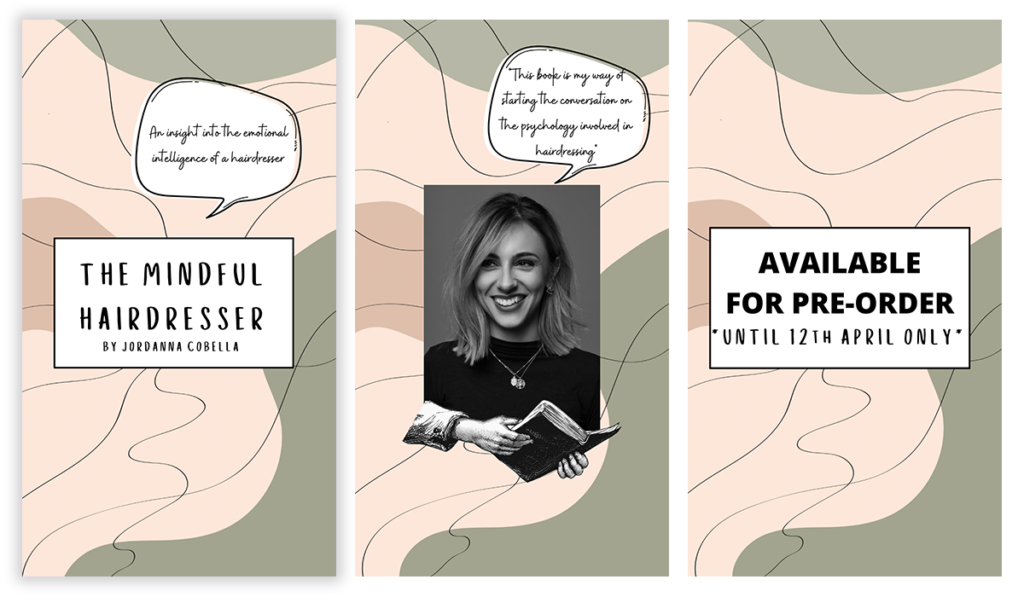 So what is the book about?
It is often said that hairdressers are the nation's unofficial therapists and have historically been part of 'confessional booths'. This unwritten responsibility can sometimes leave those in the industry feeling out of depth or overwhelmed.
As creatives, we are constantly investing  in various ways to improve our technical skills, but  are we ignoring the part of the profession that  comprises a  huge part of the service? The emotional intelligence and psychology involved in the everyday life of serving the public is often overlooked and taken for granted.
The national qualification for hairdressing covers technical ability, practical skills, and theory on the science of hair. None of the modules on the curriculum, however, cover the equally essential part of the profession – connecting with your client. This soft skill is what constitutes 50% of the service. A client may forget how you made them look, but they will never forget how you make them feel.
Serving the public in any capacity, especially in fashion and style, requires emotional intelligence, a good understanding of psychology, and non-verbal communication. The intimacy of changing the way someone looks, building rapport, and psychologically reading your clients is an unspoken skill we are expected to pick up along the way.
A full synopsis, blurb and promo video of the book is available to read on this link below;
https://publishizer.com/the-mindful-hairdresser/
WHAT IS A PRE-ORDER?
In order to get my book published, I have to make enough pre-order sales via a literacy crowd-funding agency to get picked up by a publisher and get the book printed. This 30 day campaign for pre-order sales ends on 12th April. I am truly passionate about this topic and I believe the timing is perfect to start the conversation about the psychology behind hairdressing and mental wellbeing of our team as well as clients.