He's one of the biggest success stories of British hairdressing. Having bought and sold multi-million-pound salon empires, launched his own best-selling product range and achieved some of the industry's most significant accolades, PHIL SMITH puts his fortunes down to hard work and being the guy who was in the "right place at the right time".
Phil Smith's resumé is stuffed with successes most other hairdressers could only dream of. By his early 40s, he owned 28 TONI&GUY franchise salons globally, with over 600 staff and annual sales of £16m. He went on to launch his own independent salon and two product ranges. He has a list of celebrity clients that includes rock star royalty and primetime stars, became a daytime TV regular himself, was nominated eight times for British Hairdresser of the Year and has scooped a clutch of other awards besides. And yet, when you meet him in the flesh there are scarce signs of the big time. In fact, he's humble, unassuming and more devoted to the simple things in life, like walking his two Westies, Smithy and Smudge.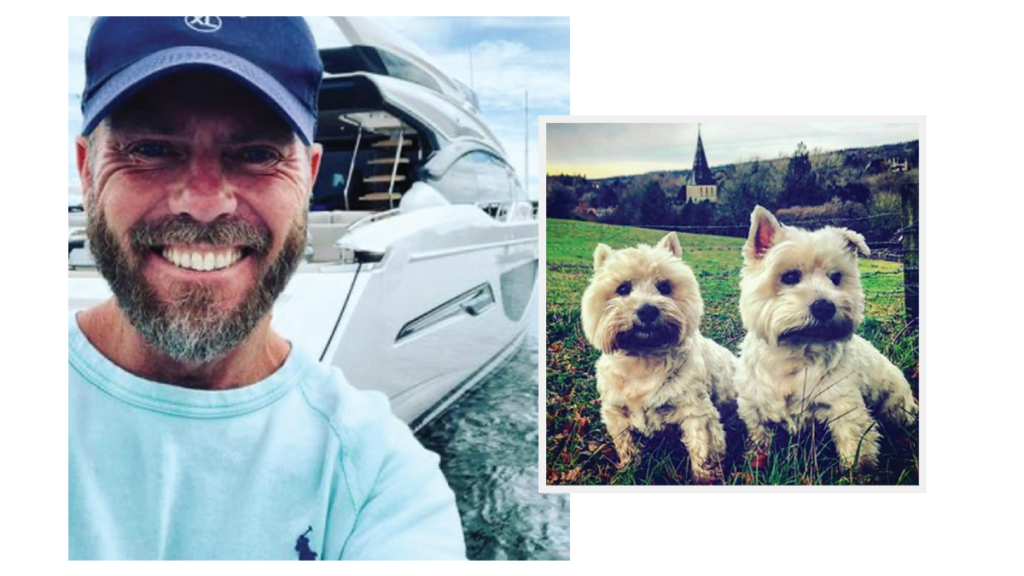 By his own admission, Phil says he's not the best hairdresser. "I don't rate myself creatively and I know there are better hairdressers out there. But I do have a million per cent determination." Perhaps it's that quiet drive, coupled with a reluctance to get swept up in his own hype that has kept him at the top of the game for over 35 years.
Life could have looked quite different. Originally destined for a career in the police force, instead, almost by accident, Phil took a Saturday job at a salon while at college re-sitting his O Levels. "I've always been a hard worker, since the age of 12 I'd had either a paper round or a part-time job." He went on to complete a YTS apprenticeship there -Raymond's in Guildford, Surrey – a salon outlet of the infamous 'Mr Teasy-Weasy', with a strict, old school dedication to discipline. Phil recalls that how diligently you scrubbed the toilets was the manager's benchmark for quality in your work. A commitment to small details would translate to how well you cut hair. Even today, it's a philosophy he lives by. "If you ever think you're too important or too powerful to do the little jobs, you've lost it," he says.
Phil got his first real appetite for business success when he went to work at John Carne, also in Guildford. "John had a Porsche and a swimming pool and it blew me away. I saw what hairdressing could offer." He credits Carne as being a savvy businessman with a great work ethic. Eager, enthusiastic and showing signs of an emerging entrepreneurial spirit himself, Phil was keen to open his own salon and when a first attempt to launch in Guildford failed, he was introduced to Toni and Anthony Mascolo. TONI&GUY was on an upwards trajectory, taking over the British hair scene and looking for franchisees to capitalise on the potential of its lucrative salon brand.
Despite the safety net of TONI&GUY, the route to success didn't come easily. Phil struggled to make his first salon in Salisbury pay the bills. "The day Salisbury opened, I had just three clients," he recalls. "I had to build the business from literally nothing. I was 23 years old with a loss-making salon and I was living in a house share." Opening up another salon in nearby Bath soon after was both a risk and a masterstroke. He borrowed the money he needed to take on the extra franchise and it turned out to be a gamble that reversed his fortunes. Bath was a different story. Busy and profitable (taking three times as much as the Salisbury salon, in fact), it benefited from the cool factor TONI&GUY was enjoying in the 90s.
Phil was the first TONI&GUY franchisee to have two salons and he was the youngest franchisee in the company. Eternally grateful to the late Toni Mascolo, Phil admits, "most of what I know in business came from him."
During the 90s, Phil's empire was steadily growing – Swindon came next and he had soon opened up a string of salons across the South West. Hungry for creative recognition too, Phil won 'Wales & South West Hairdresser of the Year' three times and then a campaign for British Hairdresser of the Year began. He was nominated eight times. He also had a regular slot on the Lorraine show on daytime TV.
When asked if he side-lined the creative side of his career in favour of business success, Phil is unconvinced that the two can exist equally. "I envied the creative talents of my peers. But while they were spending their time mastering the craft, I was wrapped up with delivering wages and managing cash flow." Without any brand endorsements or sponsorship deals, Phil was self-funding his career and opportunities such as the British Hairdressing Awards were draining his finances.
At the peak of his success, Phil had 28 TONI&GUY salons, not just in the UK, but also in Australia and Canada. He describes the good salons in his portfolio as keeping the bad ones afloat. Life was a juggle of spreadsheets and the minutiae of salon life. Eventually, even his family home was on the line. The big success had become a big stress and coupled with a health scare made him rethink his priorities enough was enough.
But there was another enterprise that he'd set his sights on. A chance encounter with Umberto Giannini while on holiday with his family made up his mind. "A chat around the pool made me wonder if I could create my own product range. Umberto really was the inspiration," Phil admits. "We got on like a house on fire and he became one of my best friends in the world." It's 'happy accidents' like this that Phil believes have shaped his destiny.
While his profile was flying high off the back of his British Hairdressing Awards nominations, Phil had secured a deal with Sainsbury's to endorse a product range with his name on it. When the range looked set to be dropped after 18 months, Phil was given the chance to fund his own line and sell it in. Originally a licensed deal with a product manufacturer, in 2007 Phil Smith Be Gorgeous – a range of haircare, electricals and accessories – was born. Craving more control, Phil went on to buy out the range to acquire exclusive ownership and today maintains full control of it.
Nothing could have quite prepared Phil for how much effort he would put into his signature range. "It still blows my mind how hard it is. I mean, it's just shampoo." It wouldn't be overstating things though to say, Phil Smith gives more than his name to the range. Overseeing every single detail of their production, he pours his heart and soul into every bottle.
His products have seen quite an evolution since the first formulations appeared on the shelf. Pitching themselves as luxury products at affordable prices, the brand has a commitment to cruelty-free, natural ingredients and most recently has switched to responsibly sourced palm oil and rejected single-use plastics in favour of 100% recycled and recyclable bottles. All production is UK-based and Phil is as hands-on as it gets; pouring over label designs and obsessing over formulations.
Less than three years after giving up all but one of his TONI&GUY salons (his wife, Louise still runs the original one in Salisbury), Phil set about restoring a small, old woollen shop in Salisbury. Midway through the project and craving a new challenge, he decided it would be the perfect location for a salon. Smith England opened in 2013 and is influenced by the aesthetic of Soho House.
It doesn't just look good, it's already winning awards for its fresh approach and enlightened commitment to creating a community spirit too.
The salon is headed up by Phil's daughter Ellie. In fact, both his children have followed the same path as their parents into hairdressing.
"Ellie has a great work ethic," he says proudly. "As well as running Smith England, she's instrumental in the product range." Meanwhile, his son George is displaying a real talent for men's hairdressing, having already won an award at the Wella Trend Vision Awards. His advice for his kids is the same as he'd give to anyone else starting out, "Whatever you do in life, you've got to work hard. There's no quick or easy way to success."
Discovering a love – and a talent – for products, it seemed a natural progression for Phil to harness his knowledge with the launch of another, more premium and natural-focused haircare range. Named after the salon, Smith England is a range inspired by the British countryside. Describing it as, "everything your hair needs, nothing it doesn't", it follows the clean, cruelty-free lead of Phil Smith Be Gorgeous with naturally derived ingredients and bottles made from 100 per cent fully recycled Post-Consumer Resin (PCR) plastic.
While sold in Sainsbury's as a commercial brand, Phil is set to challenge conventions by offering an adapted version of the range wholesale to salons too. "I think there's a gap for a good quality, natural brand," Phil says. Ever the businessman, he doesn't just believe in the credentials of the formulations; he's done the sums and he knows the range, Smith England Professional will offer good margins to salon owners too. It's clearly tapped into a market in Sainsbury's – the range will soon be re-positioned alongside more premium, lifestyle brands and there is talk of developing the range with body washes and shampoo bars.
It all sounds like a full-time job. Or at least it might be for anyone else, but that relentless drive means that Phil has his hands full with plenty of other schemes too. He's passionate about restoring old buildings and recently completed a labour of love by resurrecting a neglected boat house in Salisbury. It's the fourth building in the city he's looked after for future generations to enjoy. He's also mid-way through the restoration of a fisherman's cottage in Cornwall – a place he plans to unwind, walk the dogs along the coastal path and maybe enjoy the odd bottle of nice wine. There are no plans to retire though, "I'll keep working forever, albeit at a slower pace maybe," he confesses.
Having enjoyed the fortunes of his success over the years ("of course you get into business to buy nice things," he admits) he claims he's not motivated by money anymore. Smith England is the first not for profit salon in the UK. He shows up there twice a week to see longstanding clients, some of whose hair he's cut for over 25 years, and he still just charges a modest £60 a haircut. So what does drive this quietly determined hairdresser then? "It brings me joy to see my products on the shelf and to work with a talented team of people," he admits. "For that small win, I'll keep on working my heart out."
On top of all this Phil is finding the time to write a new business series exclusively for Professional Hairdresser readers. Starting next month he will sharing his invaluable knowledge with you to help your business grow.