The Fellowship's PROJECT: X spend the day with Bruce Masefield at Wella World Studios in London
Bruce's passion, dedication and commitment to his craft has kept him at the forefront of the hairdressing industry for three decades. From looking after his clientele in the salon to being on a magazine shoot. Bruce's ability to combine international fashion with contemporary, expertly polished hair means that he is constantly pushing the boundaries and intuitively knows what looks will give you that chic, sexy and fresh edge to your hair.
Bruce took the team through the art of cutting.  Sharing his knowledge and expertise, the team worked on live models to master the art of precision cutting.
Chris Donohue comments: "Had a really lovely day with the team at Bruce.
The Wella studios are amazing. It was really insightful to hear about his snippets on creating hair that moves in images and how the history of Sassoon evolved into something a little less regimented.  I was very happy I got to try a new way of approach for a graduated bob and super happy with my outcome and feeling much more confident and re-energised into doing them again."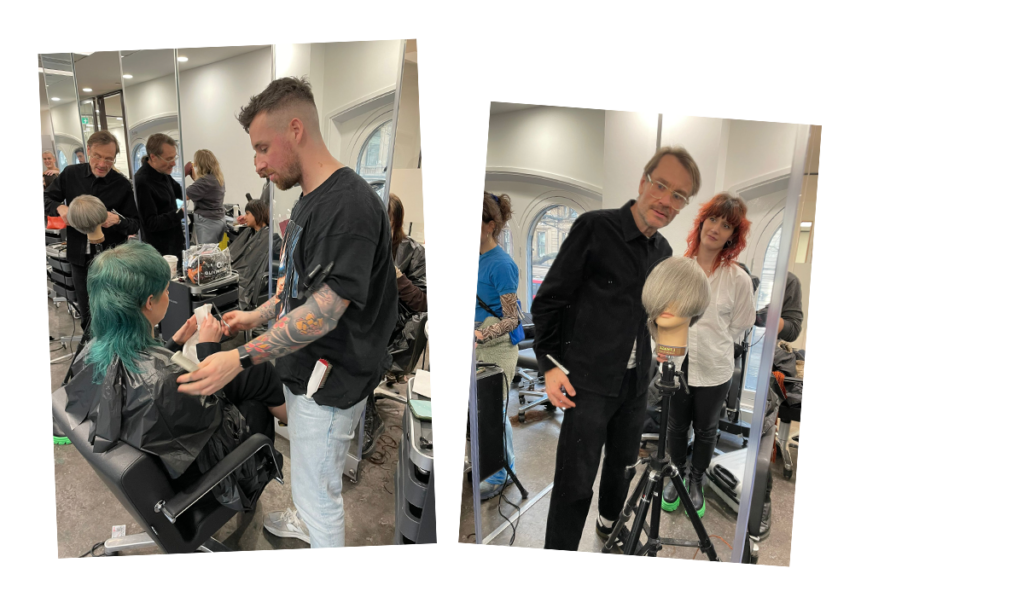 Sam Arnold comments: "Having a day with someone like Bruce Masefield was honestly such an amazing opportunity. Someone who loves cutting and sculpting hair, a day with him was honestly so amazing. Bruce is such an artist with hair and learning tips and tricks from him, from someone of his calibre was so insightful and inspiring! Thank you so much Bruce!!"
Tanahya Nash added: "Our Bruce Masefield education day was really insightful. It was really interesting learning from Bruce about his journey in the industry and I picked up some really great stylist tips for shoot work. I cut a mullet on my model Amy, and Bruce helped me approach it differently than I would have and taught me some great tips on disconnection."
Team leader: Sam Burnett
Team members:
Tanahya Nash – Bebop
Sian Roscoe – Sian Roscoe Hair
Edd Moss – Headmasters
Miles Twist – Architect Hair
Justine Weir – Tweedie & Marshall Hairdressing
Christopher Donohue – Billi Currie
Lauren Oram – Matthew Curtis Hair
Cameron Willetts – Combers Inside-Out Hairdressing
Sam Arnold – Strangeways
Kenneth McLeod – My Two
Lee Patrick Devlin – Blue Tit
Idalina Domingos – DK UK