It's boho vibes all the way down in Deptford at the super-chilled The Bohemians salon. Let's step into this oasis of calm with owner Saivo Ierna…
How did you decide on the style of your salon interior?
I knew that I wanted the salon to represent a relaxing oasis in the city. A laid-back environment where clients could come and relax, that combined nature with expression and reflected our philosophy of being a place where ordinary meets extraordinary.
I also knew I wanted to create a space where hair and different forms of art expressions could combine – a no geographic art expression space where different artists could express their craft.
Where did you find the inspiration for your design?
Our salon interior is inspired by a combination of industrial and rustic nature and uses raw materials such as exposed brick, plain, untouched 'weathered'-look wood, glass and plenty of plants and greenery to create a laid-back environment that combines nature with expression.
It's also inspired by our local community and the abundance of talent within it. All of this is accentuated with amazing pieces of highly expressive art designed to ignite inspiration for a truly Bohemian feel.
Did you use an interior designer?
No! The entire project and refurbishment was a complete challenge for me as it was the first salon I'd ever owned. However challenging, I really wanted to design the salon myself as I wanted to have that lived experience and to turn my visions into reality.
The salon aesthetic was a manifestation of those visions. Having no interior designer background, I had to project an image of the salon in my mind and work hard to make those images come to life.
Describe the vibe created by your interior
The Bohemians is an authentic and honest space that not only feels inviting and relaxing, but that is also edgy, interesting and reflective of the talent that is abundant in our local community.
What do you hope is your clients' first impression when they walk in?
I wanted to create a relaxing and peaceful ambience for clients where as soon as they come through the doors they feel like they are in another world, but at the same time feel like they are home.
Although the majority of our client base is quite young (twenties and thirties), we strongly believe in fostering inclusivity so it's important that any client, regardless of age, feels welcome and comfortable when they enter The Bohemians.
This ethos runs right the way through our salon offering, with a boundary-less offering of gender-neutral pricing and silent appointments that contribute towards fulfilling the needs of our clients as individuals.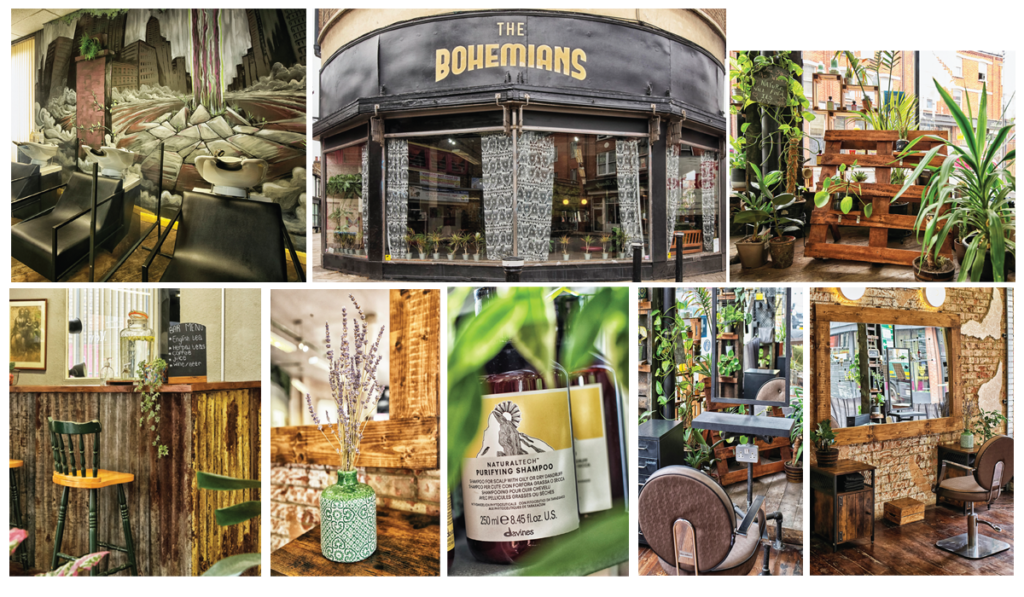 Tell us what are the key elements of your salon design?
Our lighting contributes to the salon's natural relaxing ambience. We used spotlight cold light with a mix of warm light, and as much natural daylight as possible to achieve this. We chose wooden floors for the majority of the salon.
Not only are they super-stylish and in keeping with the rustic theme of the salon, but also durable and hard-wearing enough to weather the demands of a busy salon environment. The walls are a combination of exposed brickwork and beautiful art created by local artists and designed to ignite inspiration for a truly Bohemian feel.
The reception and waiting area are a mix of wood, metal and green and this is exactly the reflection of today's world. We live amongst building and concrete, but always look to the great outdoors as places where we can relax and open our spirit to the environment and take in the good vibes from the flora and fauna.
The mix of metal, green and wood is a message of hope too where the nature will always find its way through the concrete and the city.
Do you have any curated pieces or special features/areas in the salon?
There are so many, but some of the most special (and my personal favourites) have to be the incredible pieces of art by local creatives that can be found throughout the salon.
Our washroom, for example, features the amazing mural by local artist David Enos Hotton that depicts a battle between nature and concrete.
For me, the art is reflective of our modern approach in the industry and really sums up our philosophy of inclusivity and expression. Not only has it transformed our space, but it offers us the opportunity to showcase local talent and to work collaboratively within our community.
In addition, the stylist stations in the centre of the salon were made by me so are also a favourite feature of mine!
How have you embraced sustainability within the design?
Sustainability is integral to our ethos at The Bohemians. As well as using sustainable and vegan dyes and haircare, the salon currently recycles 80% of its waste and is pledging to increase that to 100% by the end of 2022.
Our commitment to sustainability and the environment is reflected in our design in a couple of key ways. We try to up-cycle furniture, where possible to turn unloved items into new and unique pieces. For example, the desk in our main cutting area was crafted using repurposed wooden desks and mirrors. Our clients love it, and so do we!
In addition, we reduce the number of lights used in the salon by maximising the use of natural light as much as possible! It was very important that we could have a full-frontal open floor to ceiling glass windows so we could rely on natural light more.
What salon software do you use and what feature of it do you find most useful?
We use Salon Iris – an amazing software solution that is designed especially for hair and beauty businesses. It's really easy-to-use and includes an extremely useful marketing campaign function that can be set up directly from the system and allows us to create engaging email marketing campaigns. This enables us to communicate with existing customers whilst growing our database.
What salon furniture have you chosen and why? 
Our salon furniture was sourced from second-hand shops, especially the second-hand market of Deptford. The stylist stations were created and assembled by me. The stylist chairs are handmade and were bought from an Italian company and imported to us here in London. The furniture not only fits well with the overall aesthetic of the salon, but also represents different elements of its heritage, and represent the juxtaposition of our environment where nature meets contemporary.
Do you have dress code/uniform for your team?
No. As a salon that celebrates individuality, we do not specify a dress code for our team members. We want our stylists and assistants to be able to express themselves and show others their unique style and personality.
Did you enjoy this article? VISIT more salons here