Tim Scott-Wright opened The Hair Surgery in Stourbridge in February 2014, bringing his wealth of hair knowledge to the area and recruiting a team of talented local stylists. Celebrating its 8th anniversary, Tim has always viewed his salon as a place for people to stay connected to their community and to feel good about themselves.
HOW DID YOU DECIDE ON THE STYLE OF YOUR SALON INTERIOR?
We undertook a redesign of our salon in 2019 and this was driven by three key factors – enhancing the client experience, boosting our creative output and creating an environment that was reflective of the high-quality hairdressing we produce.
As a forward thinking, neighbourhood salon, our aim was to create a space that was reflective of our sociable, welcoming and inclusive brand ethos, while accommodating the flow and functionality needed to support our team's creativity. It was also important that the salon met our clients' expectations –a top end salon needs to look premium.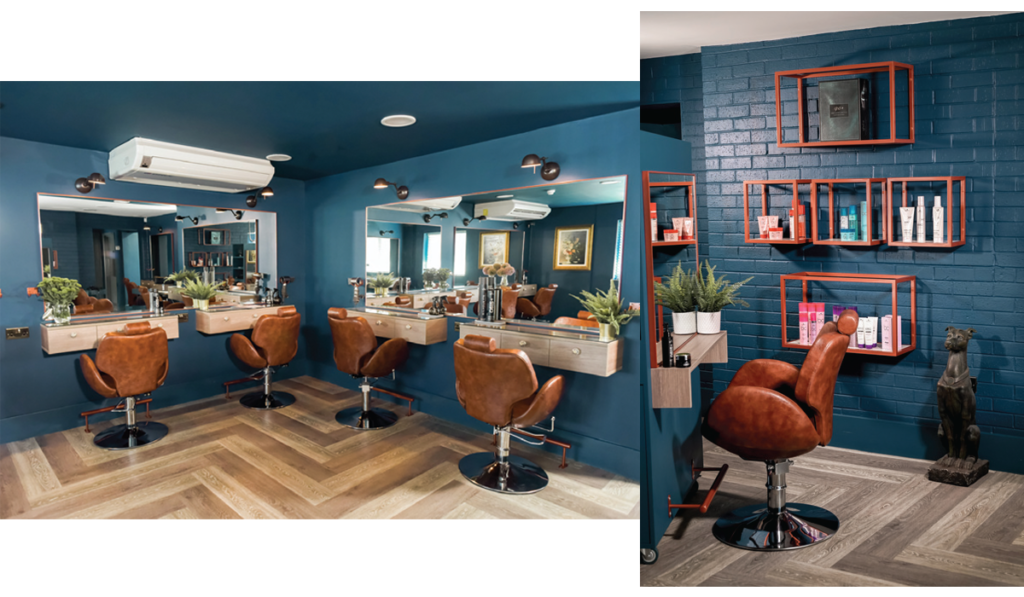 WHERE DID YOU FIND THE INSPIRATION FOR YOUR DESIGN?
We love interior design and were inspired by some of the fabulously eccentric homes you find on Instagram, particularly those with a retro feel. There's an eclectic mix of furniture and accessories with a good balance of masculine and feminine design touches, a theme that reflects the diversity of our work and services. To achieve this, we drew inspiration from the popular industrial chic and botanical trends, but with a vintage undertone. Soft furnishings and ornate accessories add comfort and luxury while the copper shelving and
leather barber chairs provide a masculine edge.
The goal was to blend a neighbourhood hairdresser with a city salon – an un intimidating space that also delivers the 'wow' factor. Tonally we have gone for rich, earthy, calming colours throughout with deep blue/green walls, an ashy wood effect floor and tan leather chairs. We wanted the salon to feel inviting and cosy, not stark and intimidating. The lighting is soft and warm coloured metals in our shelving and interior accessories bring a bit of sparkle.
DESCRIBE THE VIBE CREATED BY YOUR INTERIOR?
The salon is fun, comfortable, functional and stylish – a home from home for our customers and a creative workspace for our team that showcases the aspects of our personality that are central to our business.
It's really important to us that our clients feel welcome and relaxed in our salon, and so we made interior design choices that centred around creating a social environment. We also wanted people to feel uplifted and looked after, so our luxury touches and quirky style really help to embody this. Our salon is a place where people can retreat, have fun and of course leave with great hair!
WHAT DO YOU HOPE IS YOUR CLIENTS' FIRST IMPRESSION WHEN THEY WALK IN?
We hope our clients feel welcomed and relaxed and for their time in the salon to be a real treat – a little bit of luxury away from the hustle and bustle of the outside world. Our salon is an escape from all the worries and stresses of life, and we know our clients feel renewed when they leave.
DO YOU HAVE ANY CURATED PIECES OR SPECIAL FEATURES/AREAS IN THE SALON?
An important part of achieving the comfortable, social feel of the salon was the design of the seating area. This large space is integral to the salon as it signifies the things that are important to our business and reflect our personality. We have some clients that like to stay and socialise long after their appointment has ended so this area is really key to make people feel at home.
We styled the space as if it were a living room with a large comfortable leather corner sofa, statement mustard leather occasional chairs and ornate coffee tables. There is also a refreshments bar and a large TV on the wall. The area is intended to be used when clients first enter the salon, as well as while their colours develop or even after their appointment to sit and relax.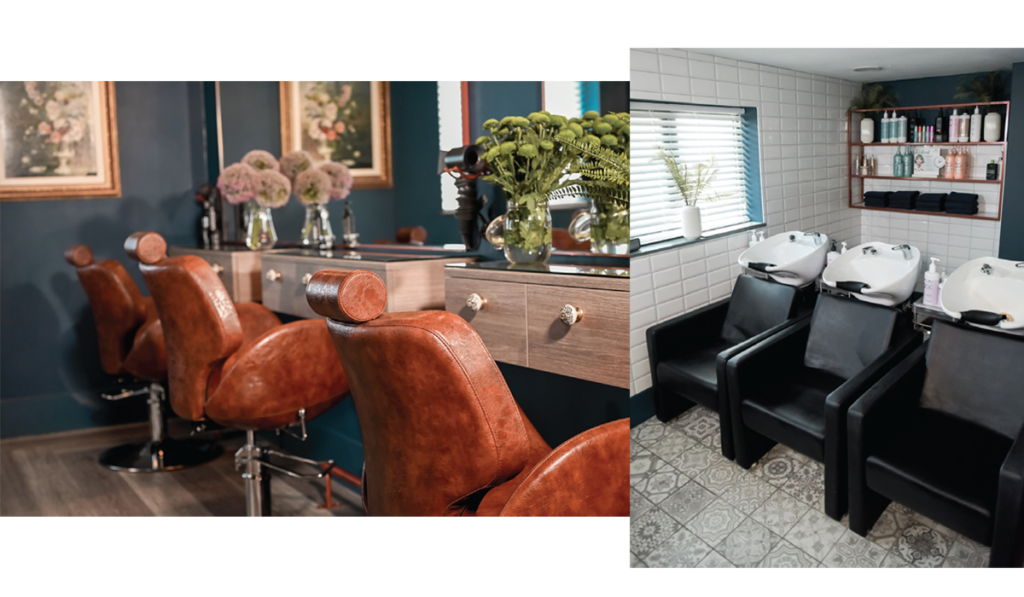 WHAT SALON FURNITURE HAVE YOU CHOSEN AND WHY?
Much of our furniture, fixtures and fittings were custom made for the salon, which was important to us to make sure we had a thoughtful salon, built around the needs of our team and clients. At the sections, our tan leather barber chairs are durable and able to withstand lots of clients passing through but look totally stylish and comfortable which is really important for the vibe of the salon.
Our sections are a light ash wood, again these are extremely durable and easy to clean but look sleek and stylish, while matching the tone of the flooring for a seamless interior style. We had bespoke box shelves in a striking copper metal for our retail displays. We specifically chose to have floating shelves throughout the main salon, in order to create more space and position products at a comfortable eye line for our customers during appointments.
DO YOU HAVE DRESS CODE/UNIFORM FOR YOUR TEAM?
We asked the team what they would prefer to wear to work, and they all said they would like to stick to the traditional black. They like having a uniform for work that is different to their everyday clothes.
They wear their own clothes so they can still express their own style but just all black. I feel this helps clients distinguish staff from other clients.