Darren Fowler, Owner and creative director of Fowler35 invites you to his sustainable studio in Fitzrovia.
Having worked with Livia Firth, co-founder and creative director of Eco-Age, a sustainability consultancy (and wife of actor Colin Firth), on editorial shoots and red carpet events over the years, when it came to refurbishing my studio in Fitzrovia, the word sustainability was forefront in my mind.  She's instilled in me a belief that it's the small things that count, and we can all make a difference by making both small or big changes.
To help with this process, we had a survey done of the space by eco-specialists who looked at energy, water and heat and this helped when it came to briefing a designer.
Choosing designers and builders
As a lot of the work I do outside of the studio is in film, theatre, fashion and advertising I chose Sophie Becher, a set designer who I've worked with, and who has undertaken assignments like the BBC's 'And Then There Were None' and the Marie Colvin film with Rosamund Pike 'A Private War', to work with me on the project.  I love her eye!
The brief
Apart from the sustainability theme, my first thing was that everything in the studio had to be practical and workable for a busy team.  The space was already pretty amazing – it's a former art-gallery in the road opposite the Charlotte Street Hotel in London's Fitzrovia – and is on three levels with quite a bit of natural light in the main working space.
I wanted the space to reflect the fowler35 brand values.  We have our own brand manifesto and brand book, so it was this that Sophie and I worked off when designing how the space would be updated, and it made it easier for me to share my vision of what I wanted with her.  For example, we are proud of our British heritage and our key colour is British Racing Green which was kept in mind during the whole design process.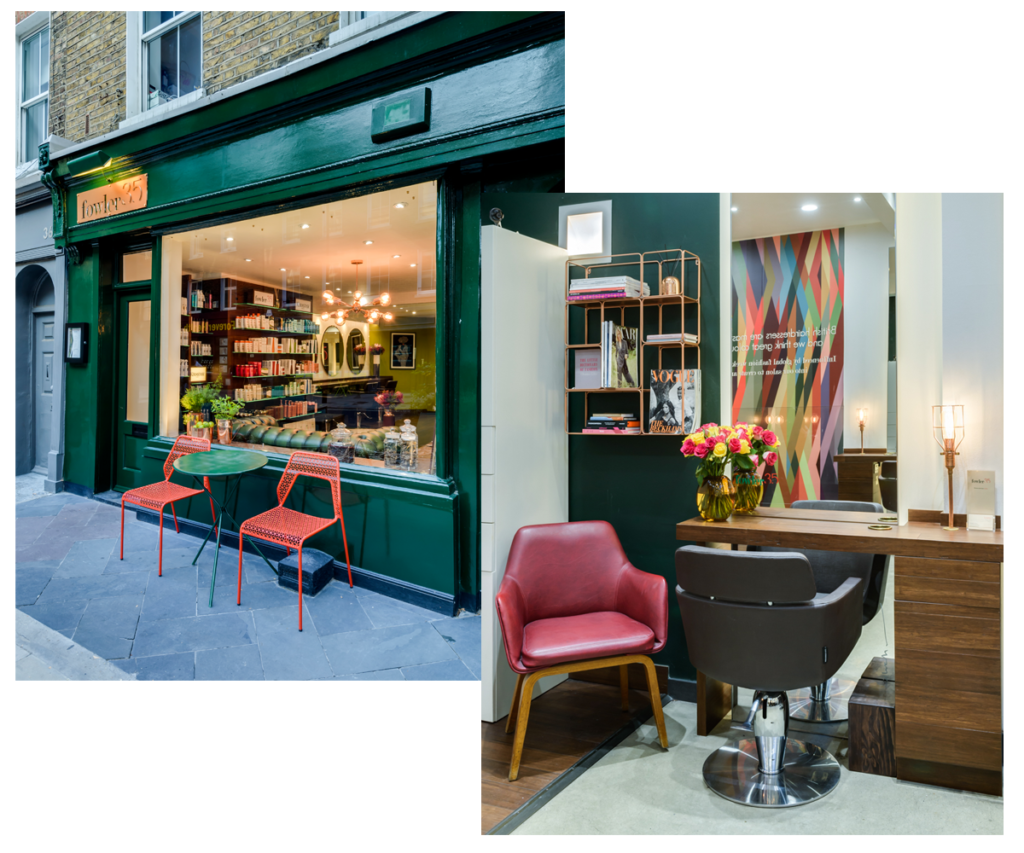 The vibe
The studio has a contemporary feel but echoes the traditional value of the brand – woods, earthy materials, modernistic wallpaper along with a more industrial modernistic approach in the main part of the studio with its triple height ceiling, exposed workings of the building and plain painted walls.  The floor is polished concrete which adds to the industrial feeling, along with the handmade copper lamps with warm finish bulbs.
The walk-through
The studio operates on three levels – the entrance with its lounge-like quality with a leather couch, upcycled table, shelves of books, sweet jars, upcycled hand-held mirrors, handcrafted combs and bobby pins – I like the mix of old with new; I think if everything is too new it deadens the energy and these mixing second-hand with new gives it a creative energy.  Here we also have bespoke shelves to display the products we stock – but we've changed the way we retail and don't retail in brand anymore, we retail in category – so for example products for dry hair, products for damaged hair. We find it's much easier for guests and the team to navigate.
We have three stations in this area, and often if feels like its own little salon within the salon.  Going down a set of concrete steps takes you to the main salon area with 12 stations. It's very roomy with stations along each side and a huge open space in between which means it never feels over-crowded and has a very airy and open feeling.  The walls are also perfect for displaying works of art or our latest collections, depending on our latest marketing campaign. As I wanted a clean, minimalist feeling here, everything is hidden away, plus we also have phone and laptop chargers and USB's for guests who need to work while they are with us – often we are an office outside of an office!
We made our mixology, or colour room, open to the space (but behind glass) so that guests can see what we are doing, and we can see what they are doing, and if they need attention!
Going down another set of stairs takes you to the area that was once a team area and office – this has totally been transformed into our hair spa area where we offer Kérastase and Shu Uemura Art of Hair treatments.  Its low ceiling and subdued ambiance creates a very relaxing space for up to five guests. We have dimmable lights here, so we can turn up to daylight when needed so we can see what's happening to a colour. There's also a special toning station which is stocked up with everything our stylists need so the guest has as smooth an experience as possible.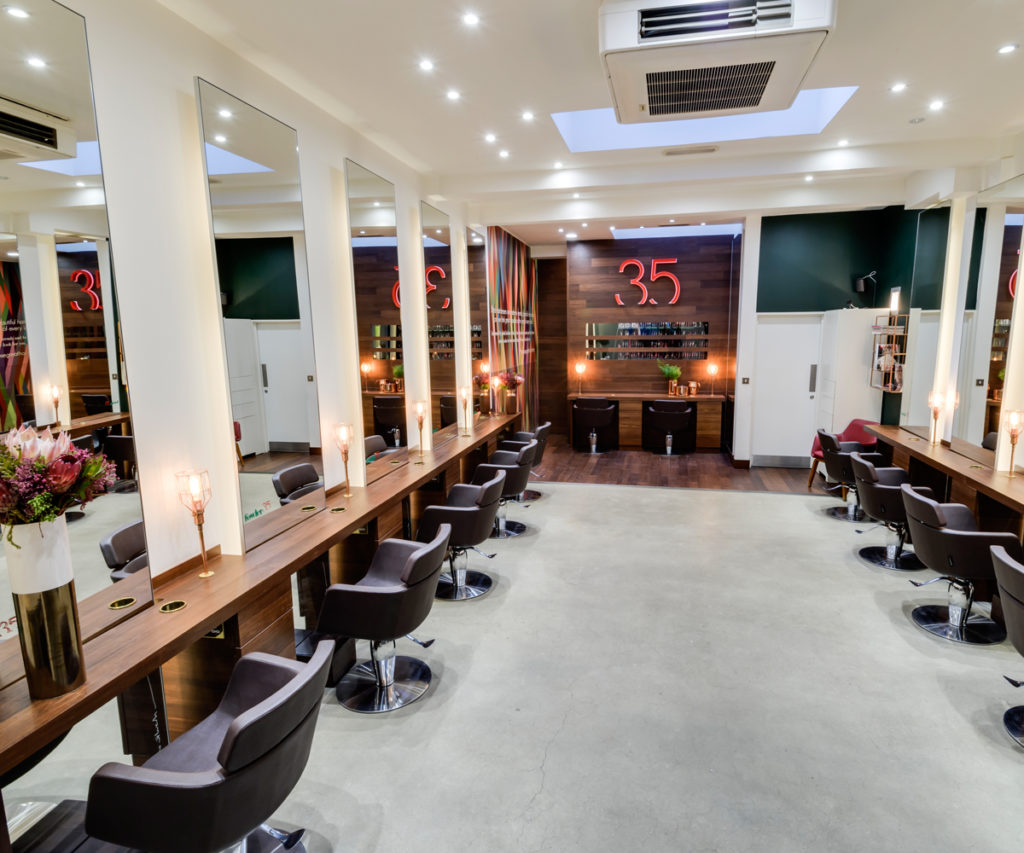 Incorporating sustainability into the refit (and every day salon life)
Our chairs are Eco Fun by Christophe Pillet for Maletti – these use recycled padding and recyclable aluminium for the frames and bases.
I chose bamboo as the wood for the units and shelving areas and unit because it is incredibly durable and Bamboo is a regenerating grass so it grows much faster than hardwood trees and this makes it more sustainable and environmentally friendly.
All of our bulbs are LEDs, and we do small things like have our own reusable gloves for colouring, so we are not using loads of one-use plastic gloves. We also have our own reusable totes so we don't give out plastic bags with our retail products.
Our red chairs that are dotted around the salon are upcycled from a working man's club and we worked with a designer to make  an upcycled table for our reception area.
Another thing we have done is to cut down on the usage of our towels, and we also make sure that we put full loads in our washer and dryer so they are never half-loaded.
We've also made a conscious effort to upcycle all of our Christmas decorations, as well as recycling anything that is no longer usable.  We also produce our marketing and window campaigns with sustainability in mind too.
And finally, we recycle as a salon and pay for a company to come and take everything away for recycling.