Husband and Wife DUO Nikita and Jonathan Fisher are the owners of Palmer Fisher in London. Let them show you round their dream-come-true salon.
How did you decide on the style of your salon interior?
We wanted to create a calm and tranquil space for our clients to escape whilst they enjoy their salon visit. We also wanted to create a super-premium, clean and functional space for both us and our stylists.
Where did you find the inspiration for your design?
We looked at a lot of design ideas, but we love the clean, airy minimal feel, inspired by the feel in Ibiza and LA. The overall inspiration for the design came from our branding/logo. We chose the colour turquoise as it is calming but also one of our favourite colours and grey as this complemented well and we wanted to keep it neutral. It wasn't until we chose those colours that we realised they were actually the colour theme that we had at our wedding, so it has in turn became quite sentimental too.
Did you use an interior designer?
No, it was all Jonathan!
Describe the vibe created by your interior…
Clean, bright and premium with a warm, welcoming feel.
What do you hope is your clients' first impression when they walk in?
We want all our clients to feel a certain wow factor when they walk in, a real premium feel that adds to their excitement of getting their hair done, but most importantly for us is making sure our clients feel welcomed.
Tell us what are the key elements of your salon design?
I think the key element is the vibe our salon design creates – we wanted the salon to flow well, both for function and energy, whilst always representing us a brand. We have used the brand colours throughout the salon as well as our trademark neon signs.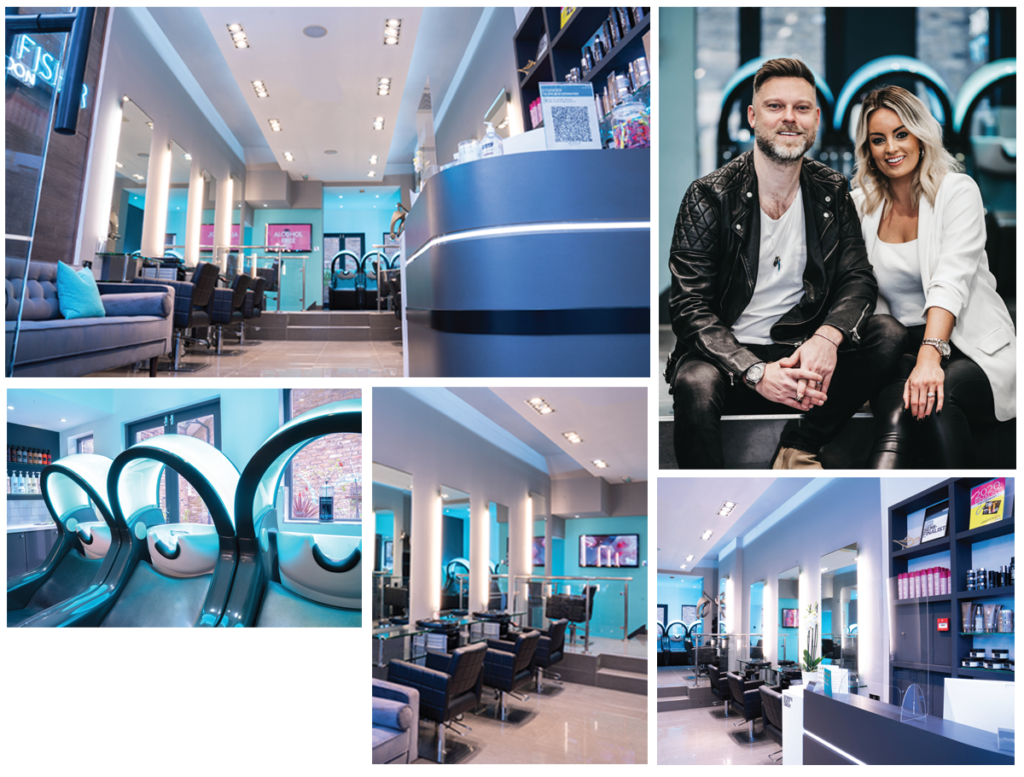 Do you have any curated pieces or special features/areas in the salon?
Definitely the light-up back washes, they are our statement piece.
How have you embraced sustainability within the design?
We use Scrummi towels which are sustainable, biodegradable and disposable. They save on replacing cotton towels, as well as using less electricity and water. All our lightbulbs are LED, saving on electricity and constant changing of the bulbs, even all of our neon signs in the salon are actually handmade from LED lighting. We also re-used and upcycled as much as we could too, I used a friend's old flooring that again was going to be thrown away to create our feature wall as you walk into the salon, he was having his floor redone, and the old flooring was exactly what we were looking for, so it worked perfectly. We also re-homed the back wash basins that would have been thrown away.
What salon software do you use and what feature of it do you find most useful?
We use Salon IQ as our salon software. I would say our favourite features among many would be all the automated services, including text messages and email appointment reminders. You can have emails and text messages sent out straight after a client's appointment to recommend a friend or to leave a review, it saves so much time and a huge benefit the salon's growth.
Did your product brand/colour house influence your style of interior design?
No, not at all. We wanted our salon to be a reflection of us and our ethos, regardless of our product brands.
What salon furniture have you chosen and why?
For our salon chairs we used Salon Supplies, I have a great contact there who has always been super helpful and the products are very affordable and great quality. We got our reception desk and climazones from a salon that had closed down in the area we used to live in. It's gutting to see a salon close down, but we were very glad to have been able to give some of their old fittings a new home.
Do you have dress code/uniform for your team?
No uniform for our team. Style is such a great form of self-expression and identity, and we want all our stylists to be able to have that in the salon.