You are all invited to a must-attend virtual hair festival hosted by Joico.
What a start to the new year as on January 31st 2022 from 9.30am GMT, JOINATION will bring you education, inspiration, news, trends, live demonstrations as well as countless tips and tricks for hair, your business, and your social channels.
The JOINATION platform is one of a kind – you will be able to walk around the virtual building, chat with other attendees and even create your personal avatar. The platform also gives you the freedom to tune in to different speakers during the day or interact with guest artists and team members on a more personal level at the Table Talk sessions.  Attendees can also join many of the JOICO Educators who will be live from the studio at the JOICO Experience Centre.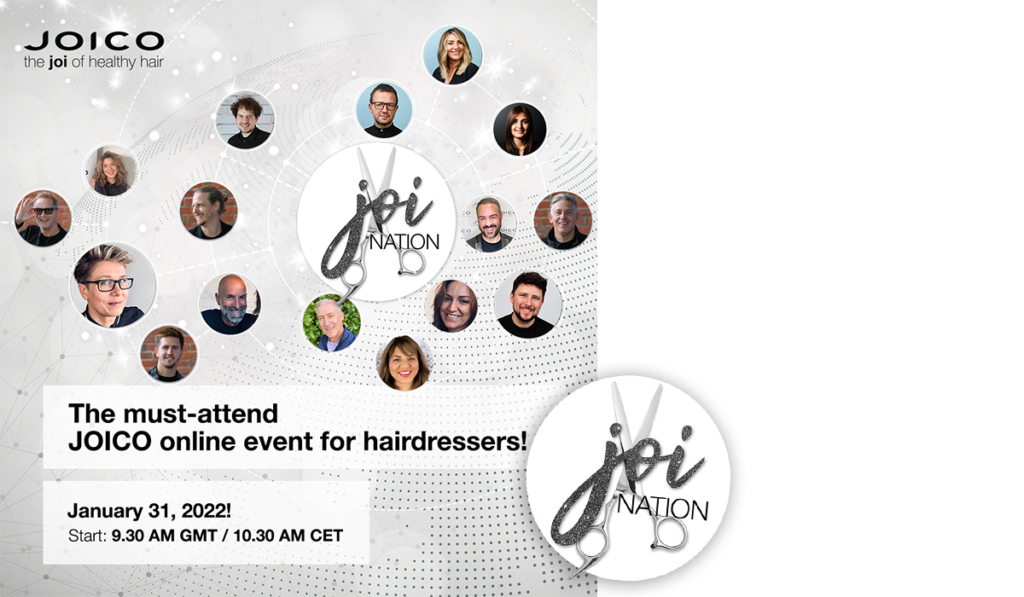 Guest Artists including Bruno-Marc Giamattei, Paul Watts, James Atkinson, Marcus Giamattei, Dan Spiller, Ijan Davies Emrus, David Murray and Gill Berry will be showcasing innovative products and techniques from JOICO including the brand new JOICO LumiShine LUMI10 Color which covers unwanted greys in under ten minutes. JOICO Style & Finish will take center stage in the afternoon, with experts demonstrating how to recreate a variety of salon-friendly looks ranging from Hollywood waves through to textured styles. The Marc Antoni Artistic Team will also be showcasing their award-winning collection during one of the afternoon sessions. 
The exclusive Table Talk segments throughout the day will provide attendees with the unique opportunity to enjoy an informal and interactive discussion session with some inspirational guests. Taking part in Table Talk will allow you to ask the questions you've always wanted to ask and get to know the guests in an environment that's fun, educational and inspirational. Spaces are limited so be quick to register before January 31st to avoid disappointment. 
Check out the JOINATION schedule below and visit joico.eu/joination to be amongst the first to register for the first hair festival of 2022. Your business will thank you for it!
| | |
| --- | --- |
| Time (GMT)  | Event   |
| 09:30  | Opening   |
| 09:45  | The Power of 10! LUMI10: 100% grey coverage and two levels of lift in 10 minutes!  |
| 10:30   | Table Talks – Meet, greet and connect with JOICO artists   |
| 10:45   | Let's Get Social with Sagahaus   |
| 11:45   | Table Talks – Meet, greet and connect with JOICO artists   |
| 11:45   | Break  |
| 12:30  | JOICO News   |
| 13:15   | Table Talks – Meet, greet and connect with JOICO artists  |
| 13:30   | Spotlight on JOICO Style & Finish: From Hollywood glam to beachy waves – our style & finish session will get you hyped one way or another!  |
| 14:15  | Marc Antoni Art Team Collection  |
| 15:00  | End  |