Introducing Tea Tree Hemp, a new collection of vegan, multitasking essentials…
John Paul Mitchell Systems® has unveiled a nourishing new Tea Tree Hemp collection that creates a retreat for the senses and restores hair and skin. Inspired by the meditative practice of forest bathing, Tea Tree Hemp delivers an earthy, mind balancing aromatherapy experience. Harnessing the highly restorative power of hemp in three ways, there are four new products in the range.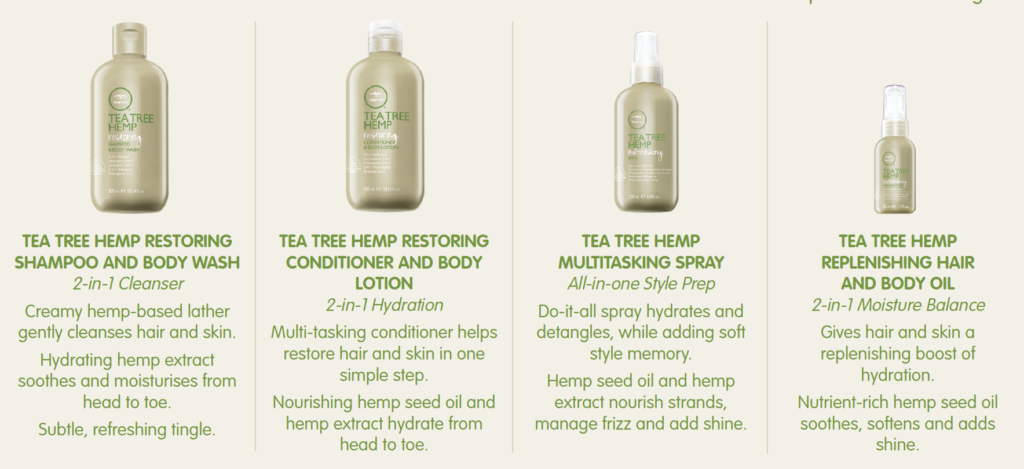 WHAT'S INSIDE?
HEMP SEED OIL
High in nourishing essential fatty acids, including Omega-3 and Omega-6, to hydrate and protect skin and hair.
UPCYCLED HEMP EXTRACTS
A valuable, protein-rich resource that helps restore hair and skin. While hemp is often harvested only for its oil, Tea Tree uses upcycled hemp extract that's made from leftover seeds, making it a sustainable ingredient solution.
HEMP BASED CLEANSING INGREDIENT
An alternative to sulfate-based surfactants, it uses the seeds from the hemp plant to create a creamy lather.
For more information please CLICK HERE