"We are the pioneers of modern barbering.
Our mission is to do more than contribute; we are looking to
rewrite the standards of grooming.
We respect people that have bold, authentic statements to make.
We are creating a community of movers and shakers that influence our industry.
People that stand up for what they believe in.
Taking a truly collaborative approach, we are shaping a brand
that goes beyond product. A brand with purpose."
Over the past couple of years barbering and hairdressing have merged, they've become intertwined with one another, a lot more 'one'. The core barbering values are still in place. The traditions, the skills. But grooming in itself has been repackaged and the classic codes of 'masculinity' have been challenged. 
Modern Barbering is sophisticated, lifestyle-driven and genderless. It's the complete package, where style is tailored. The whole experience has evolved from the salon and into the daily routine.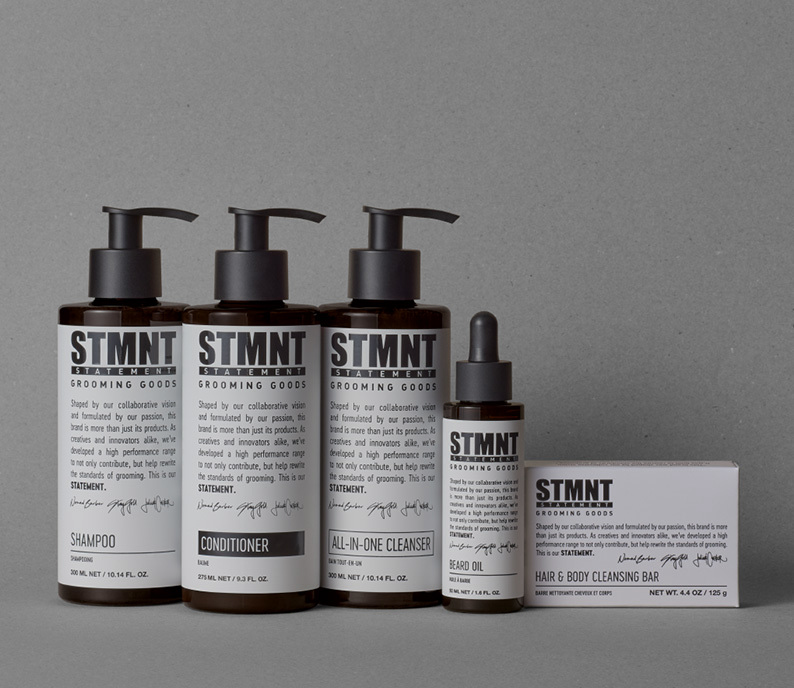 A NEW HAIR LANGUAGE 
Barbers by trade and creators by nature, innovators Julius Arriola aka JULIUS CVESAR, Sofie Pok aka STAYGOLD and Miguel Gutierrez aka NOMAD BARBER are part of the founding team of STMNT GROOMING GOODS – and they know the scene inside out. 
Together they have created high-performance products that fit your lifestyle. Products that look good. Smell good. Designed to look sharp. Designed to make a statement. They have imparted their identity into every aspect. Designing a brand that stands out. A brand to sign their names to.
MEET THE CREATORS AND THEIR COLLECTIONS
Collectively they have over half a million followers on Instagram and they're building a growing community of movers and shakers that influence the hairdressing world. 
"As creatives and innovators, we came together to craft each of our products from scratch. We put everything into this. Our inspiration. Our knowledge. Our passion. We pushed the boundaries and developed exceptional formulations. We tested them until they exceeded our expectations. 
The result: three distinct styling collections, accompanied by a 5-piece care line."
 Julius Arriola aka JULIUS CVESAR (@JULIUSCAESAR) 
Julius has been working with hair for 19+ years; a respected educator and platform artist hailing from LA. He aims to share his creative vision with the world as he evolves grooming to the next level. 
"I've developed my collection to deliver versatile performance, whether you're behind the chair or session styling. Shine, matte and everything in between – these formulas are designed to cocktail, for truly custom-tailored styling"
Created with every consumer in mind, Julius has developed three products and two key looks to take grooming to the next level:
STMNT Shine Paste [100ml] – the one for understated shine

STMNT Matte Paste

[100ml]

– the one with the super matte effect

STMNT Hairspray

[150ml]

– your style's safe with this one
This collection features JULIUS CVESAR'S signature scent: a twist of creamy coconut and sandalwood with inflections of orris.
 Sofie Pok aka STAYGOLD (@STAYGOLD31)
Sofie is an award-winning barber and well-known educator from LA; disrupting the ordinary is what she does best. With 12+ years doing hair, her dedication to personal growth means her technical skills are off the chart!
"I aim to shake up industry standards with a range that goes beyond the ordinary. My dedication to personal growth and technical perfection is reflected in my formulas, each with unique qualities; powders, fibres and transforming textures."
Sofie has created a unique collection of products that truly hold their own, each with a key look designed to rewrite the styling rulebook:
STMNT Fiber Pomade

[100ml]

– your golden ticket for messy texture

STMNT Wax Powder

[15g]

– transform the way you style

STMNT Spray Powder

[4g]

– your secret weapon for rough texture

This collection features STAYGOLD'S signature scent: with citrus, aquatic and woody notes.
 Miguel Gutierrez aka NOMAD BARBER (@NOMADBARBER)
Miguel is a renowned traveling barber, photographer and filmmaker; he brings inspiration from around the world to innovate and educate. Barbering for 18+ years, his authentic passion is captivating.
"I've absorbed the time-honored art of barbering from across the globe; this unique knowledge has allowed me to perfect a range of classical products; a spray, pomade and clay, upgraded for today's grooming needs. This authentic collection doesn't just represent my travels, but the experience of the very best in barbering from around the world."
Miguel's collection features three essential products and two key looks, developed to give the freedom to create so that every day is an adventure:
STMNT Classic Pomade

[100ml]

– it's a classic for a reason

STMNT Dry Clay

[100ml]

– Rough it up with extra matte impact

STMNT Grooming Spray

[200ml]

– your multipurpose prep and style support
This collection features NOMAD BARBER'S signature scent: rich with spices, lavender and a hint of wood.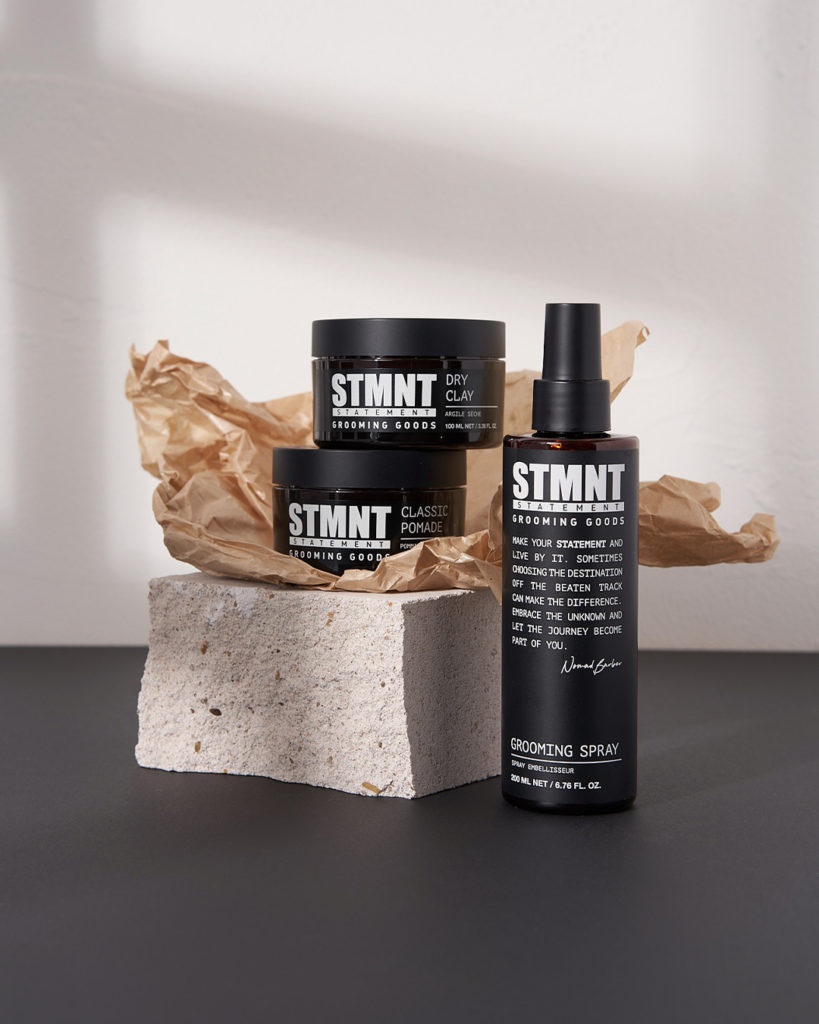 STMNT CARE
Together the founding collective have also created a 5-piece line up of high-performing care products designed to create the perfect canvas for styling. 
Developed specifically to care for all hair and beard types, the high-performance STMNT care line is an essential part of your daily routine – in the salon, barbershop or at home – with quick and easy solutions designed to complement the STMNT styling collections:
STMNT Shampoo

[300ml]

– your daily cleanse, just more powerful

STMNT All-In-One Cleanser

[300ml]

– your daily 'clean everything' cleanser

STMNT Conditioner

[300ml]

– for a smooth finish

STMNT Beard Oil

[50ml]

– your beard, just more awesome

STMNT Hair & Body Cleansing Bar

[125g]

– a solid choice for multipurpose cleansing
The care collection features its own signature scent: fresh citrus & lavender with tonka bean.
Each product within the collection(s) has been shaped by STMNT's collaborative vision and formulated with passion – a statement that can be found on the packaging of every product in the range. 
STMNT COMMUNITY
STMNT goes beyond the product, this is a brand with purpose. A collective that respects people who have bold, authentic statements to make. People that stand up for what they believe in. Are you ready to raise your game? Join a community that honors craftsmanship and strives to do better than what has come before: @STMNTGROOMING / STMNTGROOMING.COM 
Make your statement: #STMNTGROOMING #MAKEYOURSTMNT
STMNT GROOMING GOODS will be available in the UK from May 2022.
RRP starting from £14.75 / €16.30