Schwarzkopf Professional launches NEW IGORA COOLS – Permanent & Demi-Permanent Colour Crafted for Optimal Neutralisation on all Bases…
Schwarzkopf Professional's flagship colour brand, IGORA, continuously pushes colouration limits with high-performance products that empower hairdressers to become the colourist they want to be.
Supporting the need for cooler, natural-looking hair colour with strong neutralisation – especially on darker bases – Schwarzkopf Professional have extended both their permanent IGORA ROYAL portfolio and the demi-permanent IGORA VIBRANCE assortment with a range of true cool shades, perfect for cendré, ash, and matte tonal directions.
IGORA COOLS Shades and Application:
The new Schwarzkopf Professional IGORA COOLS shades are a dedicated range of new beautiful cool tones; ranging from enticing cendré to beautiful ash and jade, allowing hairdressers to create the most beautiful cool colour results – no matter what the client's hair base is. IGORA COOLS also uses a specific pigment combination that provides the desired level of neutralisation by counteracting any occurring warm undertones across every hair base. 
Achieve the desired level of neutralisation with the IGORA COOLS line extension, featuring 8 dedicated cool shades:
IGORA ROYAL – 5 cool shades for permanent hair colour:
9-11, 9-19, 7-13, 6-23, 6-31
IGORA VIBRANCE – 3 cool shades for demi-permanent hair colour:
9-12, 6-23, 4-33
 Thanks to IGORA, Dual Application has never been easier!
Using the same numbering system for all shades, hairdressers can perfectly match IGORA ROYAL permanent shades to IGORA VIBRANCE demi-permanent shades.
A Dual Application service sees hairdressers using the matching IGORA VIBRANCE shades to refresh the lengths and ends of an IGORA ROYAL service, where permanent colour is usually only required on re-growth areas. This means more service opportunities for hairdressers and more choice for clients, as well as improved hair condition, shine and colour vibrancy thanks to strongly reduced risk of over pigmentation.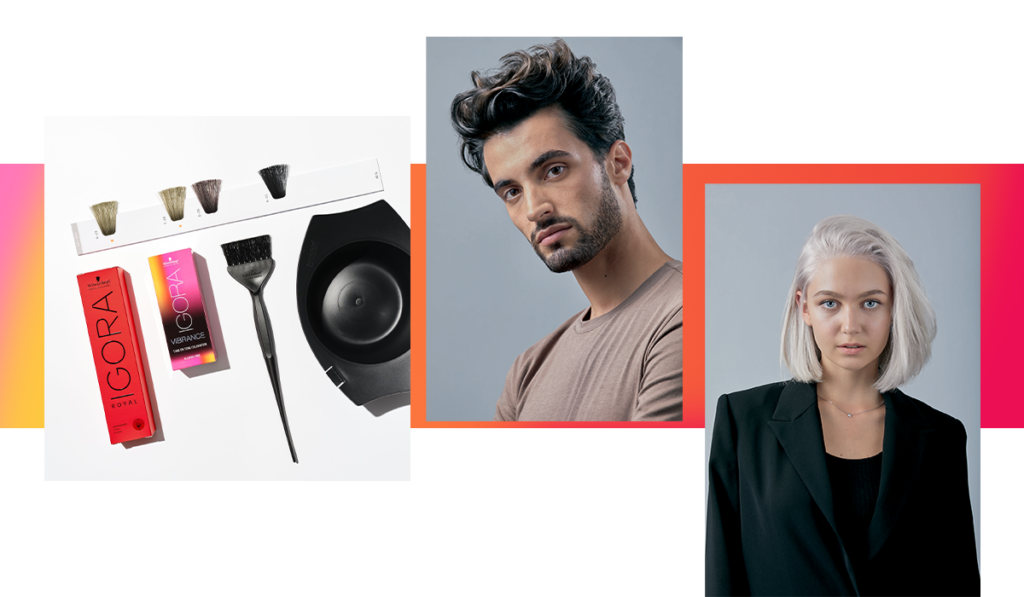 IGORA COOLS Looks and Services: 
Along with the new IGORA COOLS shades, Schwarzkopf Professional have collaborated with hairdressers from around the world to formulate a wide range of relevant salon services that cover the various needs and techniques related to cool colour:
COOL UPLIFTED HUES – uses a freehand technique to create an optical illusion of volume,

 

using colours to amplify dimension with cool neutralising tones.
COOL ICE TONING – uses freehand toning with two different mixes to create dimension on a level 9 pre-lightened base.
COOL FOILYAGE – a foil balayage followed by a root melt and bottle application to perfectly blend the roots with mid-lengths and ends.
COOL LIGHT SPIRALS – sees pre-lightening with different developer strengths to create a dimensional base, followed by full-head bottle application to tone and neutralise the underlying warmth.
COOL WHITE BLENDING – features weaved in lowlights to create depth, followed by a cool full-head glossing service for optimal enhancement and colour blend.
COOL SHADING – a freehand application of different cool tones to create deep-shading and texture for a more lived-in feel.
COOL WHITE BALANCING – an alternating freehand application of different tones to create a seamless cool blend.
IGORA COOLS Online & Digital: 
Explore IGORA COOLS product and shade information, the new services and more on the Schwarzkopf Professional website: schwarzkopfpro.com/igoracools – don't forget to keep up with the latest news and trends via @SchwarzkopfProUK on Instagram and the #BeIGORA / #BeCOOL hashtags. 
The new IGORA COOLS shades will be available from January 2023.