Discover NEW Bonacure Clean performance: the Power of Vegan Keratin in a Professional Clean Formula
Still choosing between clean or high-performing products? You don't have to! Schwarzkopf Professional's new Bonacure Clean Performance ranges bring the best of both – the power of Bonacure's Advanced Technology you love, in a new professional clean formula. Salon clients will feel confident and beautiful, inside and out, whilst hairdressers can do their part for a more sustainable world – without compromising on the outstanding results expected from a salon on a daily basis.
Bonacure Clean Performance aims to inspire confidence in both hairdressers and consumers alike with its three fundamental pillars: Advanced Technology, Clean Formulas and Sustainable Packaging.
Advanced Technology
The next generation of Clean Advanced Technology introduces the new Vegan Care Complex:  Vegan Keratin and Cell Equalizer technologies, together with skincare- actives, guarantee healthy and beautiful results across all hair types.
Clean Formulas
New 100% vegan professional formulas, free-from sulphates*, silicones, mineral oils, and artificial colourants, with a high level of biodegradability are combined with high-performing technologies.
*Free from Sodium Lauryl Sulphate & Sodium Laureth Sulphate.
Sustainable Packaging
Clean inside and out: the high new packaging is planet-friendly, fully recyclable and made of up to 97% recycled plastic.
Bonacure Clean Performance – Advanced Technology:
Introducing the next generation of Advanced Technology from Schwarzkopf Professional: the NEW Vegan Care Complex.
The NEW Vegan Care Complex is an innovation at the heart of every Bonacure product. This technology is the combination of Vegan Keratin (the vegetable alternative to the classical non-vegan hydrolysed Keratin) – this has an inner action that restores strength and elasticity within the Cortex, and Cell Equalizer Technology – with an outer action that aligns and seals the Cuticle.
To benefit the hair with its outer and inner action, the Vegan Care Complex can be found in the Bonacure Clean Performance formulas to:
Increase the inner hair strength
Help to fortify hair, making it stronger and more elastic
Improve combability of hair (wet and dry combing)
Reduce static and frizz, making hair easier to style
Work on the inner layer of the hair, restoring the protective natural shield of healthy hair
This innovative technology fully replenishes damaged hair cells from the Cuticle right through to the Cortex with hair identical agents. Its unique action fills gaps in the hair's surface to create a sealed healthy surface for immaculate hair quality – that's closer than ever to natural perfection. Simultaneously, within each strand, the technology acts to rebuild the structure of the hair with hair identical amino-acids chains. The result is reborn hair with renewed strength, superb elasticity and healthy shine.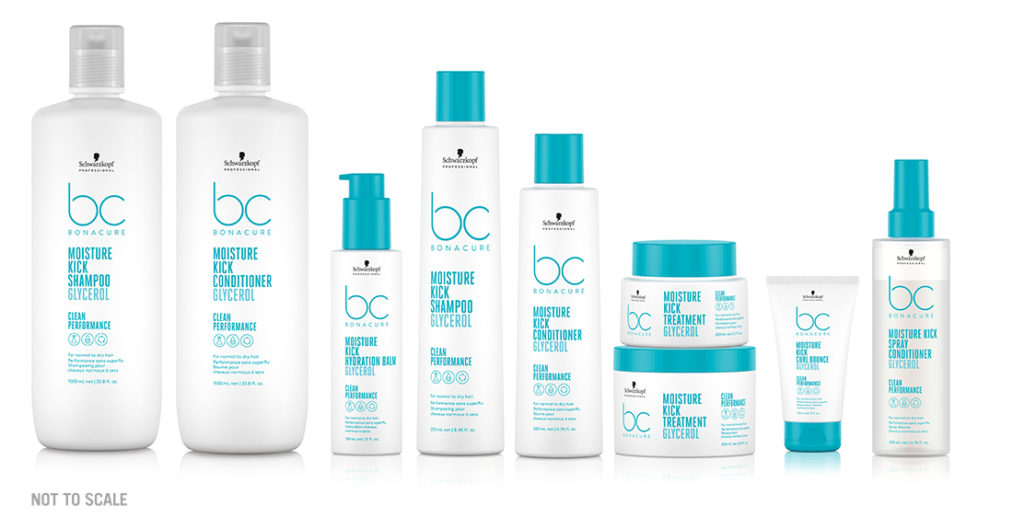 Bonacure Clean Performance has seven colour-coded ranges, each with high-performing skincare-inspired ingredients:
 

Repair Rescue for damaged hair with Arginine to instantly reverse 3 years of damage in just one application
Moisture Kick for normal to dry hair with Glycerol to provide a moisturised hair feeling for up to 48 hours
Color Freeze for coloured hair with pH 4.5 to rebalance the hair structure to an optimal pH level and protect hair colour with close to zero fade
Volume Boost for fine hair with Creatine provides increased volume with up to 48 hours of a fuller hair feeling
Time Restore for mature and fragile hair with Q10+ to help protect the hair against the visible signs of ageing** and instantly create softness and shine


**When Time Restore Shampoo and Conditioner are used in combination, with repeated use
Clean Balance for all hair types with Tocopherol to remove product build-up, whilst helping to protect from pollution
Frizz Away for coarse, unruly, and frizzy hair with Babassu Oil to provide up to 72 hours of anti-frizz effect for all types of hair – Frizz Away coming in September 2022
Bonacure Clean Performance Digital:
Explore the full brand story, professional product portfolio, the power of Vegan Keratin and
skincare-inspired ingredients – plus so much more – on the Schwarzkopf Professional website: schwarzkopfpro.com/bonacure