"Displaying a carefree confidence and a daring curiosity that animates our creative spirit, inquisitive and intriguing PANTONE 17-3938 Very Peri helps us to embrace this altered landscape of possibilities, opening us up to a new vision as we rewrite our lives. Rekindling gratitude for some of the qualities that blue represents complemented by a new perspective that resonates today, PANTONE 17-3938 Very Peri places the future ahead in a new light."
With Very Peri, a brand new colour, being announced as the Pantone Colour of the Year for 2022 we were curious as to how this exciting shade would be received by the hair world and how it would be translated into salon looks. We spoke to some of our industry friends, who had lots of suggestions of how the colour could be used, and what it would mean for clients. Read on to find out what they had to say, as well as some inspiring creative looks and highly-recommended colour products you can use to come up with your own Very Peri creations.
PURPLE REIGN
Firstly, thoughts on PANTONE'S COLOUR OF THE YEARP's COLOUR for 2022?
"Pantone, as we know, is the global leading authority in colour predictions and whilst some may question the relevance of the Pantones within the hairdressing industry, I strongly believe that when identifying what clients are seeing when they scroll online and social media for hair colour inspiration, you simply cannot ignore the domination of the Pantone Colours – they are hugely influential," says Andrew Smith, Global Artistic Ambassador for Milkshake. 
"Although very unpredicted, Very Peri, is inspired by the transformative times that we are living through and represents the trials, tribulations and changes that we encountered through the global pandemic which has completely changed the world in so many ways," says Safy B. "The colour itself is a mix of emotional tones, each of which displays empathy to the world that surrounds us. The blue tones represents the sad and emotional feelings, whist the violet and red undertones represents a joyous attitude and courageous outlook."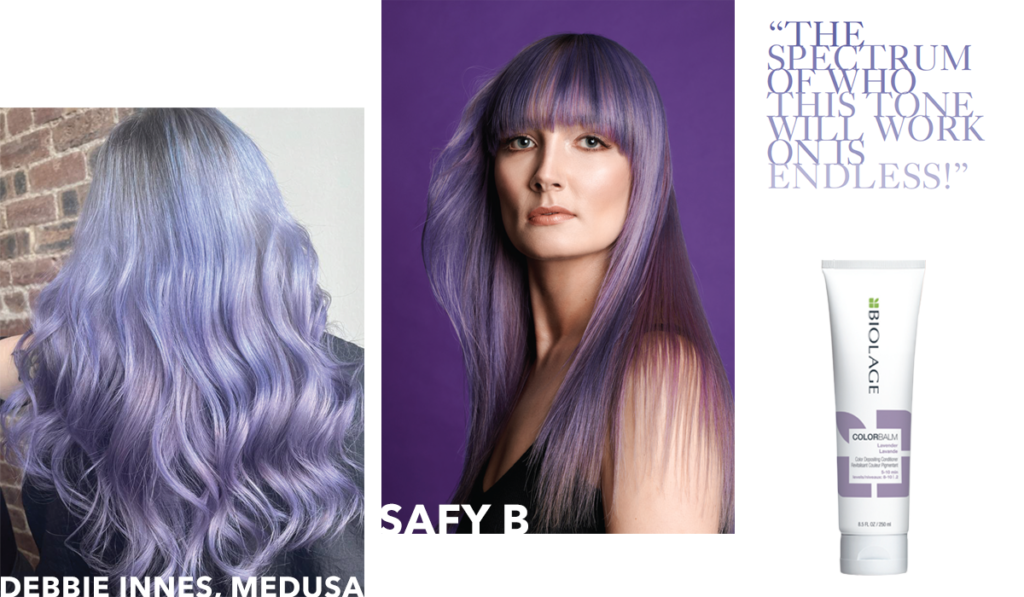 Biolage colour-deposting conditioners come in seven shades that will enhance, refresh, and transform colour-treated or naturally-coloured hair. The intermixable shades boast an extra-nourishing vegan formula. Find out more.
British Colourist of the Year Siobhan Haug, TONI&GUY comments, "Blue with a red undertone – what a combination! Blues can be tricky for everyone to relate to due to the cool make up of the colour. For example, if you're someone who loves warmth, golden jewellery and earthy tones you might struggle to connect and love a blue shade. But by incorporating an element of warmth, like with the shade Very Peri, suddenly the spectrum of who this tone will work on is endless!"
HOB Academy's Warren Boodaghian adds, "Very Peri is the perfect combination of calm and passion. These are words we will see throughout fashion and lifestyle movements moving into 2022. Very Peri gets its calming undertone from the blue hue and the passion from the accents of red. It's a truly commercial colour that can be added into our everyday salon conversations with our clients."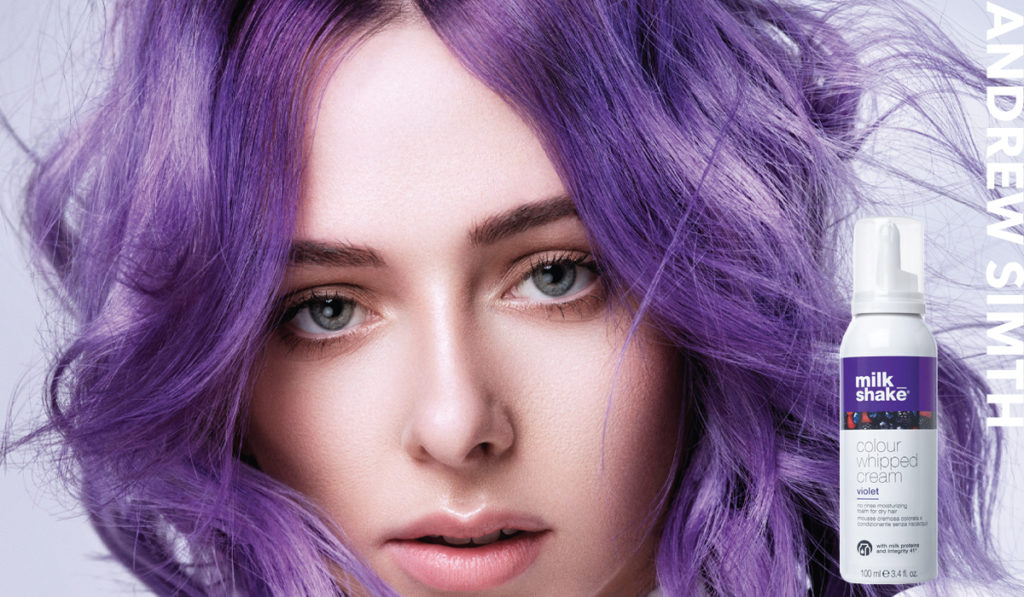 Colour Formula by Andrew Smith (Above image) 6ml violet, 0.5ml blue and 4ml clear mixed with milk_shake whipped cream. All milk_shake direct colours applied to pre-lightened hair and developed for 15 mins.
milk_shake Whipped Cream Violet is a no-rinse conditioning & protective creamy foam that is suitable for adding lilac, violet and lavender tones to light hair or enhancing vibrancy of purple hair. Find out more.
ON TREND
How do you see it translating to COMMERCIAL and CREATIVE hair looks?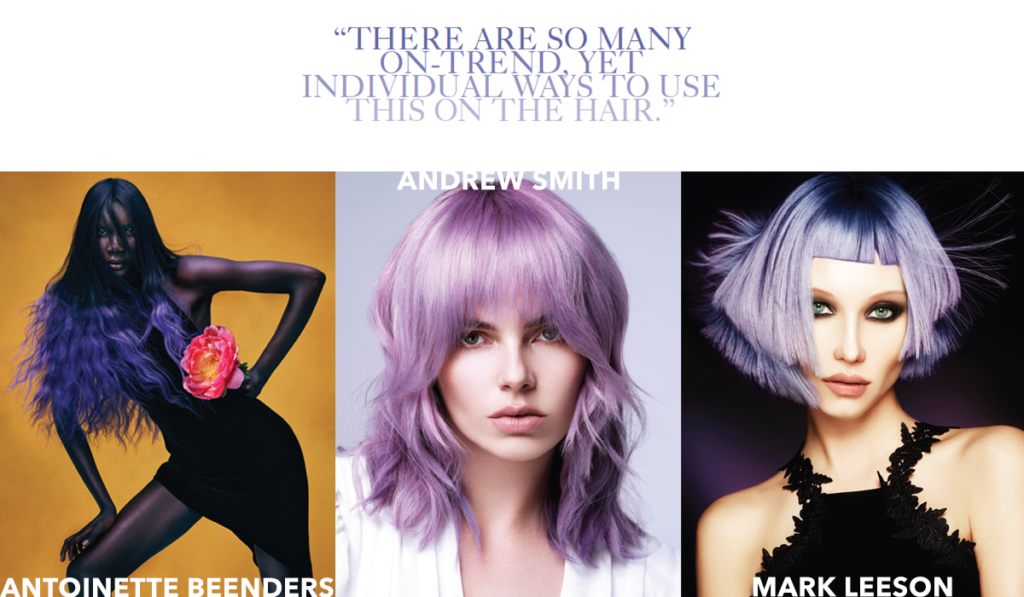 "Very Peri is a gorgeous new trend which I am so excited about. Depending on the client, their skin tone and lifestyle, this can be bespoke to them – ensuring they have a manageable colour that works for them and looks fabulous at all times. By balancing the violet red tone and the blue tone correctly, it is a true recipe for success," says Andrew Smith.
"From Pantone to fashion to hair, I can't wait to adapt this trend in my own way and show how you can push this creatively or commercially with your guests," says Artistic Director of Brooks & Brooks, Marlon Hawkins. "To get the look on the hair. I layered up different tones to really get that parmaviolet-meets-Very Peri feel on a clean, global canvas to bring to life this cool and warm mix of soft blues and reds. I love the L'Oréal Professionnel DiaLight range and Glow range which are perfect for creating beautiful varnishes over different canvasses that can be made stronger and last longer or softer for a hint of the desired shade."
Revlon Professional Nutri Color Filters tone hair with great precision, ensuring flawless semi permanent colour from roots to tips. Use in between colour services to maintain the Veri Peri shade, or right after prelightening the hair. Find out more.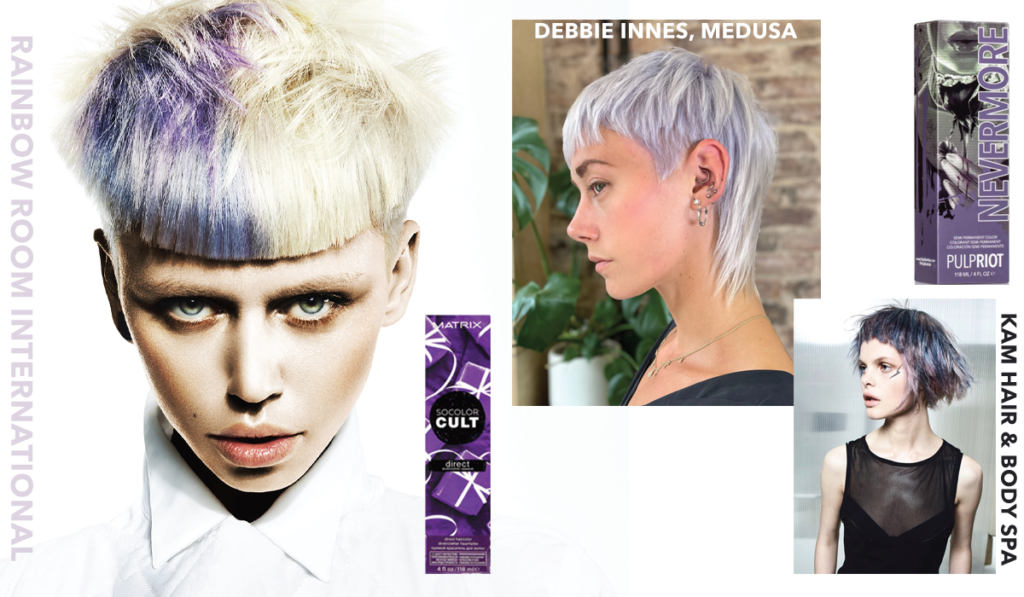 KEEP IT FRESH
VERI PERI is certainly going to need some maintenance what do you suggest?
"We're loving this beautiful colour in the salon right now and have already had a couple of clients in to have it done. It's definitely best suited to clients who are already blonde and prefer cooler colours. They are already used to maintaining toners and the upkeep required to keep the colour brighter for longer," says Paul Paterson, Medusa Partner.
"To maintain the vibrancy of the colour, I would recommend something like Schwarzkopf Professional Chroma ID and I would make up a bespoke tone and colour system for clients to use at home between appointments," adds Tim Scott-Wright.
Suzie McGill, International Artistic Director, Rainbow International also suggests, "With these cool pastel tones I also always recommend clients to use a serum or hair oil on damp hair before heated styling and also on dry hair to give the colour extra luminosity. Heated styling sprays are also a must to use before styling to avoid the colour fading quickly and protect it as much as possible during the heated styling process."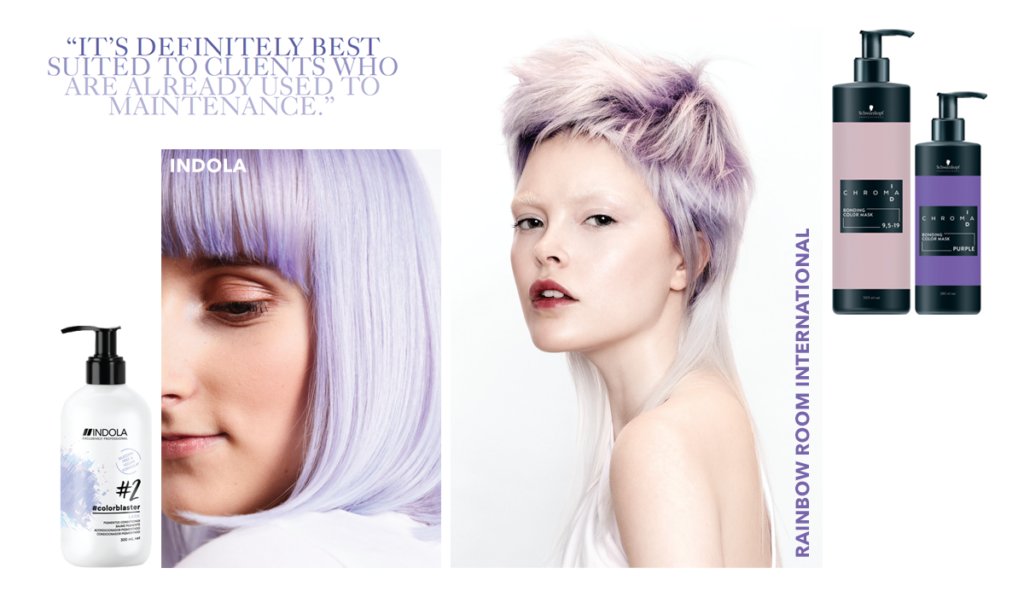 For a bold pop of purple colour, Indola Color Blaster Lark instantly provides colour refresh or enhancement of violet tones, with each application lasting up to 20 washes. www.rdr.link/HH018
Chroma ID is Schwarzkopf Professional's first semi-permanent mix and tone colour system with Integrated Bonding Technology, developed to create tones from subtle to bold – with 100% colour flexibility and no damage. www.rdr.link/HH019