What was it like opening a new salon just a week before the coronavirus pandemic truly hit the UK? We spoke to Alexia Malik, co-owner of Residence in Lowestoft, to find out…
Mother-and-daughter hairdressing team Alexia Malik and Robyn Kyriakou had been working flat out for months getting their new salon ready for launch, while also running their existing business. Every penny earned was put towards creating their dream salon, with an opening date planned for 10th March.
Alexia says, "The first day was brilliant, we were sent so many bouquets of flowers and bottles of champagne, with people popping in to congratulate us, it was just lovely. In that first week alone we had 20 new customers, as well as all our old clients calling to book, we were really encouraged it was going to be a big success."
But by 23rd March, not even two weeks after the opening, Residence was closed following the government's announcement that all non-essential shops and businesses had to shut down. Alexia says, "It was only towards the end of that week that I started to panic, and it was a relief that the government took that decision, because it was starting to seem too dangerous to work."
Alexia has worked as a hairdresser for 30 years and knows that her loyal customers will still be there when, eventually, Residence can re-open. And, along with business partner Robyn, she's staying in touch with them on the salon's social media platforms, as well as her own Hairwitch channel.
She says, "Because of Hairwitch, I'm still visible to people. Even while people were waiting for the salon to open, I was posting on Insta and Facebook and I'll keep doing that now. Obviously, it's difficult to know what to focus on, because we're not doing hair at the moment, but I'm just sharing anything about what I'm doing, the customers seem to like it and know we are all in the same boat."
–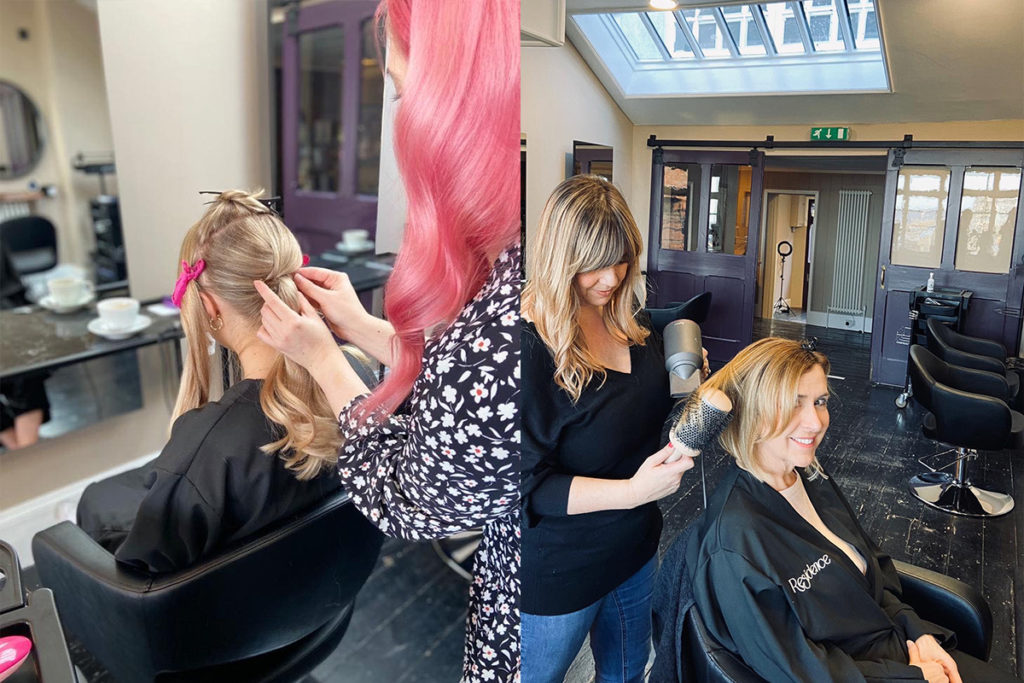 –
Alexia also has a huge backlog of hair photos and videos – the women specialise in colour and extensions – she can use this downtime to sort these, all those little marketing jobs can become the focus now, instead of something that was crammed into an already packed schedule. "I've got plenty of content and I'm actually posting more because I've got more time. I've got much more time to chat to my customers as well, not even about hair, but a few have been messaging to see how we are and it's been nice to have a conversation. Usually I don't even have time to answer my friends' messages."
Trying to make a positive out of a difficult situation is definitely Alexia and Robyn's approach to the situation, and Alexia's already planning ways she can help her customers, while keeping their business visible. "I've got some great hair tools I'm going to do demo videos of and I can sell these, and also some hair masks. I'm going to have a social media competition for the worst roots!"
 The women are also already talking about a big relaunch, whenever the time comes, but for now they are just focusing on trying to enjoy the time off and keeping the worrying to a minimum. "If nothing else, this virus has all made us think about how we live our lives and that we shouldn't prioritise our work over our health. I live right near the beach so have been taking my dog down there every day, and I've had time to cook a meal for the first time in ages. It makes you realise what is important."
Follow HairWitch on Instagram and Facebook