If lockdown doesn't go on too long, salons and barbershops are optimistic about the longer-term future, says the NHBF
The National Hair & Beauty Federation carried out a survey of its Members to find out how they're feeling, what they're most worried about right now and their concerns for the future.
Over 350 Members responded. The majority (85%) were salon owners and the rest were salon managers or self-employed stylists, barbers or beauty therapists.  When asked how they feel about their business surviving, a third were worried (32%), a fifth were very worried (20%) and a quarter were extremely worried (25%).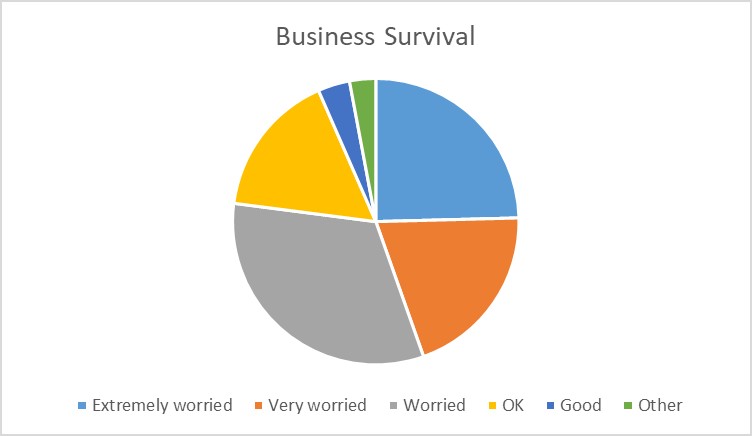 The three biggest worries for salons right now were:
1 Getting grants and loans to keep their business going. 
Three quarters (75%) qualified for a cash grant of £10,000 because they already get small business rates relief.  One third had asked their landlords for a rental payment holiday on their premises and a quarter had applied for a mortgage payment holiday.  Others had applied for Universal Credit, a coronavirus business interruption loan from a bank, other bank loan or an overdraft. 
2 How soon they can re-open their business. 
Even when they re-open, salon owners are worried about what restrictions might be in place and how those could affect their business. 
3 Looking after their staff and their wellbeing. 
Most salon and barbershop owners who had employees had furloughed them (59%) and had paid their wages.  'Furlough' means their employees remain on the payroll even though they aren't working for the business.  Employers can then claim 80% of the cost of their wages through the government's coronavirus job retention scheme.  One third (32%) said they had furloughed their employees but couldn't pay wages until government financial support came through.  A few (7%) had furloughed their employees but were topping up the 80% to full wages.  Only a handful (2%) had made redundancies.  Concerns about wellbeing included mental health, not only for employees but also for salon owners who were clearly feeling very stressed.
Future plans
When asked about future plans, 95% were optimistic and said they intend to re-open as soon as they can.  Only 2.5% were planning to close their business.
Hilary Hall, NHBF chief executive, said: "The key question is how long the restrictions remain in place.  Everyone understands why they're important for preventing the spread of the virus.  But from a business point of view, the longer the lockdown continues the harder it will be for salons and barbershops to survive long-term.  Many said they are entirely dependent on being able to get government grants or loans.  If the money comes through they could survive, but for no more than a couple of months at the most.  There are some hair and beauty businesses, particularly larger salons, multiples or salons in London, which have been harder hit because they qualify for less government support." 
For more details about the information given above and the coronavirus job retention scheme see the NHBF coronavirus hub:
Follow the National Hair & Beauty Federation on social @nhbfsocial