Education is at the heart of hairdressing, and ghd believes that upskilling with styling is just as important as staying ahead with cut and colour.
This year, the brand is adding to its existing training with the launch of Salon Essentials; a new look for ghd's fundamental education which is centred around the essential techniques that lead to expertise with each of their styling tools.
The styling seminars have been created to help salons and stylists learn and finesse their finishing with both classic and trend-led looks, to help salons perform at the very top of their game. On top of this, the education should help salons with retail and increase the services and finishes available to clients – crucial in the current uncertain climate, when full appointment books will make all the difference to a business.
Amy Sontae, ghd global education creative manager, says: "Salon Essentials provides everything you need to know to style hair with heated tools. These are our essential techniques, driven by current hair and fashion trends but all transferable to different styles and looks. The key to Salon Essentials is a focus on the purity of technique; you will learn our finished styles, but it's really all about honing the techniques you need to go on and create looks that are suitable for your clients."
EACH SEMINAR WILL COVER FOUR TECHNIQUES, AND EACH IS BUILT AROUND A SPECIFIC GHD TOOL.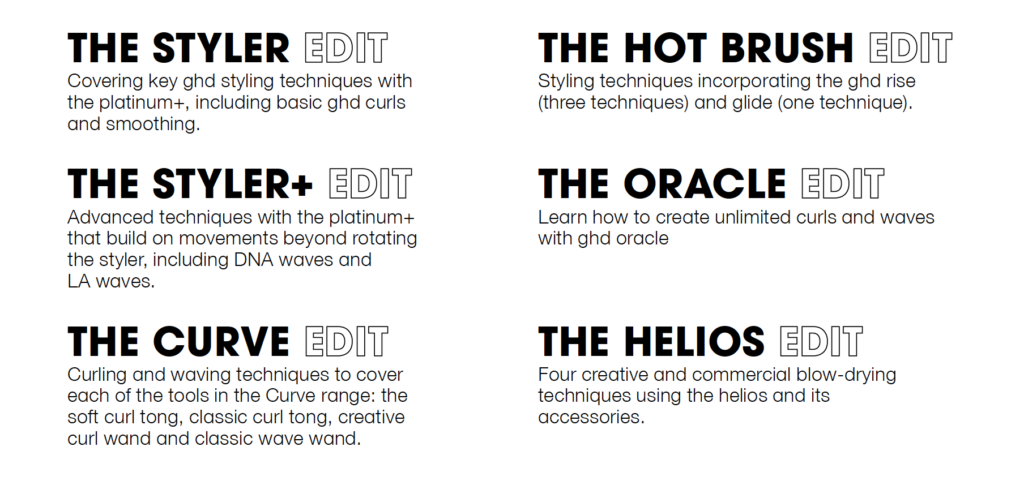 Salons can also choose from a Long Bob Edit, which covers styling for mid-length hair, and a bespoke edit, which will include your choice of four looks from any of the other edits, for a personalised overview of the ghd range.
New ghd Salon Essentials Education is accompanied by a collection of beautiful imagery, as well as videos that focus on the techniques. This will be used for the next two years, with updates to the Styler added annually.
Amy says: "Salon Essentials is fantastic for anyone that's new to ghd, those who are new to styling, or salons and hairdressers that want to elevate their styling techniques. We wanted to create a new look and feel for our education, with a strong identity of its own that is trend and fashion lead. We are really proud to have created a series of fundamental techniques to teach, with classic, clean, on-brand visuals. It's the essential styling collection, perfect for all stylists."
For more information on dates and locations, or to book onto a Salon Essentials course, salons should speak to their ghd account manager.
Hair: ghd Global Education Team
Photography: Philip Blythman
Make Up: Claudine Blythman
Styling: Charly Suggett