L'Oréal Professionnel Paris Launches its biggest ever 'Only In Salon' solidarity initiative to support hair salons across the UK & Ireland to bounce-back.
After a year like no other, where hair salons faced many months of closure – and received an out pouring of client love and found appreciation for the essential role they play in peoples lives – L'Oréal Professionnel Paris is supporting its salon partners across the UK and Ireland with their biggest ever consumer media campaign : 'French Balayage – Only In Salon' to boost the bounce-back of hair salons.
Even from the start of the pandemic, the desire to return to the salon for professional colour services was high, and a trip to the salon ranked as the #1 experience even before Covid-19, above activities like shopping and weekends away. * And of course, beyond the physical craft and incredible techniques and transformations that shape our identities which are only possible in the hands of the pro, a recent online survey also found that 68% (over two thirds) of British adults who get their hair done professionally agree that having their hair done supports their mental health and wellbeing ** . So now as we continue to look forward to returning to social life and more connections, the demand for in-salon experiences has never been more relevant.
L'Oréal Professionnel Paris, has been leading many initiatives throughout the pandemic to show solidarity for the salon industry and were recently awarded the 'Special Jury Award and Accolade' by Marie Claire for 'Outstanding Contribution of Solidarity and Support for the Hairdressing Industry'. Recent initiatives included the Hair The Love campaign in February this year in collaboration with Fashion Designer, Gareth Pugh, The Hair & Beauty Charity and Haircuts4Homeless, to show support and love for hairdressers up and down the country, as well as supporting the most vulnerable beauty professionals facing challenges.
The brand is now announcing its next – and biggest ever – salon solidarity initiative: French Balayage: 'Only In Salon' – a £1 Million investment consumer and media campaign to directly drive consumers into salon for professional colour services. 
The campaign will include media advertising reaching out to 12 million people, big influencer names showcasing their colour transformations and ten thousands of L'Oréal Professionnel subsidised coupons, where consumers can claim £10 off of their colour appointment this summer, driving footfall to local salons across the country.
Launching 1st July 2021 and running until September 2021, all consumers need to do is book an appointment in a participating salon, attend their salon colour experience and after their appointment, upload their receipt onto our online platform to claim back £10.
Nearly half of all salon services are blonding services *** and as one of the top trending looks – but also a technique that is only achievable in the hands of a professional – Balayage searches are up by +550% month on month ****. A seamlessly blended and free-handed professional colour technique that offers a natural result, it is no wonder that Balayage continues to boom, with over 71% of women saying they prefer a natural look *** when it comes to colour. L'Oréal Professionnel Paris 'French Balayage – Only In Salon' campaign, showcases the perfectly blended painting technique and professional difference that all consumers are craving, as well as the journey to the perfect Parisian-chic look, which is all about top up visits to the salon to keep brassiness at bay and seamlessly transition through the seasons to keep the result looking natural.
L'Oréal Professionnel Paris invites all consumers to celebrate this summer and support their local salon by starting with a visit to the salon for their professional and personalised colour service!
Follow their Instagram @lorealpro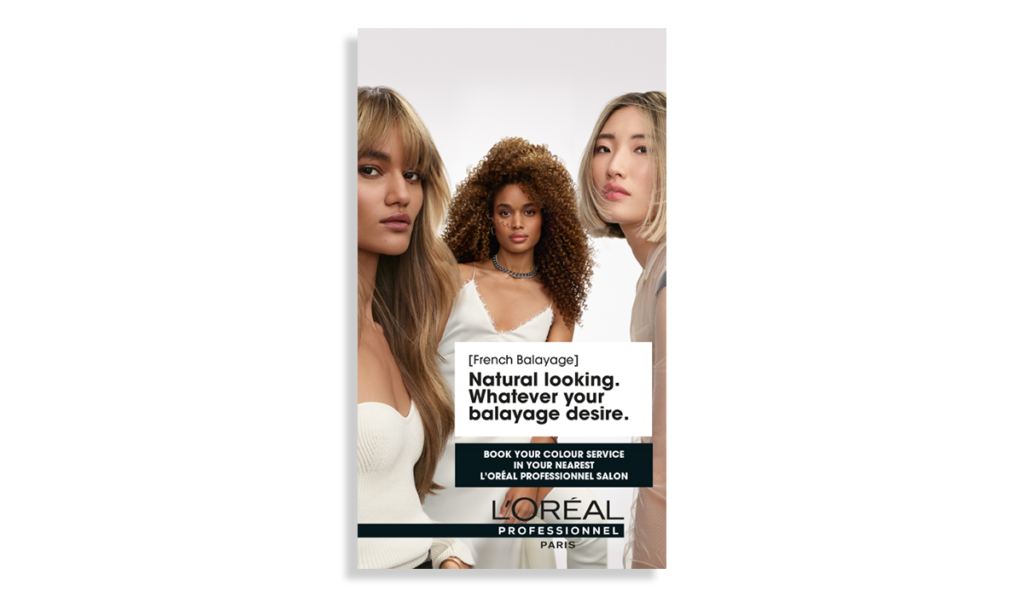 Sources
* Salon tracker, 2CV Research W1 9th-23rd May 2019, UK Women.
** This survey was done by YouGov. 4257 adults were surveyed, and field work was undertaken between 19th and 20th Nov 2020. All the figures are from YouGov plc.
***Salon Tracker, 2CV Research 26th March-2nd April 2020, UK Women
**** Google Trends, April 2021