Fudge Professional has launched the first of a new social media miniseries
called
'In
the
Chair'
hosted
by
Fudge
Professional
Global Brand
Ambassador,
Jonathan
Andrew.
Fudge Professional created the series to explore the relationship between a hairdresser and their client.
"It's common knowledge that a hair appointment is no longer just about holiday chat; once you sit down in that chair, all caution is out the window, and you end up spilling all your secrets, hopes, fears and dreams to the stylist through the mirror in front of you," explains Jonathan.
Throughout the series of 'In the Chair', Fudge Professional will be putting famous faces in the hot seat and asking the questions the public wants to know the answers to!
For the debut show, Fudge Professional invited TV personality Jamie Laing as their first guest, "not only has he got a fascinating hair history, but he's also a true hustler in the way he has carved several very different careers out for himself after gaining his public platform from Made in Chelsea," continues Jonathan.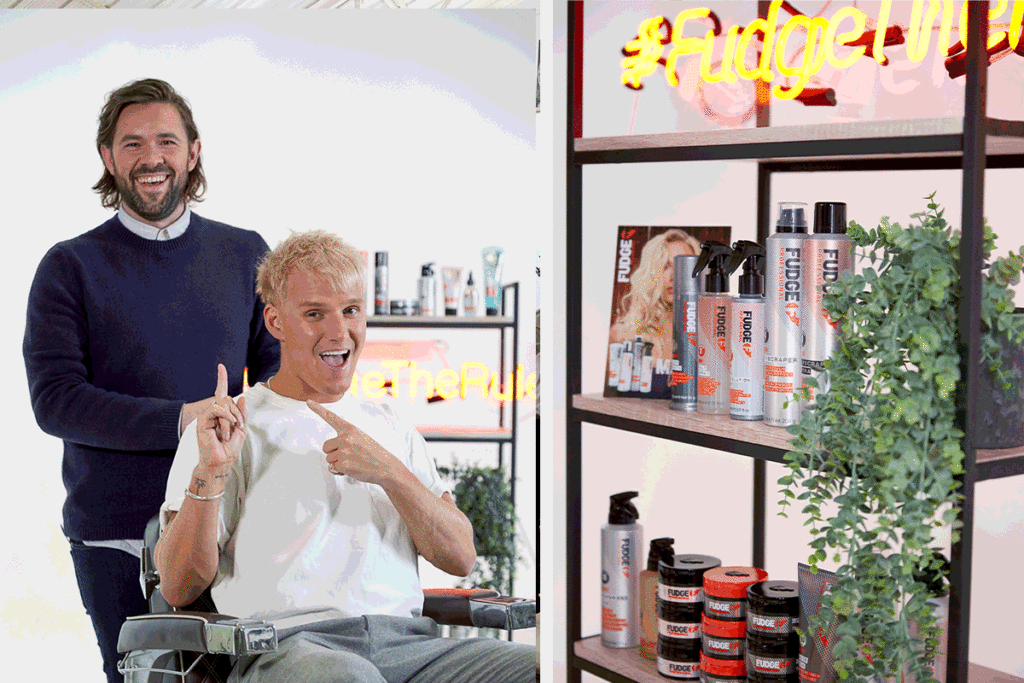 The 28 minute filmed interview also includes many secrets from Jamie's hair transplant to Strictly dance disasters, and insight to what it is that he actually does – spoiler, he calls himself 'a hustler', revealing the difficulties of having your own business – "I have so much respect for people who start their own business", explains Jamie.
As part of the new 'Fudge the Rules' brand ethos, where whatever the world does, Fudge does it differently – Jamie was the perfect guest especially as he refuses to be boxed in to one expectation, one career – or one hairstyle:
"Jamie ticks all these boxes, is infectiously open and chatty, and is a long-time fan of our Fudge Professional Clean Blonde Violet Toning Shampoo, so bringing him into the Fudge Family was an easy decision. Alongside our chair chit chat, I also introduced Jamie to the new Fudge Professional XXL Hair Thickener as it helps double hair density and gives an instant transformation too," concludes Jonathan.
Watch the full YouTube video here…