Steven, Josh and well… all of the Goldsworthy clan have become great friends of ours over the years. Largely due to the fact that we both have homes in Spain, which are not to far from each other leading to so many great, times together. We've worked on international and more recently collaborated on shoots with amazing results! It was a real treat to sit and talk all things hair with Steven and Josh Goldsworthy.
Michael: So, Steven, where did it all start for you?
Steven: Goldsworthy's is a family business which started in 1961. I never really knew anything else.
Michael: And your dad was the hairdresser?
Steven: Yep, and my mum ran the business side. When I was at school, I wanted to be an architect – I loved technical drawings and creating things. I had to decide if I wanted to be an architect, or if I wanted to follow the family business.
Michael: How did you parents feel about you deciding to go into hairdressing? I'm kind of reading that they didn't push you into it.
Steven: No, they didn't at all. It took my dad two weeks to give me an answer when I asked if I could come and work with him. When I said "look, have you thought any more about what I said?" he replied, "to be honest, I've thought of nothing else. I'm waking up all the time thinking should we, shouldn't we?" Because I was a punk at the time with multi-coloured hair and all that, and they had this nice little provincial salon. I told him it was OK, I'd change my image during the day and do my own thing the rest of the time.
Gary: I can't imagine that now!
Steven: I just wanted to be creative and do different things. I tried to push and do as much as possible, which is why I started out on the competition circuit. I did my first one after three months of hairdressing, and got up to 30 or 40 a year. I'd travel around the country and I was basically chasing prize money. As a young hairdresser not earning an awful lot, the money was great and it drove me to be creative with new colours and ways of doing hair. I channeled the creativity of punk into hair to come up with new products and ideas. I used soap in my own hair to make it stand up – because we didn't have styling products back then like we do now. On the competition circuit I started using shaving foam – I'd put gaffer tape around the can so no-one knew what it was. From there, I got involved with the Fellowship for British Hairdressing and the British Hairdressing Awards – it was a total change of direction. I learned a lot on the competition circuit, but then had to translate it to the fashion world.
Gary: I remember, we were on the competition circuit at the same time – you, me, Mark Hill. Do you think young people these days might think competition hair is a bit naff?
Steven: I don't really think there are competitions like we used to do, and I don't think I'd choose that direction in hairdressing nowadays. I would do what Josh is doing. But back then, that was the way we did it.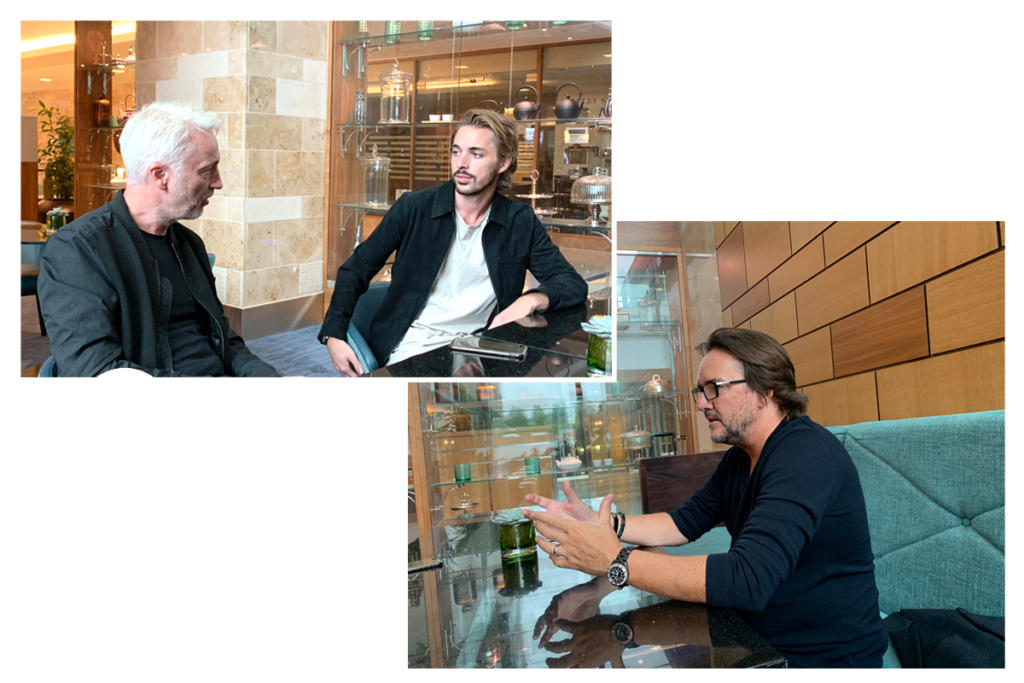 Michael: Well, what is considered competition work now is very different, because they're largely photographic-based. You're talking about the old-school, highly-pressured stuff where you had to do a live model on the floor, in a certain length of time, being scrutinised. It's a different kind of discipline. You don't get that doing hair for a photograph. Although it has to be meticulous, you've got more time and if something doesn't go to plan, you can redo it. But what we're talking about, back then, it was do or die.
Steven: Yeah, and that's why we made it part of the training for our staff to do two events per year. It gave them discipline and speed – working to a timeframe is the same as when you have clients in the salon.
Michael: I agree it's great to allow people to have the creative freedom to do something they wouldn't ordinarily do, it gives you great skills to help – running a column, doing a colour or cut… it's all about fine-tuning timing.
Steven: When I moved over into stage work the time thing was helpful too, because you've got to get your models ready to go out on stage. You've got 15 models to prep and get ready and if you don't, you haven't got a show.
Gary: How did you find it working in the salon with your parents?
Steven: Josh would probably say the same as I'm going to say – I had it tougher than everyone else, because they couldn't show me favouritism.
Michael: I think it's difficult for a family because they almost want to make an example of you and make it a bit tougher. Even though you're not having it any easier than the others, you probably want to prove yourself more. Can you vouch for that Josh?
Josh: Yeah definitely. When I came in, it was a very similar scenario. I was 16 and had never even had a conversation about hairdressing, although I spent my life being dragged to the salon after football. I think somehow subliminally I was taking it all in. At that point, five members of the family worked in one building in town and anywhere you went in Swindon, if you mentioned your name they'd say, "oh, the hairdressers?" I was about to go to college and do sports science, but it was a last-minute decision to go into the salon. The whole way through my training, I was worried it would look like favouritism, when really I was willing to do whatever it took to get onto shoots or shows or assist.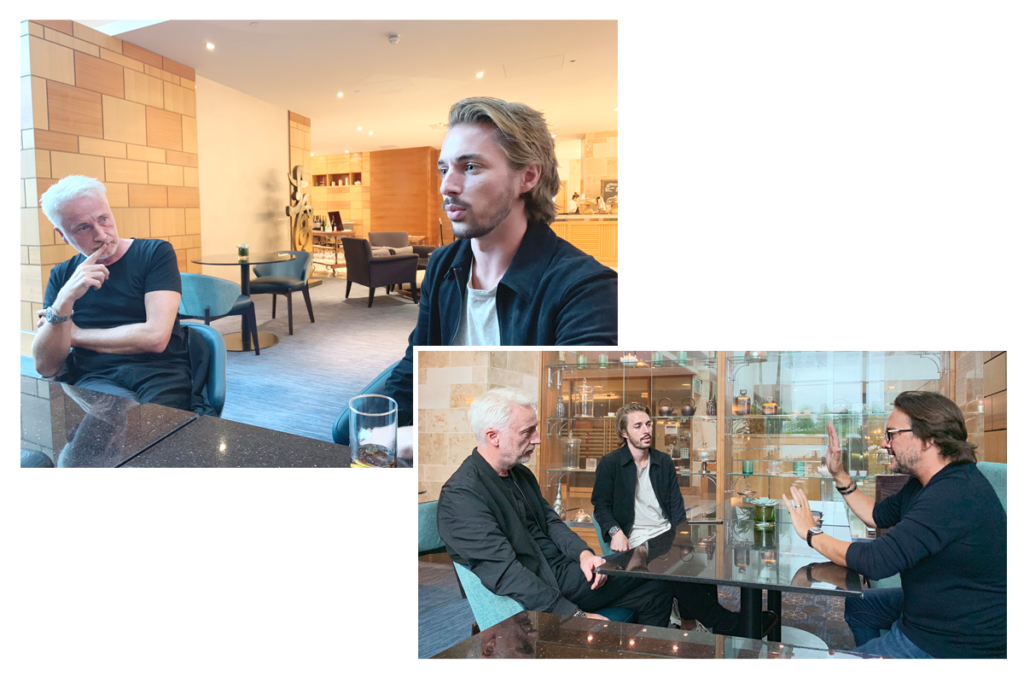 Gary: Did you have to be encouraged to be a hairdresser, Josh?
Steven: He was playing semi-professional football at the time, so when he said, "I want to do hairdressing", it really came out of the blue.
Gary: How did you feel?
Steven: I was really proud. We've got this heritage within the industry if you want to call it that, so to suddenly have him say yes, I want to do what you do – that made me proud. But I did want to make sure that he didn't make the same mistakes I did.
Gary: But you'd already made them for him to learn from.Steven: Yeah, and everyone has to make their own way. So whatever he's wanted to do in the industry, we've been there to back him. I don't want him to just mirror what I've done. There was also no guarantee he was going to be a good hairdresser! That's the thing. OK, so he's got the name Goldsworthy, but… there's no guarantee that Josh Goldsworthy will be as good as me or my dad. You just don't know, do you? He could have been a really mediocre hairdresser and never made it. And there's everyone thinking he's going to be fantastic because he's a Goldsworthy.
Gary: Did you ever think that? "God, I hope he's good."
Steven: No, because I've always known how competitive he is – he's always wanted to be the person that succeeds.
Gary: Is he more competitive than you?
Steven and Josh [together]: Yes!
Michael: It feels like there are so many more avenues to be successful now and the more competitive you are, the better, because there are so many people wanting the same thing.
Steven: A lot of people want it without earning it. You can't just waltz up and win something first time round.
Michael: How do you feel about that? I know we keep talking about the way things used to be, but only so we can draw comparisons with how things are now. It used to be that the only way you could get yourself out there was to be actually physically seen at events, but now with social media, you can create a profile that has nothing to do with your skills and talent before people know what you're capable of.
Steven: I'm fed up with things like reality television and people becoming famous for no skill. If we're not careful, our industry is going to go the same way.
Michael: Yeah, I agree with that.
Read the FULL interview on our digital version coming soon