Patrick Cameron has got to be hairdressing's ultimate Showman. He's known for his iconic long hair work combined with hugely entertaining stage presentations. You think of long hair education and you think of Patrick Cameron. He has forged an incredible career inspiring thousands of hairdressers around the world, so we were thrilled to sit down with our friend to get the low down on where it all began.
Michael: So Patrick, tell us about your journey­­ and how it all started for you?
Patrick: I'm from New Zealand, and most people think I still live there, but I've actually lived in the UK for 32 years. I'm a very invested Brit, but I'm also proud of being a New Zealander. My hairdressing journey started there, where I was trained by one of the country's top hairdressers – who is still one of my mentors.
Gary: When did you first come to England?
Patrick: In 1987. I flew over with the intention of staying for a three-month holiday, six months maybe. My parents said to me that I wouldn't stay longer than that, but what's incredible about London is that you absorb the city, and the longer you stay, the more you start being aware of what's going on. Over time you pick up on the nuances, and I just realised that I needed more time in the city to fully absorb what I was seeing.
Gary: Did you work for anyone in particular in the beginning?
Patrick: I got a job at a salon in Mayfair. I thought I was working for Alan International, but they had actually sold the business a couple of weeks before I started. When I got my first pay check it said, 'Rudi Cartel' and when I asked one of the team, they told me that it had been sold a month ago! Working for Rudi was a lot of fun, but after about nine months I realised I was doing the same work that I'd been doing in New Zealand.
I felt that if I was doing the same thing in London that I could be doing at home, I might as well go back. So, I handed in my notice and got a job in Camden Town – which was a pretty alternative place back in the 80s.
There were a lot of young designers and amazing things going on, and I started working for Pierre Alexander. He took me in, and I built a clientele so quickly that it stopped my opportunities to do other work, as I was more valuable on the floor. I eventually decided that I was going to hand in my notice, because in those days, you could go freelance, go into magazines and work with photographers once you'd built up a portfolio.
So, I told Pierre 'thank you for everything, but I'm going to work my month out and then leave'. Before I could do that, he sold the salon to a large group called Alan Paul. They set up a meeting with me and I went in with a list of demands that I thought were a little over the top. Firstly, I didn't want the job. I wanted £25 per hour – at that point I was on £2.50 an hour.
I'm a Kiwi, so I wanted endless holidays and I wanted an apartment in London. Anyway, I went to the meeting with a guy called Harley Mews and he said he liked the way I worked with team members.
I said, well Harley if I'm going to work with you, this is my list of demands. He looked at the paper, burst out laughing, took his Mont Blanc pen out of his pocket and went tick, tick, tick – 'you start tomorrow'. He said they were giving me a month's trial, but I burst out laughing and said no, you don't understand, I'm giving you a month's trial! We were both laughing and it was the beginning of the most incredible adventure of my life!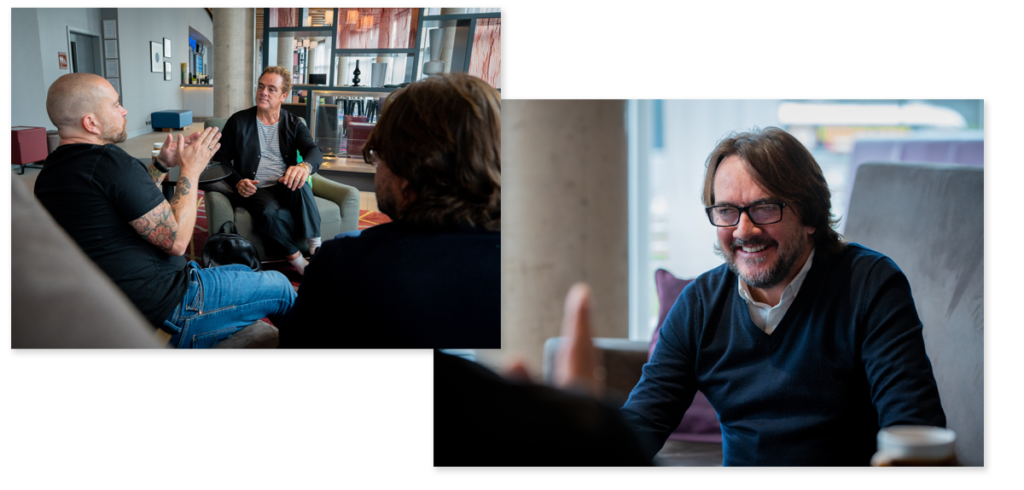 Michael: That's so good, I love that story. How long did you stay with them?
Patrick: I was with them until they were taken over by Steiner. I worked for Steiner for a year or so as creative director, I set up an artistic team for them and looked after photographic work, shows etc… This was back in the early 90s and it was a really exciting time. I met my business partner, Susan Callahan, there too.
I went to Germany to present a seminar for Wella and they then recommended me to Wella Italy and the next thing I was travelling more and more for them internationally. It wa around this time that Sue and I set up Patrick Cameron International and we both broke free from corporate life to concentrate on making the Patrick Cameron name synonymous with long hair education.
It's funny, I'm one of the very few hairdressers that never came from well known salon group – not a TONI&GUY or Sassoon or Trevor Sorbie. I'm very much Patrick Cameron and I've always been Patrick Cameron. Whether I'm working with Wella, The Fellowship for British Hairdressing, whoever I'm with, I'm probably one of the most polically neutral hairdressers in the business. I pride myself on being a hairdresser's hairdresser.
Michael: Whenever I see you at events or shows, you're having pictures taken with someone – it's amazing!
Patrick: Someone told me years ago, and I really think it's true, that the responsibility of success is sharing it. When I have these photographs with people, I can often feel them shaking, or they start crying, which sounds crazy, But they've seen my books or my DVDs, they've seen me for 25 years and all of a sudden, they've flown from somewhere faraway in the world to London and they're right in front of me and that makes me feel very blessed.
Gary: Obviously you're world famous for your hair shows. Was it a conscious decision to be known as the long hair expert?
Patrick: Not really. I was doing the Clothes Show Live in the 80s and 90s and I had to present on the main stage to a very large, non-hairdressing audience. I realised I had to do a bit more of a show with the wow factor. I felt that long hair would be more visual as it was always a passion in had. From then on I slowly started introducing more long hair work into my performances. A lot of people said it was suicide to give up cutting to do long hair! I was one of the very first people in the world to specialise solely in long hair.
Michael: Well how wrong they were!
Patrick: My first professional show was at World Hairdressing Congress in London. I came out on stage laughing and telling jokes. I talked to the audience whilst I worked and my beautiful models danced to ABBA. When I took my final bow, the audience erupted into a standing ovation. It was totally unexpected but amazing.
Michael: Could you feel the energy shift in the show?
Patrick: Absolutely. The audience came alive. They began by sitting back, and as the show progressed the moved further and further forward in their seats. I could feel them having fun, but learning at the same time.
Gary: There is an energy in what you do and what you present. You immediately engage. What presentation advice would you offer to young people?
Patrick: You've got to learn to bring your true self to the stage. So, my advice to any young artist starting out is to ask: 'who the hell are you?' Yes, you might do a beautiful haircut, yes you might do beautiful colour, but who are you and how can I invest in you? I want to know your personality; I want to believe in you as a person and then maybe I'll come with you on your journey – but you can't expect people to come on your journey just because you're standing on stage.
Gary: Did you have any professional training?
Patrick: I was in amateur theatre, musicals and stuff. When I came here, I think I was pretty fully formed as me, I just needed someone to believe in me and give me a go.
Gary: Obviously you travel the world and do all the shows – do you sit down at the beginning of every year to plan what you do?
Patrick: Once we launch at Salon International each year, we know the next year is taken care of. We have 15 hairstyles that we can put out and, as we're never in the same country more than once a year, we have a show that we can take around the world. In November or December, we start thinking about new ideas and my artistic director, Marco Erbi, who makes all the clothes will start thinking about ideas for fashion and where it's going. He's amazing, he is so spot on.
Then, I go to New Zealand and start doing bits and pieces. I take my ideas and sketch them down and I'll rework the ideas on a mannequin. That keeps going for six months until I've probably got around 20 to 25 heads of hair. Then I figure out all the step by steps and I set up the shots in my house. Marco shoots the whole thing, we have more months of editing and doing voiceovers. I have friends who work in media, so I get them to do the titles for me and we do everything in-house. We're a tight machine. Our only problem is what to do when we stop! We have been doing this together for 25 years. This is our 26th formal collection and I have another four or five before that that we didn't photograph!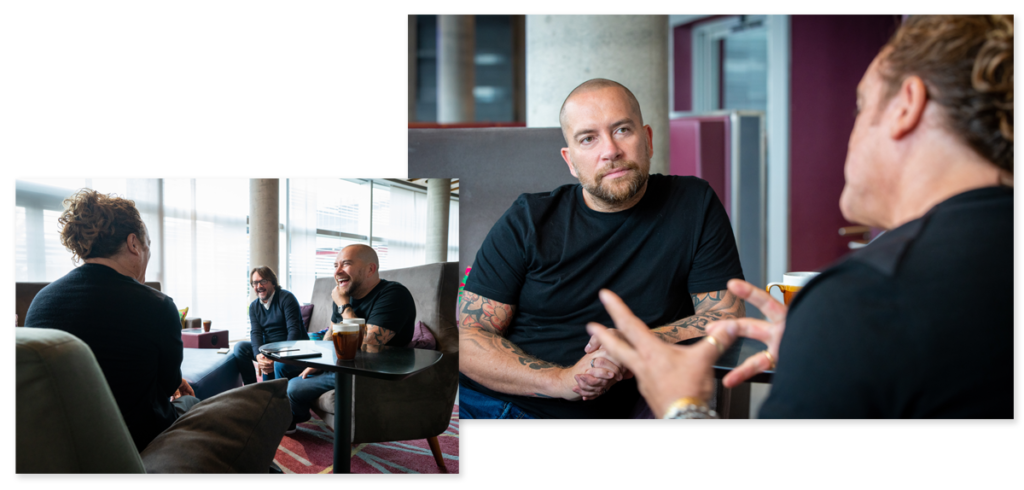 Gary:What do you do to relax, do you ever switch off?
Patrick: I do yes. When I'm not travelling and working, it's my time and I'm at home.
Michael: How often do you go back to New Zealand?
Patrick: I go once a year for two months. I go for the whole of December and January, go skiing in Austria in February, and then I come back and start my work.
Gary: Is your partner involved in the business?
Patrick: No, he's a lawyer – a divorce lawyer.
Michael: That's good to know!!!
Gary: And you said you have a daughter now?
Patrick: We do, we have a beautiful little daughter – Ella Grace Rose.
Michael: How has it changed your life?
Patrick: It's made us more aware of timelines. Children are a cruel mark of time – you see them grow and it really makes you think. What does high school look like? Will she go to school in New Zealand or in the UK? It's working out what the next part of our life is going to look like. There's a bigger picture now than just my husband and I, and me just running around the world.
Read the full interview in our magazine or on our digital version here