Errol Douglas MBE, a former Mr President of the Fellowship and well… a true hairdressing ROCKSTAR and legend of his time! If you've ever had the pleasure of meeting Errol, you'll agree that he leaves his mark on you with his boundless energy and zest for life. Let's spill the 'T' with Mr D…
Michael: At last, we've finally made it happen! I know we've seen a lot of one another over the years, but it's never seemed like the right time to pin you down and talk all things Errol. Where to start? I guess at the very beginning. Has it always been hairdressing or was there anything else before you came into the industry?
Errol: I used to be a Drag Queen, haha… I was like the black Diana Dors.
Gary: Haha… too funny, I can actually imagine it!
Michael: You are joking though, right?
Errol: Yeah of course, haha. But wait for it – when I was young, my Mum was a nurse but really wanted to be a dressmaker. She would use me to pin her patterns on as I was the tallest, so imagine – growing up in this 'macho' environment with my brothers who were all real macho men, and there's my Mum dressing me up in dresses all the time.
Michael: Haha… this is hilarious!
Errol: I'd always wanted to do hairdressing, it's weird but I always felt like hairdressing chose me, if that makes sense. If I had my time again, I think I'd be a hairdresser in another way; I'd like to come back as John Frieda with £700 billion in the bank, haha. But seriously I wouldn't want to do anything else, it's so natural to me like putting one leg in front of the other.
Gary: What age were you when you first started in the industry?
Errol: I think around 10 or 12 years old, I used to go into the salon where my Mum went, and she ended up getting me a job there and I just took to it and never looked back.
I was brought up in East London which back then was a very hard area – very racist, anti-Semitic and homophobic – not like it is now, it's so cool and one of the best places in London.
But my real break into the industry came when I made the decision to leave home when I was 16 and was fortunate to fall in with a group of people who were really artistic and driven. I was sharing a flat with a woman of 30 who literally opened so many doors for me and I was fortunate enough to meet Liz and Paul Edmonds who I started my apprenticeship with and stayed there until I qualified.
It definitely was my big break and started me on my career path. The salon was on Black Friars close to National Magazines and London Weekend Television and Paul literally did everyone's hair – I was his assistant which meant I got to meet all of his clients and the rest is history really.
Michael: How long did you work with Paul, when did you decide to move on?
Errol: I stayed with Paul until I was 20, but it wasn't actually Paul's salon – he worked for Roger Hart and when that ended, we went to work at Neville Daniel and when that went bust it became Richard Ward!
It's complicated (haha). Paul and Liz then went on to open Edmonds – with me as their Artistic Director at which time I'd started to do London Fashion Week, fashion editorials and pretty much everting else which was a big break for me into that side of things.
Paul was best friends with Lynne Franks who the 'Ab Fab' character was based on, and she knew everybody! She was responsible for bringing so many cool fashion designers to the forefront including Vivienne Westwood – they were amazing days back then, but I hardly ever slept – I literally threw myself into everything, I never wanted to miss an opportunity.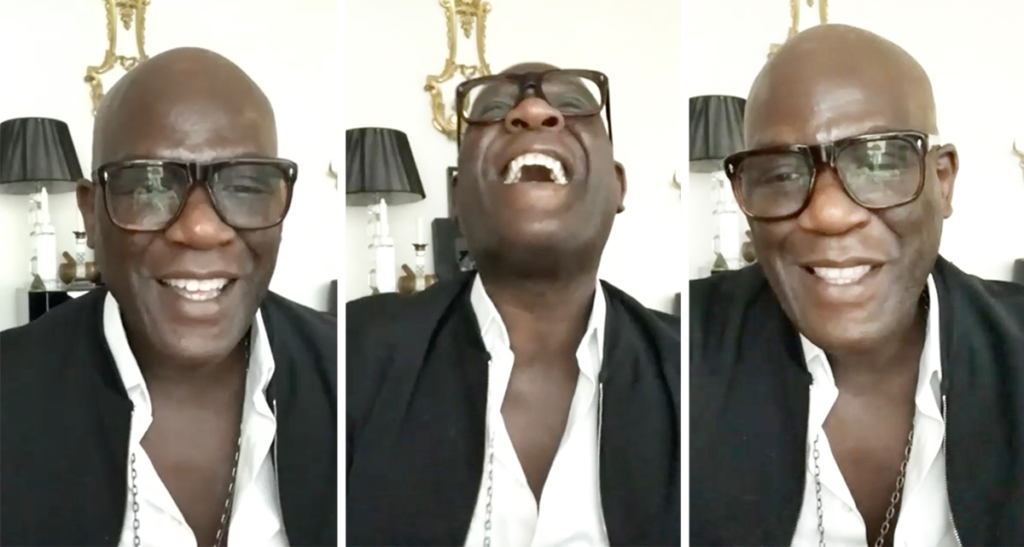 Gary: I think you're still like that now – you're famous for your endless energy and not sleeping.
Errol: You're right! (Haha) I am famous for that, but everything was at full speed back then, I was on the FAME Team, entering awards and doing film work for the BBC – once I moved into that world everyone wanted to come to the salon. We were doing so many cool people, Lenny Henry, Rowan Atkinson, Dawn French, Annie Lennox – literally so many celebrities would come in.
Michael: At what point did you decide to leave and open your own salon? It sounds like you already had the dream job.
Errol: I did have the dream job and I honestly had no intention of having my own salon – I'd seen so many people take that path, and they'd go from looking young to 78 overnight.
I'd heard all the horror stories of how difficult it could be with staff problems and everything else, I just didn't want to do it. There were three people who convinced me to finally do it, my ex-wife, a good friend of mine from North Carolina, Carmen Cutrona who has multiple salons out there, and my then accountant – now business partner Kim Clayton, I call her my 'professional' wife.
They were the three people who pushed me into having my own salon, and in 1998 it happened, and the rest is history.
Gary: You've made a name for yourself globally in hairdressing, is that something that you set out to achieve?
Read the full interview on page 9 of our March issue HERE