Chris Appleton, the lad from Leicester with 1.2 million followers on Instagram and a celebrity client list that is beyond impressive!
Now residing in L.A his life is a far cry from where it all started, but whilst back in the U.K we took the opportunity to catch up with Chris to get the 'J' low down on the recent 'Super Bowl' performance and all things happening in the world of Mr Appleton.
Michael: So, Chris, I know that everybody will want to know what is happening in your life right now and what makes you tick, but I always think the best place to start is right at the beginning and what your journey has been like to get to this point. 
Chris: Well, I suppose my passion for hairdressing began back when I was around nine years old and I would sit my mum down in a pretend salon at home and do her hair. At that time, it was about being happy and creative, but I also liked the idea of making people feel good. As hairdressers we have the ability to make people feel great and really lift their spirits and for me that remains the most rewarding part of what I do. Once that passion took hold of me, it has really just been a prolonged journey from that point.
From the age of 13, I worked in a salon and I can still remember my very first day and seeing the people walk in and then walk back out after their haircuts looking so happy. From that moment on I have really just tried to make each opportunity count.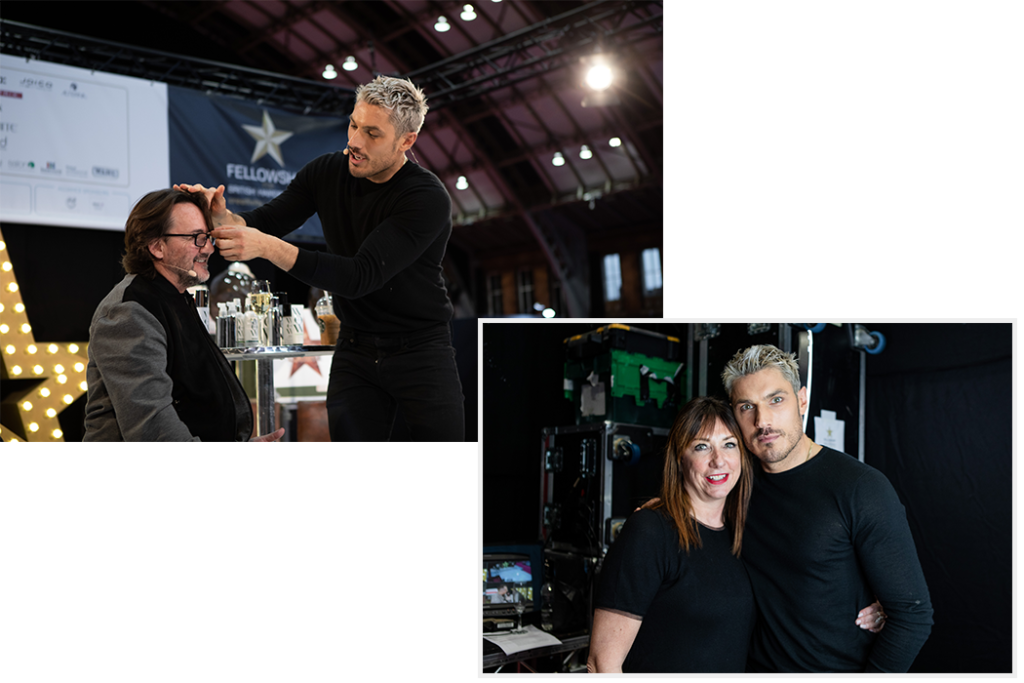 Gary: Where did you start work? Was it in London?
Chris: No, no. I started in a salon called Georges Hairdressing in Leicester. They were fantastic and really supportive, allowing me to grow in the salon, but then also outside of that as well. They were great at letting me explore and not feel trapped, which I will always be incredibly grateful for.
I used to go off to London to do training, at Sassoon for example, and I'd always come back and not be able to wait to get back into the salon to show people what I'd learned. And then, inevitably, that got me more and more hungry to learn and improve. 
I was then chosen to be part of the Fellowship's F.A.M.E team, which was, and still is, an amazing platform for anyone who wants to experience more in the industry, to push boundaries and to work outside of a chair. I learned so much, for example knowing how different it is to do a photo shoot. When you do hair in the salon you create something that lasts six weeks or more, but for a shoot you're creating something that is going to last six minutes and it is a real skill to be able to understand that hair is different and how that translates.
Michael: As you know, the F.A.M.E team is very important for both me and Gary and we play an active role in helping develop the careers of those involved, so it's great to talk to someone who's life was really propelled by being on the team. What did you most love about being part of the team?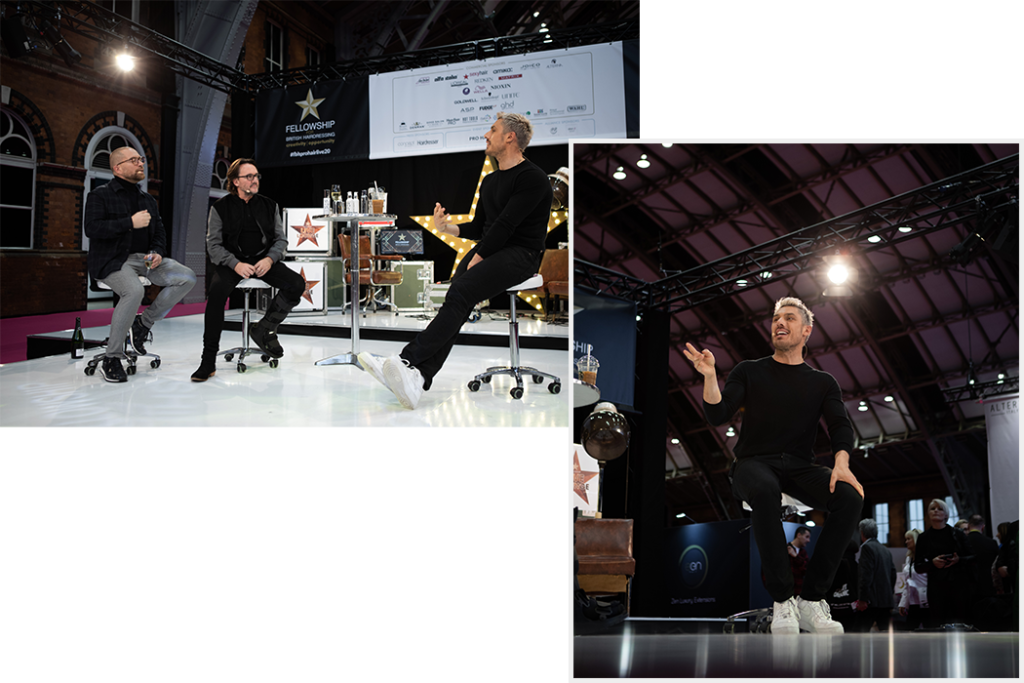 Chris: In addition to teaching me so much about all of the various different elements of the industry, as well as the amazing trip to Australia – which was great – the best part for me was to be working with and learning from the crème de le crème of hairdressers. I was just like a huge sponge for the year, soaking up everything I possibly could.  I learned so much throughout the year. The Fellowship was just so good at like giving back, you know, and that's why I'm here now. I want to support it because that was the beginning for me.
Gary: How was everyone at the salon while you were away with the F.A.M.E team?
Chris: They were incredibly supportive. I would go off and do some amazing things, including some really big photoshoots, but I would always love coming back to the salon to see the clients and they were always willing to give me the freedom to do that and I was very lucky to have that.
Michael: So you went from the F.A.M.E team to working on X Factor and with people like Rita Ora, how did that happen? I know they'll be a lot of people who would love to get into that side of the industry.
Chris: I have been incredibly fortunate to work with some wonderful people, but every step of the way was a lot of hard work, blood, sweat and tears. I knew that I wanted to start moving into the fashion industry, so I went to work at the big fashion shows, including Milan, London and New York Fashion Week. I was never paid to do that and had to cover all of my travel and living costs. At the time, I had won Hairdresser of the Year at the Eastern Hairdresser of the Year Awards and been part of the F.A.M.E team, but I was just there to pass pins and start from the bottom – there definitely wasn't a golden pass.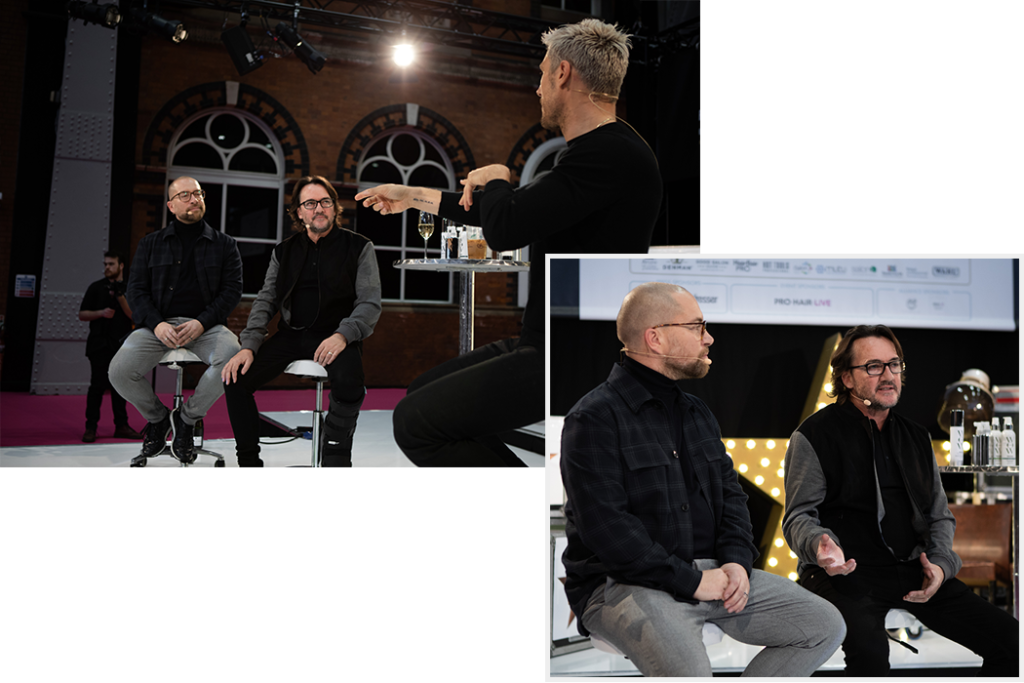 I would just absorb it all and try to learn as much as possible. Then, from there, I started to do photo shoots and more things for magazines and editorials. One day, I was then on a shoot with Rita Ora and her make-up artist mentioned that she was actually looking for a hair guy and just asked if I would possibly be available tomorrow. I wasn't, I had to be back in the salon, but I knew that this wasn't an opportunity I could pass up, so after a call to my boss I booked a hotel and I just sat there waiting to hear from them. Then at about 1am they eventually text me to say that she was flying back to Los Angeles the next day but she wanted me to come and do her hair. As soon as I met her we just clicked and got on really well and she liked what I did and from that I was then with her for a couple of years.
Gary: Were you nervous when starting to do a celebrity? As we know, people look at their hair and will always have an opinion and won't be scared to voice that. 
Chris: I was terrified. I have always been fearful of everything I've done and would often feel as though I couldn't get out of bed as I was so anxious. However, I had good people around me who supported and helped me get out of my own head. I would always be really stressed, but then as soon as I started doing the hair I would be able to relax – it is just where I feel most comfortable. 
I remember one time that I had a job with Christina Aguilera for The Voice in America and just being on the phone with my friend telling them that I didn't think I could do it. I'm just this boy from Leicester trying to make it in Hollywood, everything was so big and I was just so fearful. However, from the moment I moved over to America, the one thing that has continued to motivate me was it was that if I didn't make it work, then I'd have to go home.
So, I was like, okay, I'm here with Christina and we had 20 minutes before she went live. I'd never done her hair before and I couldn't breathe and didn't really know what I was going to do, I just found myself moving her hair around. I then decided to ask if she would consider wearing a wig, as I had prepared one earlier. She initially said that she had tried wigs previously but had found them uncomfortable, but I convinced her to give this one a go and, fortunately, she really liked it. Fifteen minutes later she was then on TV and I was just watching the screen just breathing a huge sigh of relief, as she liked what I had done and it was all OK. Everything then just moved on from there and after getting over that first hurdle, I felt much more confident in what I was doing.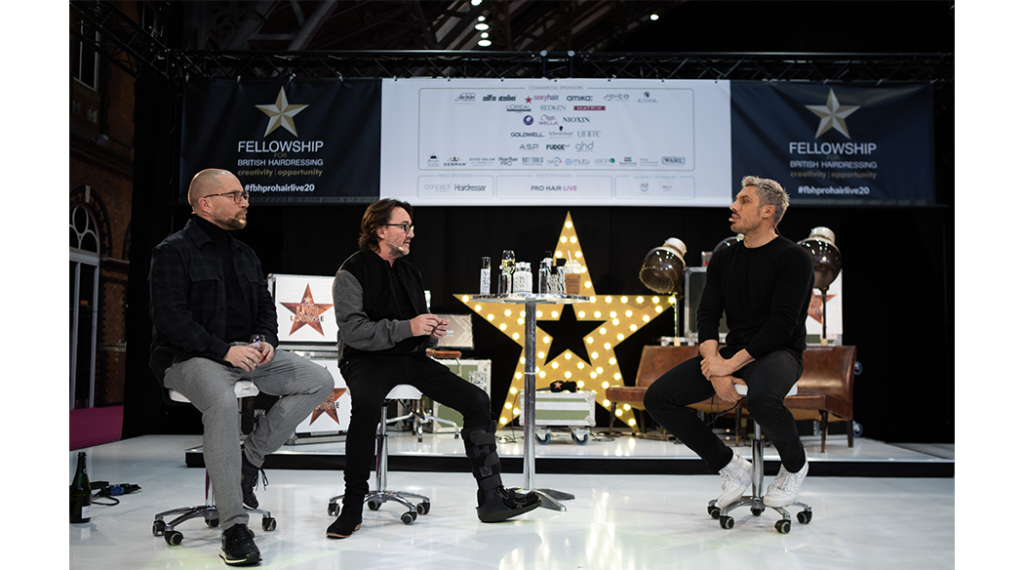 Michael: Alongside Christina Aguillera, you have also recently done one of the biggest sporting events in the world, The Super Bowl, with J-Lo. What was that like?
Chris: It was absolutely crazy. I remember being in the salon when I was younger and the half-time show at the Super Bowl would often come up and people would say 'did you see her hair, I thought it looked a bit frizzy' and everyone would have a view, so that was definitely in the back of my mind. However, it all started about a week before the event and after chats with J-Lo I was trying to work out what kind of J-Lo would most people like to see. The one common thread with all of her iconic looks is glamour and I then tried to create the most beautiful look I could.      
We did a few rehearsals of the show, with the last one being recorded in case in rained on the day, so 45 minutes before that last practice I was in the trailer and I decided to use a new curling iron that I'd never used before and I curled and pinned her hair. Then, I don't usually do this, but I've got a cool hairdryer and cooled it to really bake it in and set it. I then normally take the pins out and it drops, and I give it a little brush and it's all nice and cute. Then five minutes before she went out I took the pins out and it was so curly and I feared I had messed it up. But her daughter was in the background and she said, "Oh, you look like vacation Barbie," and other people really liked it too.
We then kept that look for the real performance and despite me over-analyzing everything and being terrified that I had got it wrong, the feedback was amazing and I then just realized that I had to be more realistic and kind to myself.
Read the FULL interview in our Digital version available NOW