We were walking along Portobello Road on our way to meet the very lovely Charlotte Mensah. A multi-award winning stylist with a hugely successful salon and an award winning product line that is going from strength to strength. We sat down over a glass of champagne and one of Charlotte's gorgeous homemade cakes to find out where it all began and what has driven her to become the UK's leading lady in afro hair. What a treat!
Michael: Let's start at the very beginning. How did you get into hairdressing?
Charlotte: To be honest, I never actually planned to become a hairdresser when I was younger. I was born in the UK but then moved to Ghana when I was three months old. I grew up with my grandparents before coming back to the UK at 11 to live with my mum.
Shortly after coming back mum sadly passed, this was a terrible time for me and one of the ways I found to cope with the loss was to braid my younger sister's hair. I felt like every time I did it we would speak a lot and it really helped with the healing process because it made us feel like she was still there as that was always something she used to do. I was bright student but due to my mum's passing, my life was pretty chaotic. In between being moved around relatives, and generally being sad, I struggled at school and as a consequence didn't do well in my exams.
When I was 16, a careers advisor came to my school and asked what I wanted to do, I just found myself saying hairdressing, as it was something that I'd been doing for my sister, and ultimately was something that brought me some peace in a stressful period.
To add, she always said I was good at it, so I thought why not, even though she was only three! The career advisor then helped get me an interview at Splinters; which was the first ever black salon to open in the UK. I was given the job and from the moment I started I just fell in love with it. For me, it was much more enjoyable that being in school, I loved the social side of it and it immediately just felt right.
Michael: Did your family encourage you to become a hairdresser?
Charlotte: My dad didn't really understand it. He thought I should go to college to get my A-Levels and felt that hairdressing was for people who didn't have any qualifications and was almost a last option for people that can't do anything else.
Gary: It's sad, because I feel like a lot of people still think that way about hairdressing.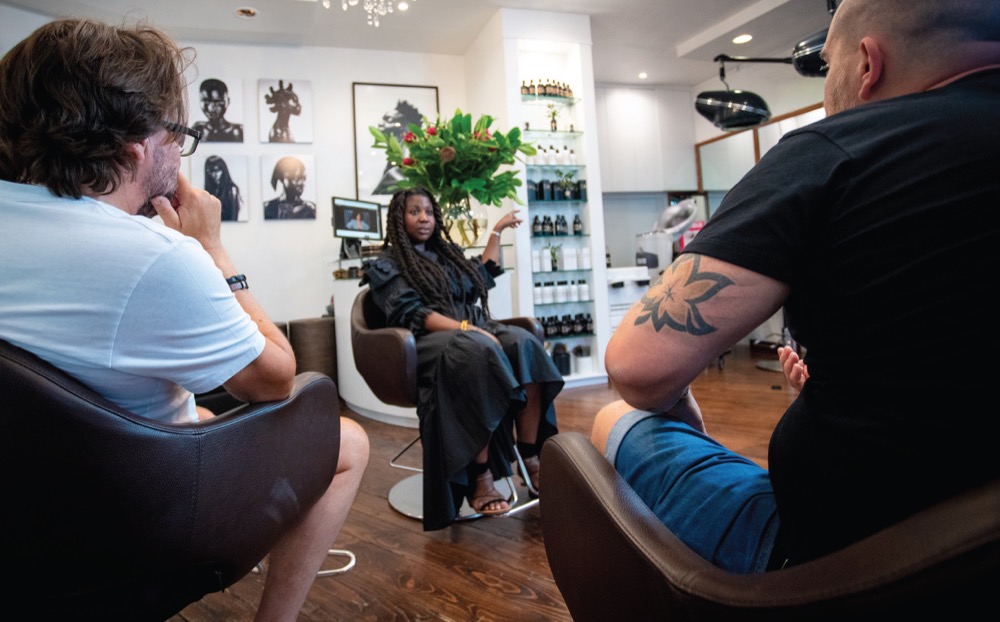 Michael: So did you make a conscious decision to concentrate on just doing afro hair?
Charlotte: I trained with both hair types but felt at the time that there weren't many really good salons for afro hair, so thought that if I was ever going to have a salon the focus would be on afro hair. I was also really fortunate to be working with and receive my training from Winston Isaacs, who was so passionate about caring for and maintaining afro hair properly. He was just so inspirational that I knew it was what I wanted to do.
Gary: How long did you work there?
Charlotte: I started working there at 16 and left when I was 20. Being on the Youth Training Scheme I would spend four days a week in the salon and then one day at the London College of Fashion, which was incredible. It was 1986 and was an amazing time, Stella McCartney and Alexander McQueen were both there at the same time, you could feel there was a buzz, it was exciting.
Michael: Did you always want to have your own salon?
Charlotte: I knew that I wanted to create a space where women would be able to come together, have fun whilst having their hair done, which was always something that Splinters was able to achieve. It wasn't until I fell pregnant at the age of 22, that the idea of running my own business became a real goal of mine. I loved hairdressing but I was only able do a certain number of hours in the salon, so I began to think of ways that would enable me to be able to still do hair whilst also being a mother. I used to have a few clients who would come to my house. I worked as a stylist at a few different salons, but I was always felt as if there wasn't enough hours in the day.
I then started thinking about the possibility of opening my own salon, but I didn't have any money and didn't really know how to go about doing it. I then heard about the Prince's Trust and I went to them and they helped me to create a business plan, secure some finance and I then opened my first salon at the age of 28.
Over those six years I had been able to build up a client base, which made the decision to open up the salon a little less daunting, but it was the desire to be able to have the flexibility to be able to spend time with my son that really focused my mind and helped push me to try and make it a success.
Gary: How did your first salon go?
Charlotte: Well people thought I was mad, as it was in a business centre on Kilburn Park Road in London. I remember driving past it and thinking that it just seemed right, despite the fact that there was no shop front. I went in there with 50 clients, two years later I had 500. I think people liked it as they felt it was exclusive, a bit of a hidden gem.
Gary: How did you find the business side of running your own salon?
Charlotte: I had experience of renting a chair at a salon, which gave me a bit of a grounding and experience of working for myself. In addition, my grandfather was a director at a brewery in Ghana and when I was younger he would always take me to work with him and I learned a huge amount from him on how to run a business and how to spend your money diligently.
Gary: So how long have you had the salon now?
Charlotte: The first salon opened in 1999 and I then moved to the current location in Notting Hill back in 2003. I love this area as there are so many independent stores and it has a great community feel. After my childhood where I moved around so much, I was always conscious that I didn't want that for my children, so I've also lived in the same house since my son was born, which is just down the road from the salon.
Gary: How do you think the Afro market has changed over the years?
Charlotte: When I was training it was amazing as you had a proper structure, you were taught on the job andeverything was done by the book. Nowadays, we are in the world of DIY — a lot of people have trained watching videos on YouTube then they call themselves hairdressing experts, I think our market has lost its way.
There is also an increasing lack of understanding of products – what might be good for one might not good for another. Unfortunately the influencer has become the expert in the eye of the consumer rather than the hairdresser who might be ten years in. Also there are a lot more people wearing wigs, hair extensions and badly applied chemical treatments. The consequence of these actions are that people are ruining their hair and bringing about permanent hair loss. These are some of the subjects that are swept under the carpet within our industry.
Read the FULL Interview in our September issue or in our digital version here.