Hari Salem, founder of Hari's Hairdressers explains the natural credentials and green ethos behind his flagship salon.
1) Why did you choose to create such a natural and green concept when designing the salon?
The relocation of our flagship salon gave us the opportunity to create a new, fresh salon space.  I love creating salon environments with character, to inspire and motivate my team and clients.  I believe that our concept of 'bringing the outdoors in' breathes life, harmony and energy in to the salon.  We've always championed green and sustainability from when I opened my first salon in the 70's with our hero henna hair colouring and also L'Oréal Professionnel Botanea and this still remains part of our core DNA today, we've just gone back to our roots and amplified the theme of nature and the outdoors for all to enjoy.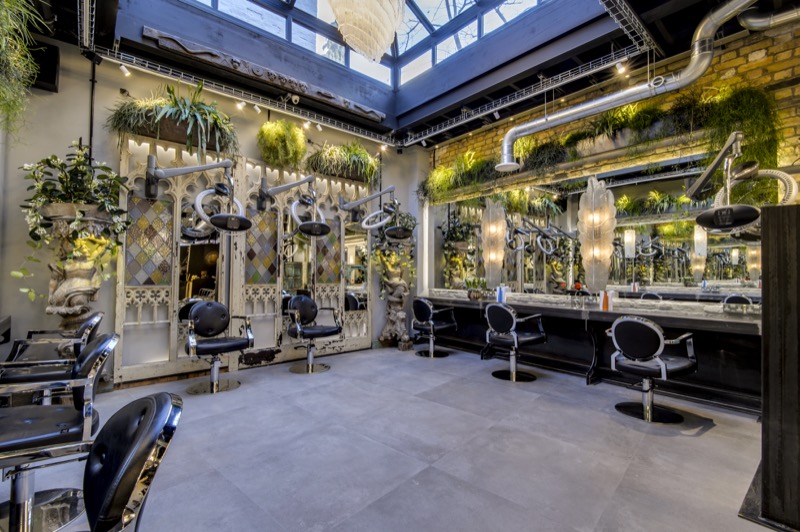 2) What materials did you use and why was it important to you to have lots of plants, wood, sustainable materials etc?
We've used lots of natural materials including restored wooden furniture which I've hand-picked from my travels.  I wanted the salon to reflect what I'm truly passionate about; eclectic art from around the globe, working in harmony with nature in a luxurious setting.  The plants bring balance and inject oxygen into the salon along with our fresh air system which pumps fresh oxygen to improve indoor air quality and keep you feeling alert.  We also have an atrium skylight at the back which feels like a greenhouse and conveys the feeling of being outdoors, it also gives great light for colouring.  We also used eco lighting throughout to replicate natural daylight which helps keep our natural body clocks in sync.
3) Is it important to reflect the concept of your salon in the products you use? You took on new Botanea and Source Essentielle and were very involved in the launch?
Yes, it's essential for us to reflect our unique concept via the products we use and sell in salon.  We want to ensure our clients are clear of our ethos so Botanea and Source Essentielle compliment this perfectly.  We are proud to work closely and be ambassadors for both Botanea and Source Essentielle and enjoyed hosting successful launches at the salon.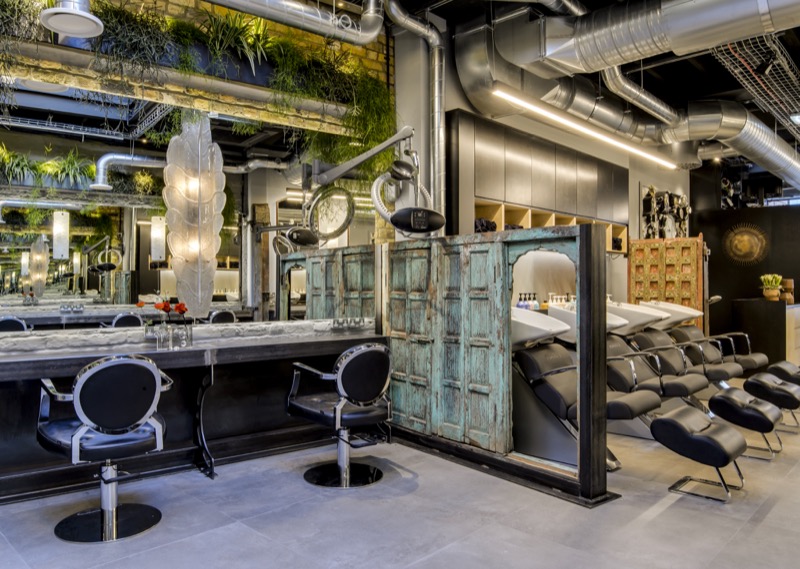 4) What do you think the clients of today want from the salon in terms of eco and green?
Clients today are savvy and have the luxury of choice, it's no longer enough to offer 'good services' alone.  Clients want great service in an environment which reflects their personal values and want to support salons which they can relate to.  Clients nowadays are aware of the environment and the impact we have and will do what they can to ensure they are helping.  They don't want single use plastics, so we use the L'Oréal Professionnel Source Essentielle reusable bottles.  We offer fresh juices instead of pre bottled to reduce waste and plastic use and have digital magazines on iPads instead of hard copies.  We save water when washing clients' hair and use natural hair colourants such as L'Oréal Professionnel Botanea to be as 'clean' as we can.  Our clients also love our fresh air system and plants which all add to the eco aspect of our approach.
5) You have used henna colour since the seventies – do you think we are reverting back to those very natural, hippy times with the modern consumer wanting much more of a natural alternative?
We are definitely reverting back to our old ways.  At Hari's we have been working with henna since the seventies and it has been a large part of our colour business and some of our colourists have been with us for over 25 years, specialising in this colour service.  Many salons stopped as it was perceived to be 'out of fashion' but with consumers becoming more conscious of what they are using on their hair and skin, there is a natural increase in this offering which we're thrilled about!