This month we're talking to everyone's favourite double act Gary Hooker & Michael Young! – What they're watching, reading and doing.
The Boxset
Michael- Halston
We both loved this!!! It's a biopic (Netflix series) about the American fashion designer Halston, who became famous throughout the 60s and 70s before spiralling out of control through a life of debauchery. This is another gem from Ryan Murphy and definitely worth a watch. You don't want to watch it with your parents though
(hahaha).
The Book
Gary – Think Like A Monk
I love motivational books that make me think about life which in turn helps massively in making business decisions. So – I'm not training to be a monk (hahaha) but rather training my mind to be less anxious – it really works!
The Playlist/Album
Michael- We both have a very eclectic taste in music – I guess at home it's always more easy-listening or chilled vibes. I like a bit of Will Young, I'd probably say the 'Echoes' album would be my go-to choice.
Gary-  I tend to play more uplifting music when I'm in the car, puts me in a happy place. But I've just re-discovered and downloaded a Sade playlist which I love when I'm at home – it's so chilled.
The Film
Michael- Moonlight This is one of those movies that we had planned to watch for ages! But just never got round to it – so five years later we finally got to see it and it was worth the wait. What an incredibly powerful film – a young African-American man who battles with his own identity and sexuality whilst experiencing the struggles of adolescence. Loved it!
The Exhibition/Dog Show
Gary- I have finally been back to a dog show!!! Because of COVID all dog shows ground to a halt, which was strange as it's been a huge part of my life for so many years. Peterborough Championship Dog Show saw my return to the show ring and it was definitely worth the wait – I won the Dog Champion Certificate and Best Of Breed! It felt so good to be back!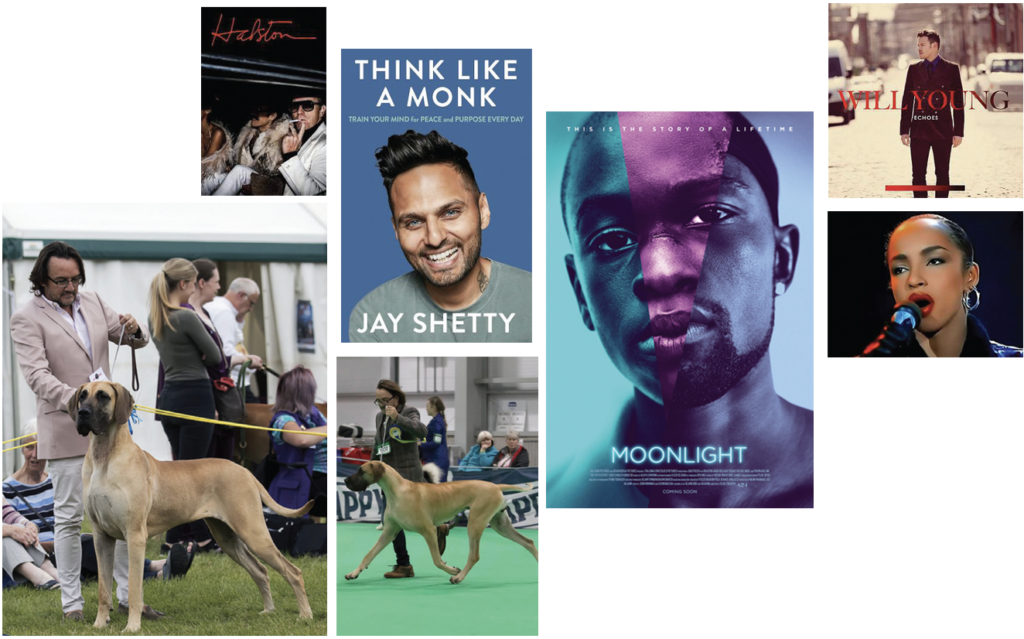 Did you enjoy this? Check out more here