Zoe Williams is Artistic Director for Ken Picton Salon in Cardiff, and an established hairdresser in her own right, quickly making a name for herself as one of the brightest rising stars in the industry.
Why I was attracted to hairdressing?
When I was teenager, I got a Saturday job at a local salon in Cardiff and immediately fell in love. It was fun, sociable and creative and there was never a dull moment. Like many hairdressers, I was not very academically inclined, and I wasn't really sure what I was going to do as a career. I had always enjoyed creative subjects at school and done well in them, so I went to college to do an art course for a year. That's when I got the Saturday job at the salon and I loved it so much that I decided to channel it and work in hair. I got a great apprenticeship when I was 17 and have never looked back.
My first impression of the hairdressing world.
I knew that I loved it immediately, but it took quite a long time for me to see the truly creative side of it. I always had fun at the salon and took a lot of pride in my work, but it wasn't until I moved to Sydney for a year that I started to see another side to the industry. I worked in a salon there which did lots of shoots for magazines like Vogue Australia and it opened my eyes to the variety of work available within the industry. When I moved back to Cardiff and joined Ken Picton, it was exciting to be part of a team that really embraced a diverse variety of hairdressing opportunities – shoots, shows, education.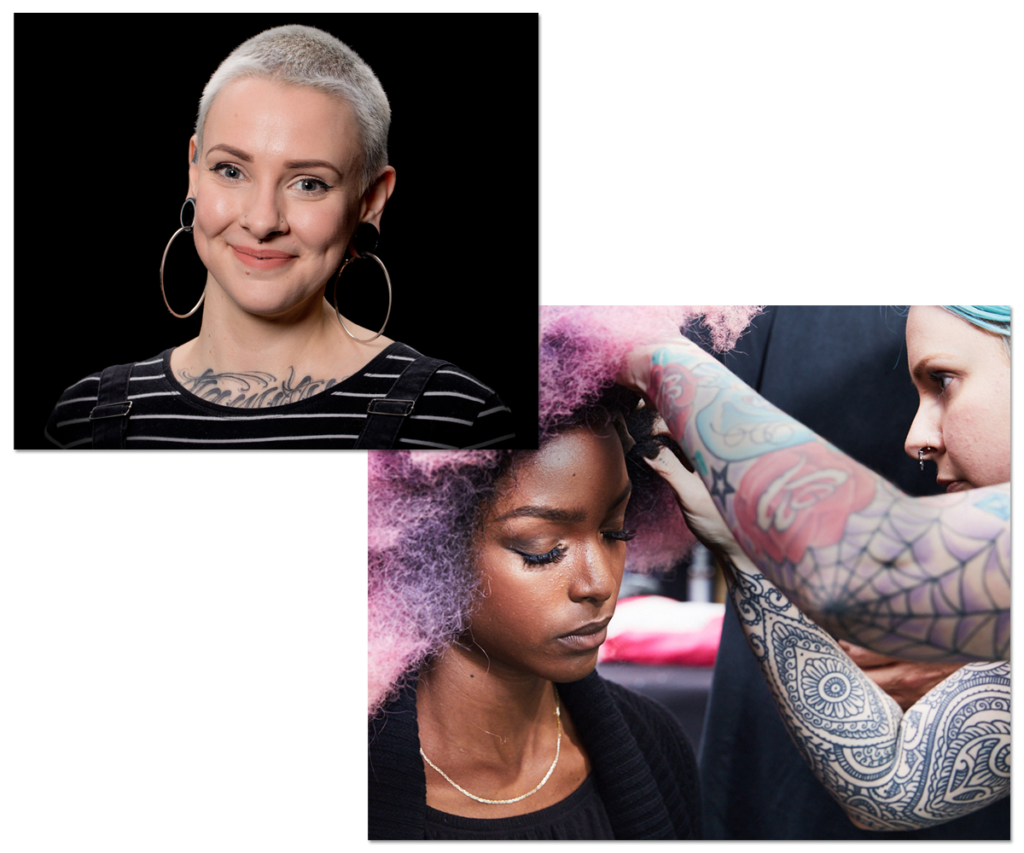 My training and the main lessons I've learnt.
After my apprenticeship, I worked at TONI&GUY before moving to Sydney to work for Aveda. When I returned to Cardiff, I came to Ken Picton as I had a few friends working here who loved it. Since joining, I've really been able to hone my craft and focus my career. The things I've learnt are mostly to do with clients, particularly when it comes to giving a good consultation. I've learnt to be honest with advice, provide realistic expectations, suggest changes and services – and never trust anyone that says you can do whatever you want!
Early goals and how I achieved them.
I was never particularly ambitious before I joined Ken Picton; I just wanted to be a good hairdresser, have happy clients and do well in the salon. When I joined, I saw the variety of routes available to me and thanks to the encouragement and support I received, I started to see more opportunities to develop. Being here has made me more ambitious, and now I'm much more focussed on achieving specific goals.
My future goals.
Professionally, I want to continue to enter competitions like the British Hairdressing Awards and create award-winning work. Since working at Ken Picton, I have also developed a real passion for education which is something I hadn't previously considered. I love teaching our assistants and running courses with L'Oreal Professionnel, and I'm keen to help develop our own salon academy in the future. Personally, I never want to get complacent as I believe it's important to keep challenging yourself and continue to develop and grow.
My advice to someone starting out in hair.
Get an apprenticeship get somewhere really good and find people that will nourish your learning and support you in your growth.
Career highlights so far.
Winning Wales & South West Hairdresser of the Year at the British Hairdressing Awards in 2017 was incredible, as was earning a place on the Fellowship for British Hairdressing's F.A.M.E. Team in 2016. I was also incredibly proud when I was named Artistic Director at Ken Picton.