Concluding her series of features for Professional Hairdresser, dedicated fashionista Jackie Ambrose reflects back on their current collection and how it's a culmination of everything they've worked towards this year.
When you work on all kinds of shows and collections throughout the year, as we do at D&J Ambrose, you find that you evolve a particular look or theme which influences your creative approach for a period of time – sometimes up to a year. It's like catching the zeitgeist and making a statement about hair and fashion and even global trends – the things that feel current and relevant to us, and which will define our 'look' for that moment in time. It's ever evolving, but when we look back it always sums up where we were with our brand and our identity in any given phase.
This year it's been all about a collection which we called 'Eclectic Chic'. It sums up our approach to the relationship between hair and fashion. They're imperceptibly linked, but we never like to do things in an expected or ordinary way. Here we focused on English Eccentricity.
This was our opportunity to throw couture, sports luxe, punk, a variety of eras, different fabrics, colours and prints into a huge melting pot and really push the boundaries of hair and fashion.
The story behind it is a group of young, privileged kids, who may have travelled the globe, picking up fashion and accessories from all kinds of cultures. Here we've mashed up eras and fabrics and prints in the garments. Our aim is not co-ordination, it's a deliberate clash of ideas and concepts.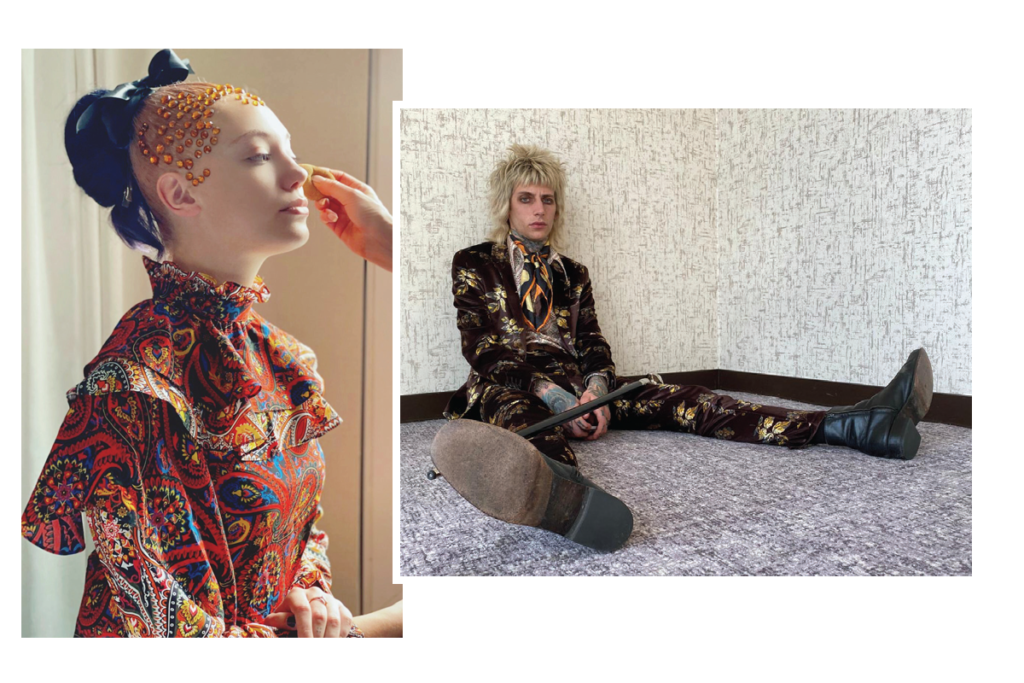 There's a gender fluidity that runs throughout too – who's to say what should be male and female. Who's to say you should follow a conventional route. The whole point is not for the end result to be perfectly co-ordinated, and that doesn't happen by accident. There's a massive amount of consideration that goes into creating the outfits. Tiny connections make this work. For instance, a cool Gucci suit mixed with a second hand 70s shirt is our unique way of expressing our look.
Equally a modern, feminine skirt paired with a vintage Victorian blouse blends eras and genres in an entirely original way. In another look, we attached ornate gemstones to our model's hair to mimic the fine detail in her patterned blouse. I'm always exploring ways to interpret the hair that Darren creates, and vice versa.
There are no set rules about which element dictates the other. I can't imagine ever getting bored of exploring detail and the intrinsic relationship between hair and fashion. And the only thing I know for sure now about our next collection is that it will be a tribute to the world of couture I adore – for me that always provides the spark of imagination for a truly memorable hair collection.