FHA Inspire! 2021 is back!
Sunday 13th June 2021 sees the Freelance Hairdressers' Association go live again with their exciting event Inspire! The day-long event full of shows, education and networking, loved by many, to bring the freelance community together will not disappoint. With a fantastic line up of star-studded guests, friends, and supporters. Here's what you can expect from FHA Inspire! 2021.
L'Oréal Professionnel Guest artist Frazer Wallace will kick off the day at 10:20am showcasing his sought after cutting and styling techniques. Frazer's attention to details and skills are definitely a must watch.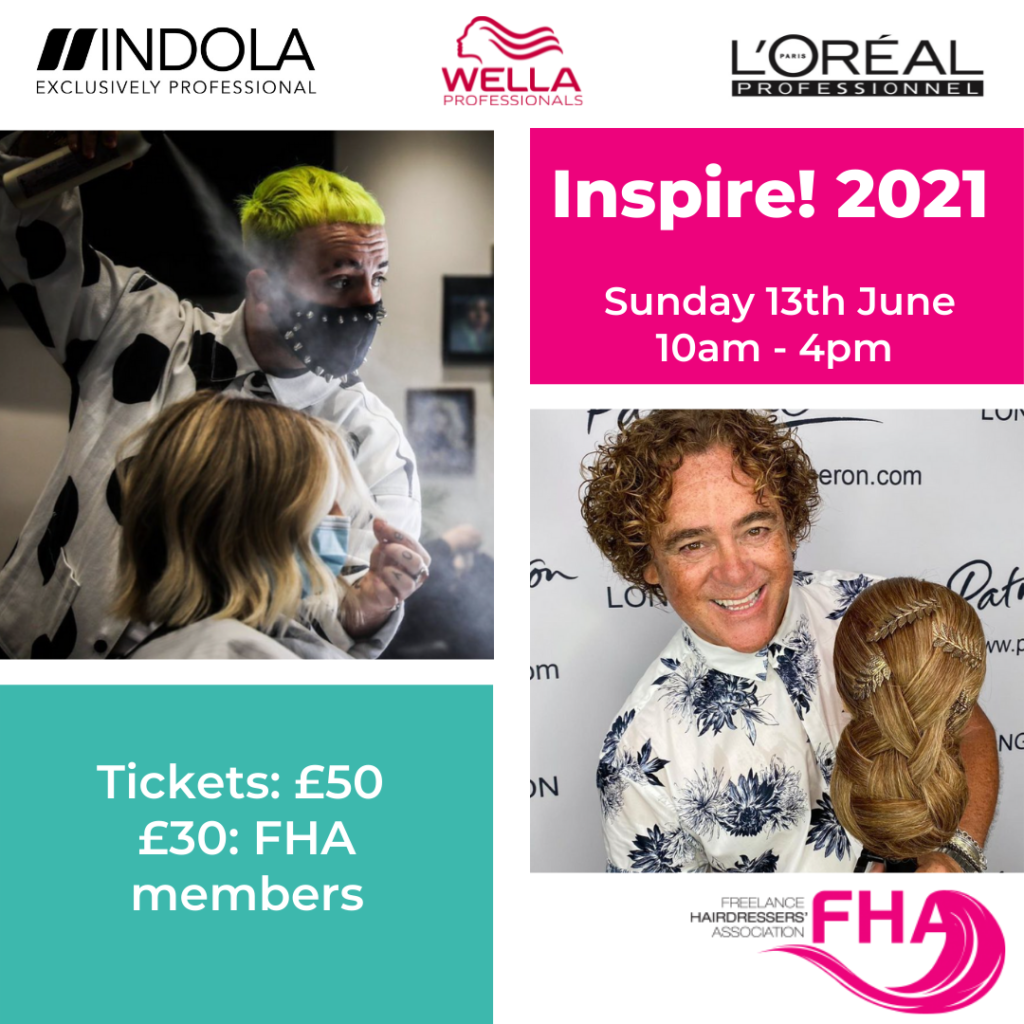 At 11:20am you can join the conversation with Patrick Cameron where he will be sharing a glimpse into how he has reinvented himself and his business model post-lockdown. He will also be presenting a beautiful hair up demonstration.
Patrick's presentation will be closely followed by HAIRDOTCOM Art Team member Harriet Stokes at 12:20pm. Harriet will be sharing her Vivid colour secrets,you can expect to learn all the ins and outs on how to work with creative colour, and how to make it work for your clients.
Following on from Harriet will be Wella ambassador James Earnshaw live at 1:20pm presenting a live colour application. James' colour techniques are sure to leave you motivated and inspired.
Rounding off the day at 2:30pm will be Indola global ambassadors Paddy McDougall and Andy Smith where they'll be presenting four 'Street Style' inspired looks. Two of the looks will focus on Indola's latest summer collection whilst the other two will revisit techniques from previous collections, an inspiring session not to be missed.
The day promises to be an incredibly inspiring day, all broadcast virtually from The Hunter Collective in London.
Tickets are available now: £55 for guests.

FHA Members Exclusive ticket price: £30 – an amazing price for an amazing day!
Tickets are available on the FHA website, priced at £55 with an FHA members exclusive ticket available for just £30.
For more information on the FHA visit the website or @FHA_official.