Looking after our world is probably the hottest topic that has been raised amidst the more immediate challenges and devastations of this pandemic. And in the midst of a lot of challenging and negative news, a positive piece of post has just arrived in Anne Veck's mailbox!
Having long held a personal and business mission to be operationally, environmentally and economically ethical, Anne and her husband and business partner Keith Mellen are building on their ethical impact on the world with confirmation that they have now moved into a + (positive) co2 footprint position.
This re-certification as Carbon Neutral + is a year on year comparison relating to their salon in Oxford and travel and showing that they offset more co2 than they produced. "Of course, we are looking to do more, we are going down to a single car family, and are always looking for ways to improve our performance, it is a great encouragement we are going in the right direction as this is such a heart-felt mission and it drives almost 100% of our business decisions".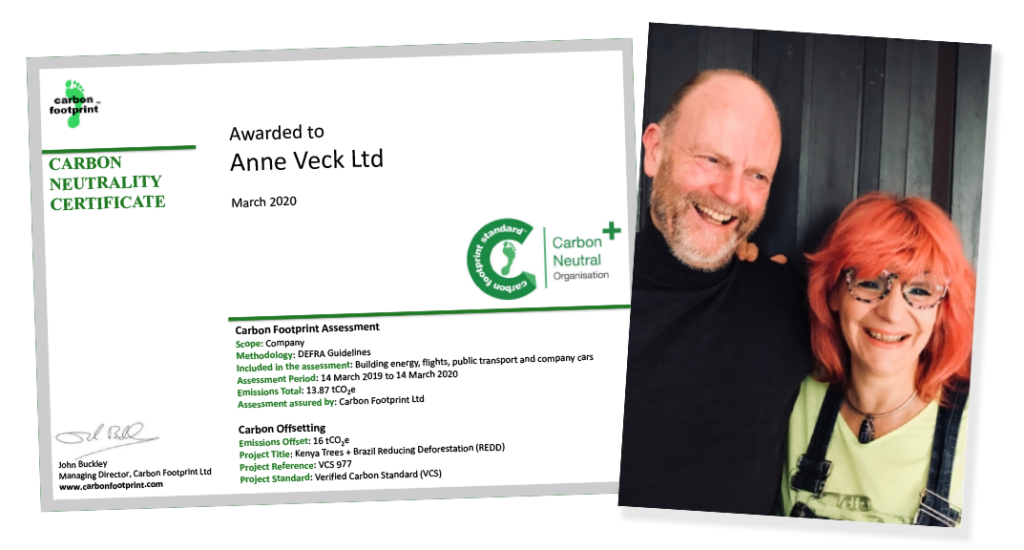 The Science bit from Keith Mellen…….At Anne Veck, because we offset more (16 tonnes ) than our actual emissions over 2019/20 (14 tonnes) , we have been certified Carbon Neutral + by Carbon Footprint Ltd.  We have offset them via a community tree planting scheme in the Rift Valley of Kenya.
March 2019 Anne Veck Limited comprised 2 salons and travel. March 2020 we are one salon and travel. We sold Bicester salon 1st Oct 2019. Our official carbon emissions for year ending 14 March 2020 therefore include 6 months' worth from Bicester. So you can't compare the two years.
So below I present comparable figures for 2019 & 2020, featuring just Oxford salon & travel.

Our "carbon intensity" is 1.2 tonnes CO2/employee. Average office based organisations carbon intensity is 3.5 tonnes /employee. High energy businesses eg manufacturing , it is 20 tonnes/employee. Figures by Carbon Footprint Ltd.
Action for us: looks like we need to cut down on air travel! Also, we could expand scope by including team member's commuting to & from work.
The reason our carbon footprint is so low is mainly because our energy consumption is reduced by around 50% through having the BlueGen ceramic fuel cell and LED lighting. Other measures eg Easy Dry, Ecoheads contribute too on a smaller scale.