There aren't many people who can stay top of their game for 50 years especially in the rapidly changing hair and fashion business – but one North London hairdresser and photographer has done just that.
This year Barron salon on Muswell Hill Broadway will celebrate it's 50th anniversary.
After opening his first salon in September 1969 -David Barron who's vision then as a 19 year old Vidal Sassoon trained hairdresser was to revolutionise the outdated image of men's haircutting, he developed his own precision cutting method to style men's hair into longer fashions, his cuts were soon in demand by women and men alike, laying the path for what was to become, 'Unisex hairdressing' and his salon then called 'One Step Ahead' became 'the' place to go for discerning, fashion conscious people wanting the best haircut and haircolour in North London.
In 1975 he was invited to set up shop on the famous topless beach in St Tropez, cutting the hair of the beautiful and famous people in between dips The publicity that episode generated helped to launch the first advanced Haircutting Training Studio in North London on his return.
During his career David has achieved many diverse accomplishments such as writing a regular lifestyle column for the Muswell Hill Record; running his own hairdressing-training studio; organizing and putting together Capital Radio's 'Help a London Child' charity hair fashion show; Setting up a Photographic company called ISP Inter Salon Photography and running his own in house photo studio.
He has also won several Hairdressing and photographic competitions including the prestigious 'British Hairdressing Business Award' for his unique salon photography concept and The Master Photographers Association's, 'London Fashion Photographer of the Year Award'. His hairdressing and photographic work has also been featured in the National and International press over the years.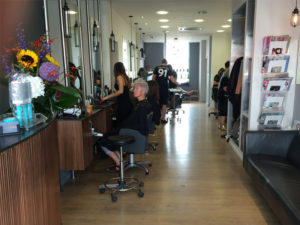 This year from 25th September, Barron in Muswell Hill will be putting on a retrospective of David's work as a hairdresser and photographer over the past 50 years.