Bonded by Blonde
Introducing the newly enhanced Blonde Life collection that builds bonds for strong blondes
Helmond, the Netherlands – If you already love Blonde Life, this reveal is going to make you jump for JOI. If you haven't tried it yet – we're pretty sure you're about to be a convert. We're launching the newly enhanced Blonde Life collection for all your salon needs! 
Meet the NEW Blonde Life all-stars: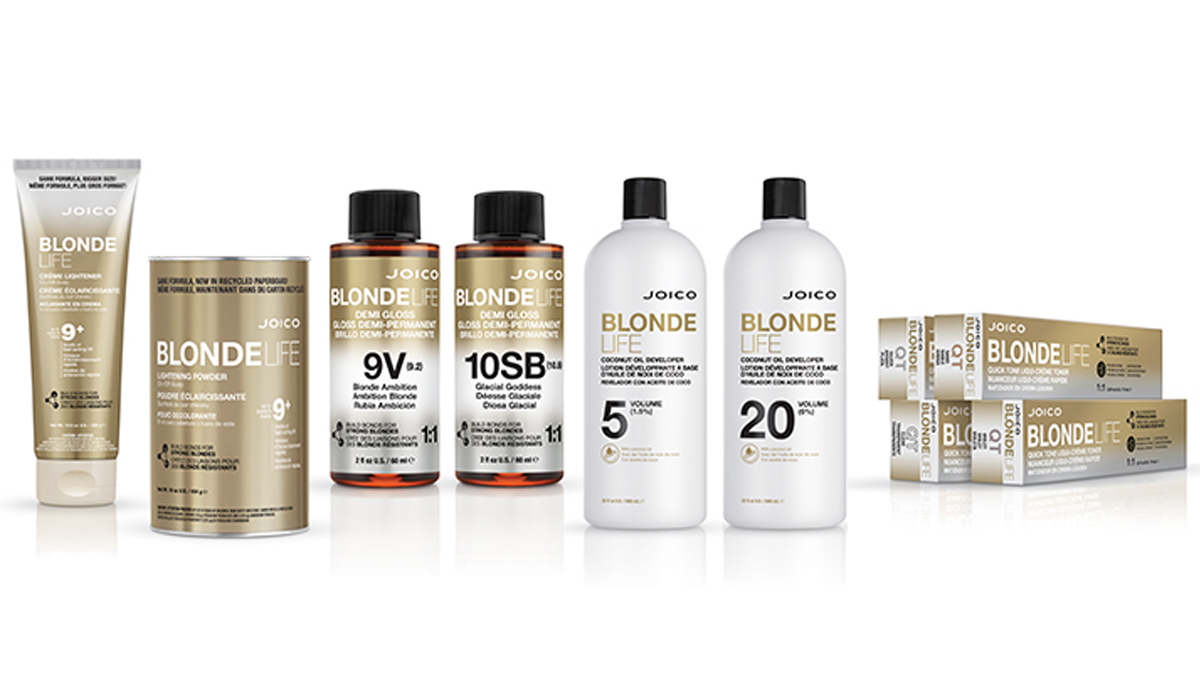 NEW Balayage Lightener
No more having to choose between lift and creative freedom. We've teamed the power of Blonde Life Lightening Powder with the precision of kaolin clay in our NEW Blonde Life Balayage Lightener that lifts hair up to 7+ levels in a single application. 
Soft clay formula that stays put when lifting

 

Stays moist and does not transfer when processing

Balayage and freehand painting techniques become stunningly simple and speedy 

 
NEW Blonde Life Demi Gloss shades 
Blonde Life Demi Gloss shades are the most versatile tool in the entire Blonde Life system —allowing you to tone and customize pre-lightened hair with seven stunning shades you can mix and match to your clients' needs. 
One formula tones, glazes & glosses.

Helps refresh dull, brassy blondes

 

Ideal viscosity for drip-free bottle application

 
Leaves hair looking luminous and shiny

 

Intermixable shades for customizable results in one step

 

Available in popular 8N, 10N, 9SB, 10SB, 9V, 10V & CLEAR

 
NEW Coconut Oil Developers
Mix some Coconut Oil into the blonding process with three NEW Blonde Life Developers – formulated to work in harmony with all Blonde Life lighteners and toners to leave hair feeling soft and hydrated. 
Easy-to-mix, spreadable, creamy consistency

 

Available in 5 Volume, 10 Volume, and 20 Volume

 

Gives hair a beautiful, smooth look and soft feel

 
NEW Blonde Life Packaging…
We've moved the current 1lb and 2lb Powder Lighteners from pouches into easy-open, easy-to-stack canisters, with a more sustainable profile. You'll have the same high-lift formula you know and love – but now, they're sustainably packaged in 100% recycled fiber paperboard. Our Crème Lightener is transitioning from the current 8.5 oz tube to a handy 10.5 oz size.  
Let's look inside…
Going blonde (or blonder) doesn't have to mean giving up healthy-looking hair. With Blonde Life's innovative formulas – developed with bond-building Arginine, Tamanu and Monoi Oils, and Coconut Oil – hairstylists can confidently and quickly lift hair with strong, shiny-looking results.  
To give blonde hair the VIP treatment it deserves and demands, all Blonde Life products contain a signature blend of essential fatty acids, including

Monoi

and

Tamanu Oils. 

Bond-Building Arginine

:

You can find this signature ingredient in all Blonde Life Lighteners and Toners including: Blonde Life Lightening Powder, Crème Lightener, Balayage Lightener, Demi Gloss, and Quick Tone Liqui-Crème Toner

 

Coconut Oil

:

Our new Blonde Life Developers are formulated with Coconut Oil to help hair look smooth and feel soft and hydrated. 

 
Blonde Life Builds Bonds … here's the proof!
Excitement was in the air (and hair!) as we brought together some of the best and brightest stars in the industry to experience the JOI of this newly-enhanced lightening collection – a collection that covers all your blonding needs, from light to dark and everything in between.  
We put 4 hairdressers behind the chair to collaborate and together they achieved 7 dramatic, gorgeous transformations. Bronde Balayage, Caramel Sundae Curls and a gorgeous Glossy Copper … just a few looks you can expect to see. Not surprisingly, the results were stunning … the feedback from their clients was off-the-charts (a new bond rooted in trust) … and you don't have to take our word for it – you can watch it unfold yourself, on Instagram @joicoeurope   
For more information about JOICO or Blonde Life, click here #blondelife #bondedbyblonde