GREEN GOALS
Part 2 – bigger steps towards sustainable salon operations from Anne Veck and Keith Mellen's Salon Re:Resource.
As part of her ongoing mission to make the hairdressing industry a more sustainable and ethical business, Anne Veck, and her partner Keith, have launched Salon Re:Source.
The culmination of their own journey to becoming the most ethical hairdressing business they can be, the three-part guide contains essential resources and recommendations from two salon owners who have tried and tested every sustainability solution out there.
In the second part of our series, we are sharing some of Anne and Keith's advice from their second guide – the Next Steps that salons can take after completing their first part (Quick Wins).
"These are the next steps to making your salon more sustainable," explains Anne. "These are not difficult things to do, but may require a bit more effort and cost more – but they will save you money in the long run."
"A study by Southampton University Business School showed that a small four-seater salon that adopted their eco hair and beauty suggestions would save 24,150 kWh energy, 286,000 litres of water and more than £5,300 per year," says Anne. At Anne Veck Oxford, we have cut our carbon emissions and energy costs in half, saving us £3,000 per year, each year since 2012."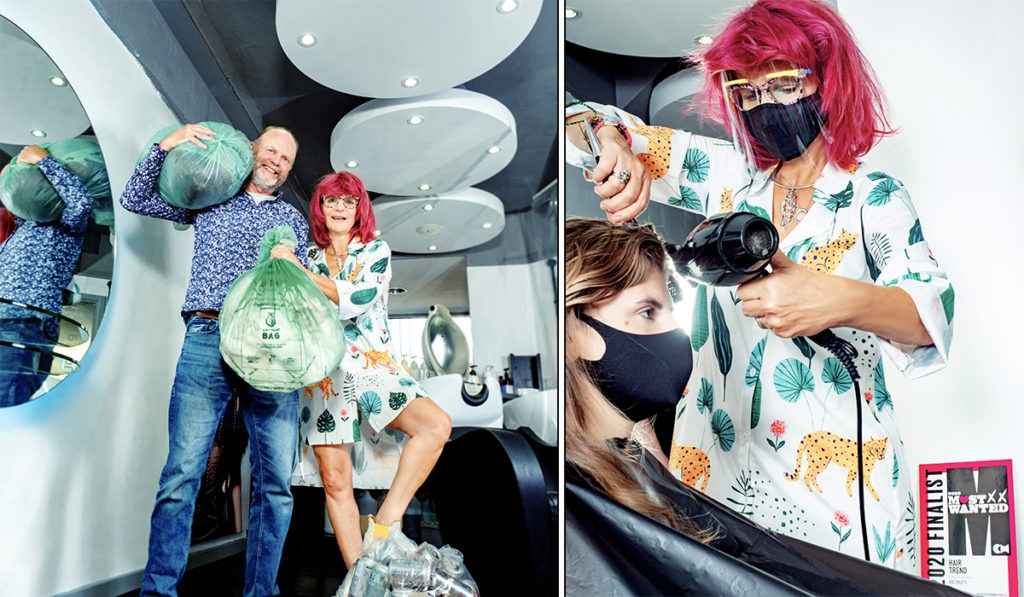 While there may be more cost and effort included in these changes, the results will pay dividends. "According to the L'Oreal Sustainable Agenda, 66% of consumers are willing to pay more for sustainable brands," reveals Anne. "The study also shows that 55% of young people in the UK say they would be more loyal to a brand that was reducing its carbon footprint and 52% of hair and beauty consumers look for products with natural ingredients."
1. Investigate specialist recycling companies which may be operating in your area and working with hard-to-recycle waste such as contaminated metal, hair and colour residue. We work with Green Salon Collective; an organisation of which Anne has been named a Green Libertine. They work with salons across the country to help with the safe and sustainable disposal of hairdressing items like colour, foils and tubes.
2. Change your broadband and telephone to carbon neutral if it is available in your area. Try Cerberus Net Zero Broadband, although you should note that this is based on offsetting, rather than using actual green energy. Install a sustainable phone charging service, such as ChargeBolt which contributes a proportion of profits to the planting of trees in a deforested part of Ghana.
3. To save laundry time or the cost of disposable towels, try the Scirocco Smooth 'hair hoover'. It's a device that removes excess water from the hair. Is it more sustainable than compostable towels? You decide.
Elsewhere in the second part of Salon Re: Source you'll find updates for the slightly bigger changes that you can make in your salon. These updates might take a little more time and effort, but will help you become a more sustainable business.
Sections covered, with recommendations and advice for each, include:
Washing safely and sustainably.

Lighting options to save energy.

Water solutions for the backwash, bathroom and more.

Options for recording and disposing of colour waste.

How to recycle and reduce the use of foils

Sustainable solutions for necessary printing.

Tech choices including guidance on choosing ethical devices.

How to spread the sustainability message amongst clients and the team.

Guidance for salon certification in the green sector.

Sponsorship and charities to work with.

Questions to ask your suppliers.
Salon Re:Source also contains information on accreditation for sustainable and ethical salons, and contacts for even more support in your green journey.
For more information and to download the guide, visit bit.ly/SalonReSourceUK.