Gothic Literature: This collection was inspired by themes found within Gothic literature, specifically drawing on ideas of anti-establishment, the supernatural, dark romanticism and unrequited love.
I have enjoyed reading gothic fiction ever since I was a young boy; the elements of terror and darkness combined with intense emotion and mysterious romance have always fascinated me. I wanted the images to look discoloured and distressed –like photographs from the nineteenth century that had been discarded and forgotten about for hundreds of years.
Before we embark on any shoot, Jackie and I always research and plan our subject in depth. We believe it is crucial to have a deep understanding of our characters' individual personas, and so we create detailed sketches of their hair direction, clothes, body language and setting; this is key. In this instance, we based the characters around the idea of a darkly picturesque, macabre family, working with hair colours in the brown and black pantone family to create styles inspired by Gothic literature and Victorian influences – but with our own 21st century twist. The clothes had a heavily layered concept – think wools, felt and deconstructed linen in dark tones – and for makeup, we opted for flawlessly clear skin with subtle contouring to enhance facial features.
-Darren Ambrose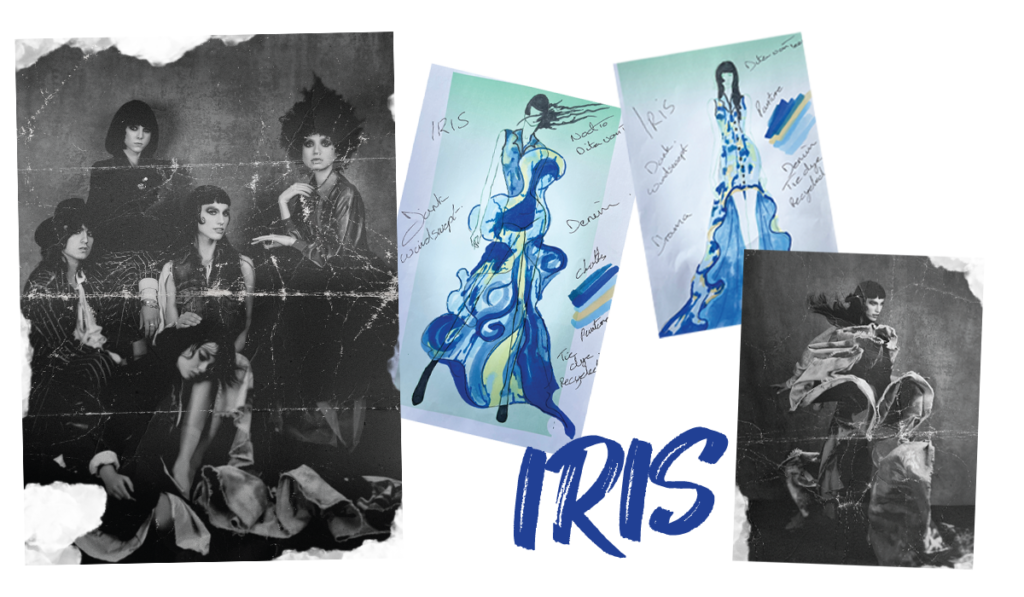 IRIS
We saw Iris as the main figurehead of the 'family'. She was to have a goddess-like strength and a style that echoed Dita Von Teese – the black gloss vinyl hair, a short, structured fringe, halo layering and face-framing shape. Her dress is a vintage Diesel wedding dress which we tied-dyed by hand and styled with extra fabric, creating movement and abstract shape.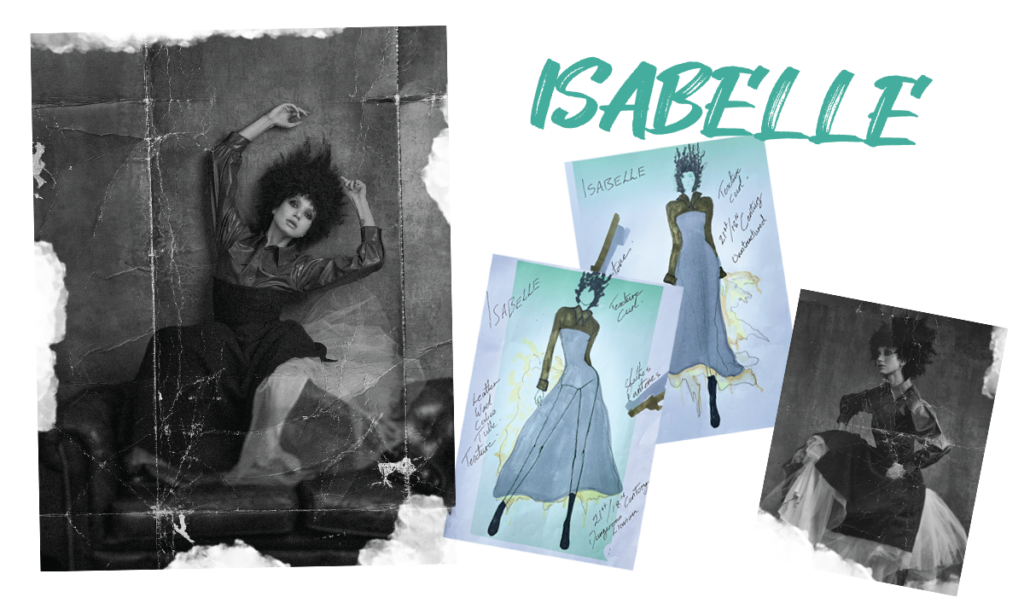 ISABELLE
This look was about creating a strong, dramatic, feminine character. We went with loose, unstructured hair with an oval perimeter and irregular layering. This erratic styling was also
reflected in our choice of clothes – heavy wools and leather mixed with delicate tulle and calico.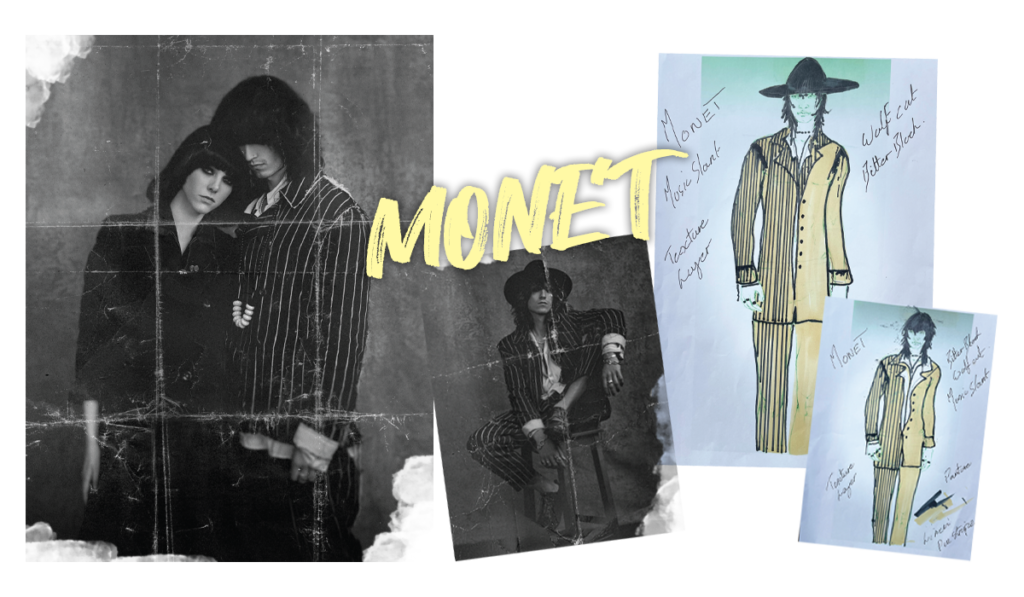 MONET
For Monet, we opted for an iconic wolf cut, shattered with a razor to bring a modern slant to the gothic vibe. Enhanced with a global colour, the bitter black glossing adds strength and boldness to this powerful look. We styled the hair with a tailored pinstriped suit and heavy jewellery, giving a contemporary edge to the nineteenth-century influences.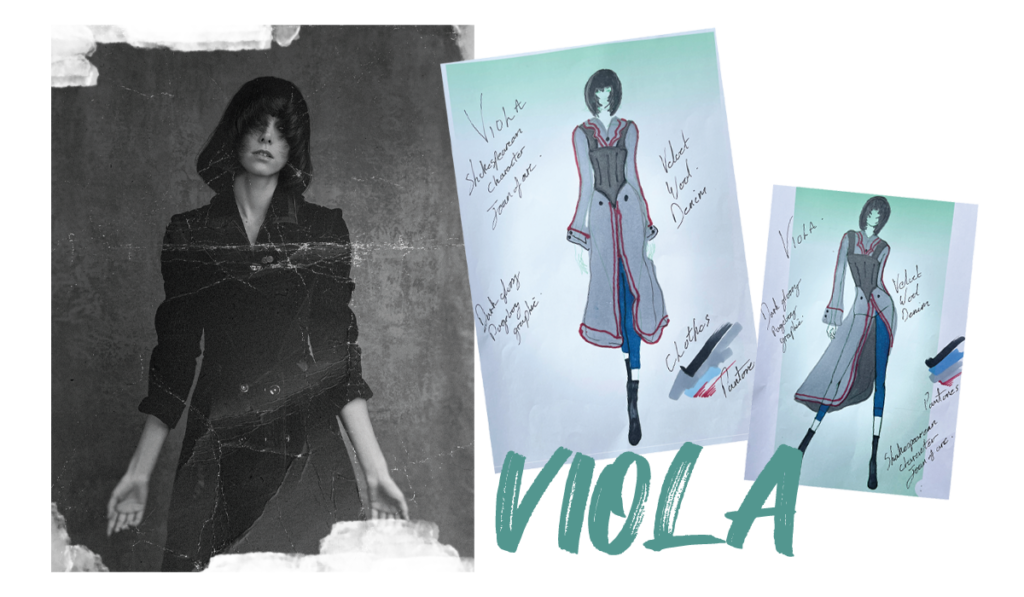 VIOLA
Inspired by the Shakespearean character in Twelfth Night, this beautiful androgynous look pays homage to the classic pageboy cut with its oval shape and shattered perimeter. A global colour of midnight black adds shine, drama and definition to the overall aesthetic. Finally, the amalgamation of a heavy military coat with the Vivienne Westwood Basque creates an alluring mix of masculinity and femininity.