Continuing her series, dedicated fashionista Jackie Ambrose shares an insight into the detail and planning that goes into one of D&J Ambrose's signature global shows
"One of the most exciting aspects of our jobs is the thrill of putting together a show. It's a chance to really ignite our creativity and showcase all the ideas that may have been bubbling under for many months. This July, Darren and our team travelled to LA for The Beauty Envision Awards 2019. Our task was to produce a stage spectacular to inspire an audience of hair and beauty professionals from around the world.
The overall concept for the event was based around mixing up trends, so we settled on a theme of 'Eclectic Chic'. A chance for our imaginations to run riot! This was our opportunity to throw couture, sports luxe, punk, a variety of eras, different fabrics, colours and prints into a huge melting pot and really push the boundaries of hair and fashion.
From the outset we knew the show would consist of around 15-20 models. As well as painstakingly crafting out the concept and imagining the hair looks, we had a multitude of jaw-dropping outfits to pull together. In total we spent around a month sourcing items from our personal collection, boutiques, online and designing from scratch where we could. While some of the garments were new, others were reinvented, and all finely tuned with accessories which had relevance to the hair looks we were creating.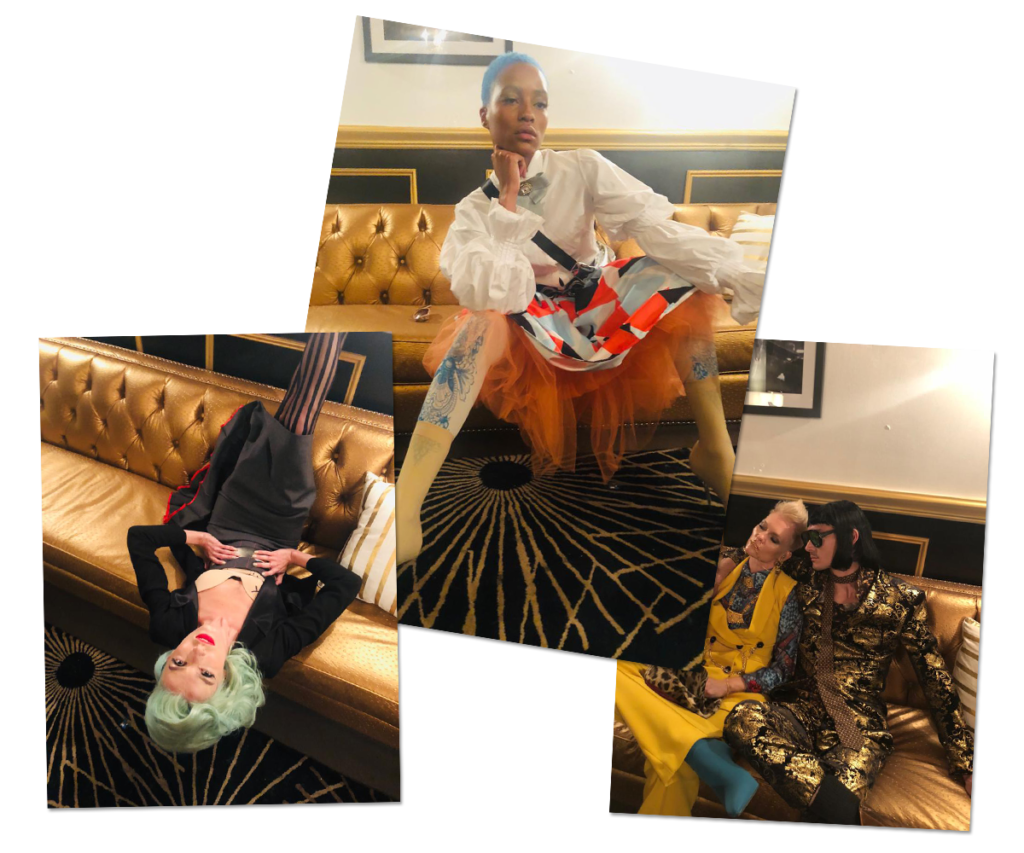 It's a monumental task, but one which we relish. As the date drew closer we had honed our looks into carefully curated outfits  – ready to be matched up with our models in LA. Of course we have a certain aesthetic in mind, but you never know exactly what you'll get until the day of casting. In total, Darren and the team travelled with four massive suitcases brimming with the most eclectic mix of outfits and accessories.
In addition, we're responsible for having input into the whole show format. This means staging, lights – every detail that turns a show into a spectacular! We had an idea that we wanted to display an array of visuals on giant screens as each model walked the runway. The effect we had in mind would produce a giant kaleidoscope interjected with a variety of textures and tones, which flipped, changed and mirrored the outfits each girl was wearing.
The show kicked off with one striking model entering the stage dressed as a secret agent. A black McQueen robe style dress was perfect, and the hair was cut into a sleek Bob. The look is immaculate, but as Darren begins cutting her hair, the audience sees the look becoming more and more deconstructed. As panels are cut away from the hair we start to reveal texture and an entirely different colour underneath.
As Darren completes the hair metamorphosis, the robe is taken off and underneath our model is dressed in a punk-inspired Vivienne Westwood graffiti skirt, 90s basque and ripped tights. As a final flourish, Darren smudges her precisely applied red lipstick. And our model is transformed from secret agent couture to junked-up punk.
She's joined on stage by an entourage of girls, each dressed in their own individual way – a clash of characters, fashion and ultimately hair inspiration. There was also an incredible surprise for the audience this year as guitarist DJ Ashba from Guns N' Roses took to the stage playing a diamond-encrusted guitar. Darren had twisted DJ's hair into spindle locks so that he almost became another one of the characters in the show. Such an awesome moment!
Exhausting, but always rewarding, as we unpack the suitcases at the end of any experience there's always a huge sense of pride and fulfillment at what we've achieved. And maybe even the first thoughts of what we can create next time.