This month we are talking all things 'Grey' and finding out about how you can help your clients embrace their natural colour. Here are SIX products you need in your salon…
COLOUR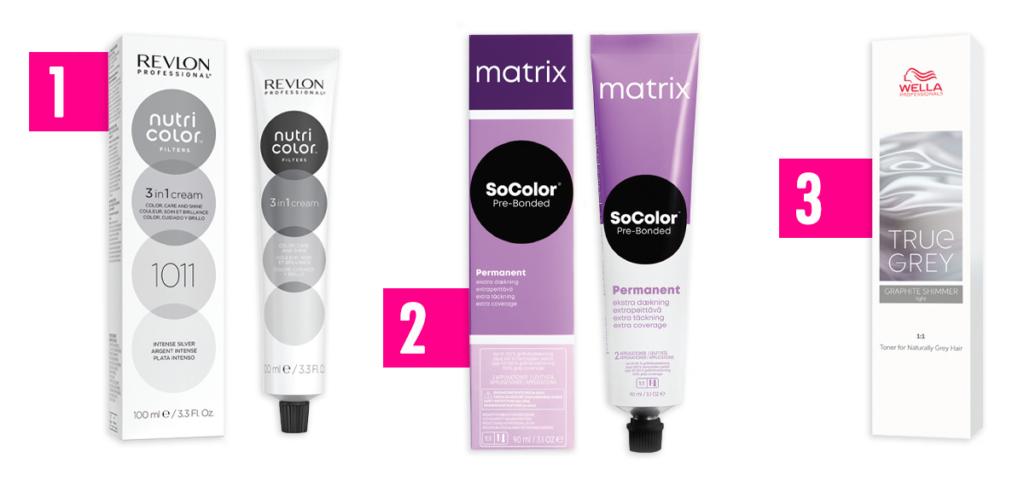 1. Revlon Professional Nutri Color Filters 1002 Pale Platinum and 1011 Intense Silvertone and nourish to keep grey hair cool. The latest formula includes ionic pigments that attach to the cuticle delivering vibrant multi-dimensional colour, and a bespoke conditioning system to smooth and seal cuticles for intense shine and touchable softness.
2. Matrix SoColor Pre-Bonded Extra Coverage range can not only be personalised for bespoke colour, but it neutralises underlying pigment, banishing the warmest reds and the palest yellows. Two new shades have recently been added: Neutral Jade (504NJ) for dark bases and Neutral Violet (506NV), perfect for light bases.
3. Wella Professionals' True Grey features two in-salon treatments, Express Silver Glow and Silver Glow which are designed to revitalise naturally grey hair by adding silver hues, leaving hair feeling soft with reduced yellowness. True Grey boasts seven toners, an activator and a Clear Conditioning Perfector as part of a two-step service.
CARE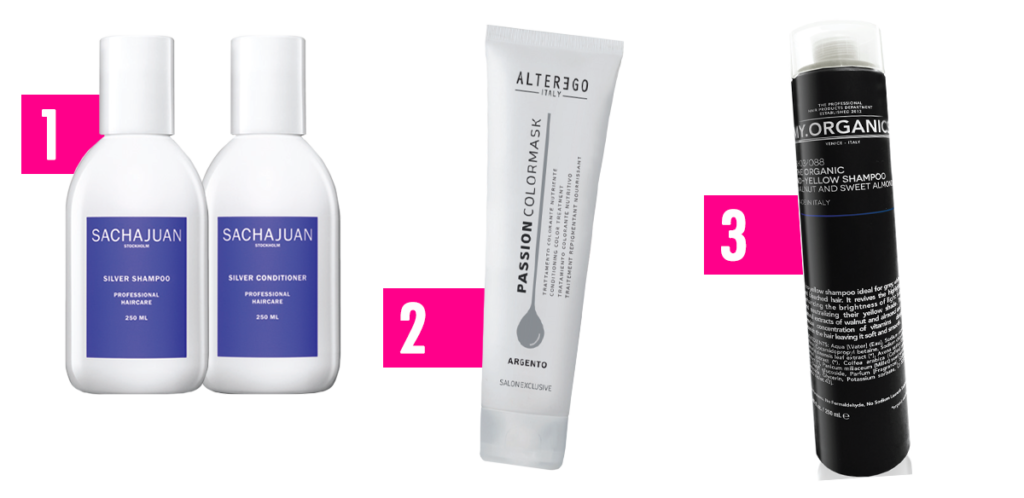 1. SACHAJUAN Silver Shampoo and Conditioner duo will banish warm, brassy tones and brighten up grey hair beautifully. They also protect colour, infusing the hair with UV filters to prevent fading.
2. Alter Ego Passion Color Mask Silver is perfect for retailing to clients so they can enhance their grey colour at home. Designed to nourish, enrich and illuminate natural or coloured hair, the Silver Passion Color Mask will tone and unwanted warm tones to keep grey hair looking cool and fresh.
3. MY.ORGANICS' The Organic No-Yellow Shampoo is ideal for grey or white hair. It revives the highlights, enhancing the brightness of light hair and neutralising any yellow or warm tones. The natural extract of walnuts, almonds deeply nourish the hair leaving it soft, perfect for mature hair than can often be coarse and dry.